This post might include affiliate links for products that I know and LOVE!
After reading and following my first ALDI menu plan, I got a lot of requests for a "master" list of what I regularly buy from ALDI (An ALDI Shopping List). I actually went into my cupboards to compile this list for you! I love how ALDI gives me affordable, high-quality ingredients. I honestly feel that I'm able to feed my family healthier than ever by shopping there.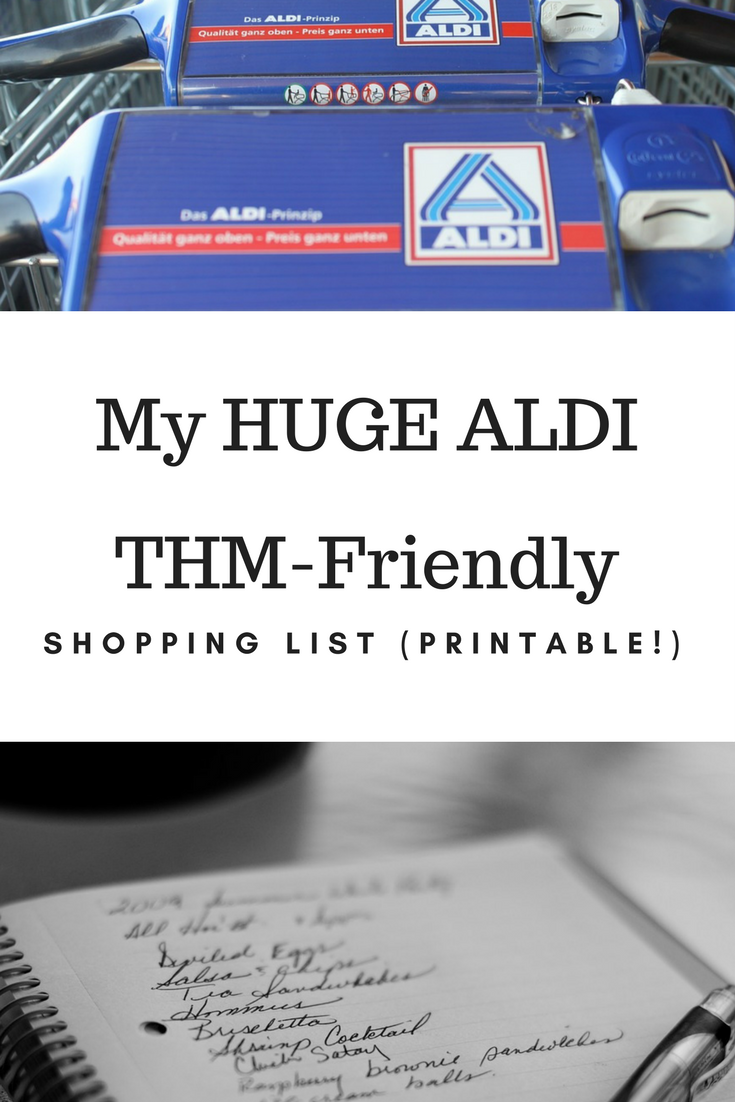 Plus, I really love the weekly ALDI finds. It's like a treasure hunt. I live in a small town, so many of the finds get marked down to insanely low prices within a couple of weeks. I digress. 🙂 Anyways, this ALDI Shopping list is printable. You can use it as the base for your THM menu plans. Since I started shopping, I really don't use as many special ingredients as I once did. I purchase a sweetener I adore, a bag of Baking Blend every so often and a protein like Collagen or THM's Protein Powder. I love special ingredients, but I find that I "own" the THM plan better if I don't make them weekly staples.
[amazon_link asins='0804189986,1101902663,0988775115,1101902639′ template='ProductCarousel' store='thefabwif0e-20′ marketplace='US' link_id='2c7f196f-ca79-11e7-a7ca-a5b106ba4519′]
As I mentioned, I live in a small town, so your ALDI might have a few more items than mine does. Customize this list based on your local store. 🙂 Some items are seasonal and I'll be updating this list over time, so check back!
You Might Also Like..
My THM ALDI Menu Plan and Shopping List (My first one! More to come!)