This post might include affiliate links for products that I know and LOVE!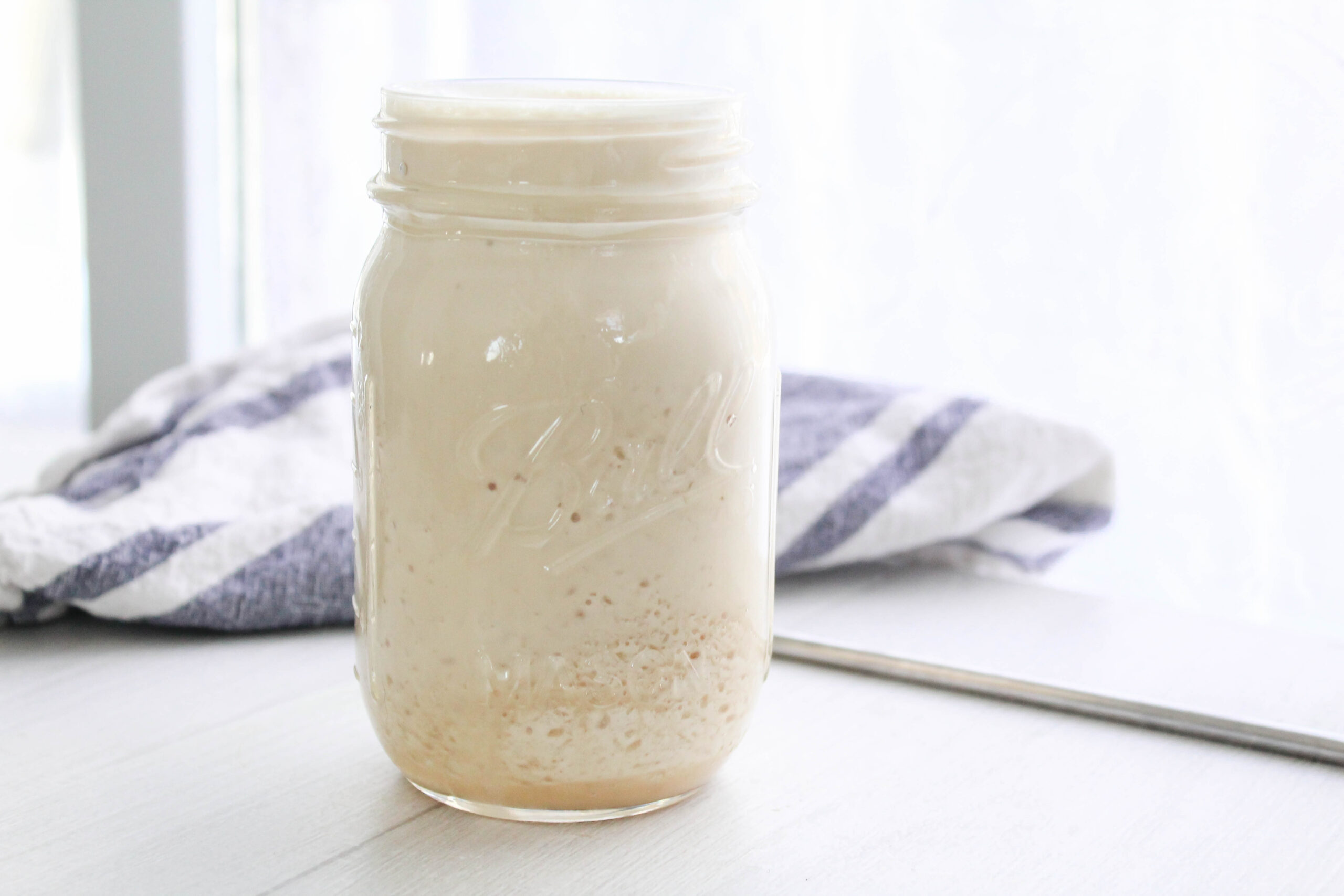 Ditch the coffee shop and try my healthy Homemade Frappuccino! This icy drink is packed with protein and is free of sugar. If you're dairy-free, try my DF options!
Speaking of options, I have quite a few for you to try. I've made all of them repeatedly and love each one. This beverage is an extremely light frappe, so it's low in calories, fat, carbs…you name it.
Bonus: Making a homemade frappuccino saves you a lot of money, especially if you frequent coffee shops often. Try it! I know you'll love it just as much as I do.
Homemade Frappuccino Ingredients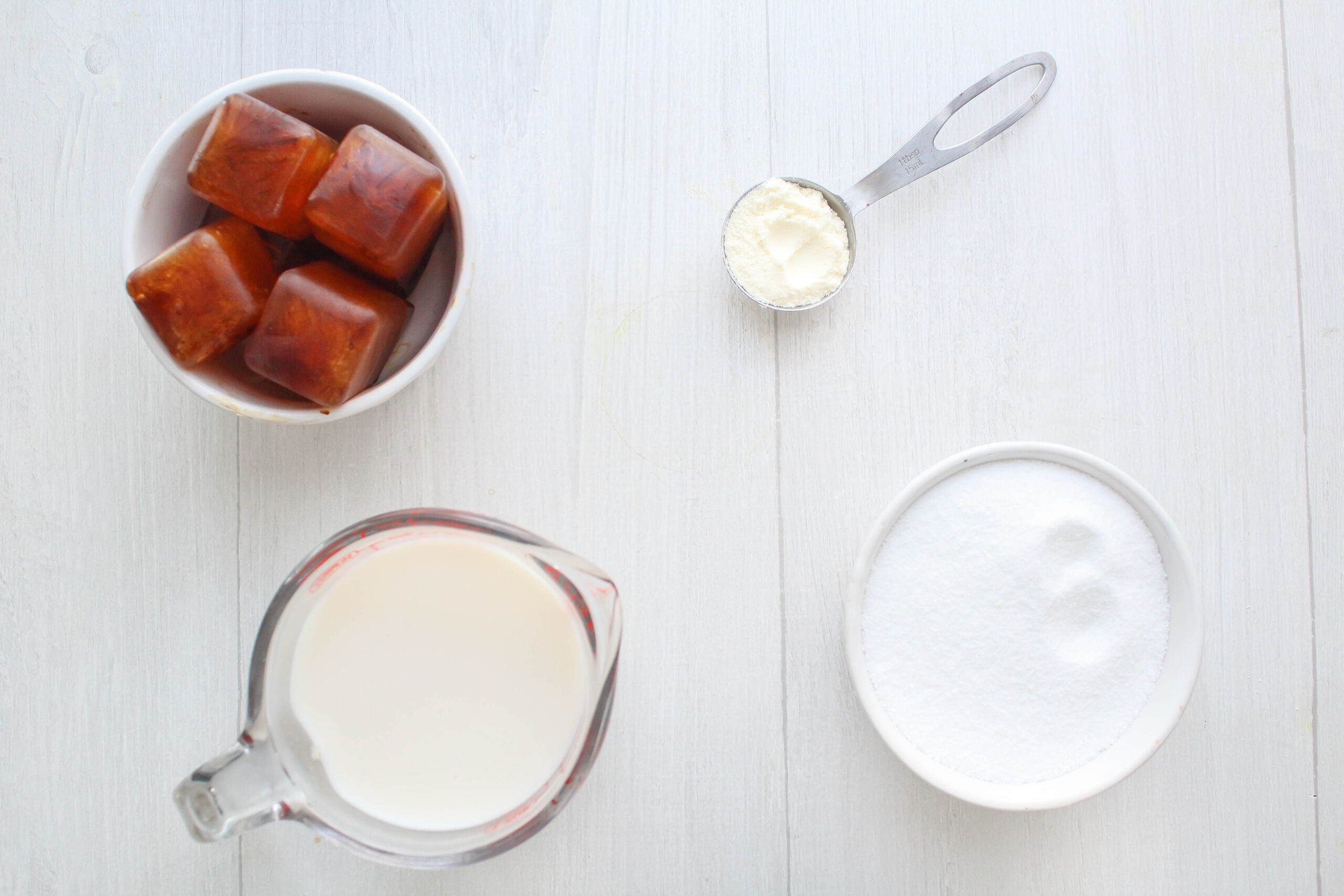 This simple recipe uses under 10 ingredients. That's my kind of drink! Here's what you need to add to your shopping list.
Coffee Ice Cubes: The secret to amazing frappuccinos is coffee ice cubes. I like to take a 12-ounce cup of my favorite coffee and pour it into a silicone ice cube tray. Let it freeze, and voila! Homemade frappuccinos anytime you want.
I purchase organic coffee whenever possible, and my favorite kind is Trim Healthy Mama's GuataMama Java. This coffee is smooth and super gentle on the stomach. I usually don't drink coffee black, but I've been known to sip a cup of black GuataMama Java!
If you find you're sensitive to coffee, try a low-acid variety. You won't be disappointed!
Unsweetened Non-Dairy Milk: Keep this drink dairy-free by using coconut, almond, or cashew milk. My favorite option for this drink is cashew milk. It creates a creamy drink without that hint of coconut.
Be sure to grab the carton that says "unsweetened" as dairy-free milk can have hidden sugars otherwise. I usually use vanilla-flavored almond milk in my beverages.
Sweetener: Every good homemade frappuccino needs to be really sweet, in my opinion. I recommend using stevia-based sweeteners as they are natural and don't contain toxins like other alternative sweeteners. My favorite sweetener for this recipe is Trim Healthy Mama's Gentle Sweet or Super Sweet.
Since we have a menagerie of animals, I always use xylitol-free sweeteners. If you prefer a liquid sweetener, Sweetdrops has excellent options!
Feel free to adjust the amount of sweetener to fit your personal preference.
Extracts: Extracts are a great way to add flavor to your drink without adding calories. Want a smores frappe? Add some marshmallow extract! Craving something caramel-icious? Try caramel extract. The sky is the limit!
Protein Powder: The secret to a super-fluffy homemade frappuccino is protein powder. I use Trim Healthy Mama's Whey Protein Powder and love it! Seriously, add a scoop towards the end and watch your frappe expand.
They have a plant-based hemp protein powder that has gotten rave reviews if you're dairy-free.
How to Make a Homemade Frappuccino
This delicious beverage comes together in less than 10 minutes. It makes enough for two people..if you're willing to share!
Homemade Frappuccino: Sugar-Free, Keto, Dairy-Free Options, THM: FP!
Ingredients
12-ounces coffee, cooled and made into ice cubes
1/2 cup unsweetened vanilla-flavored almond milk
Instructions
Place the coffee ice cubes, almond milk, super sweet, caramel extract, and salt in a blender. Process until well combined.
Pause the blender and add protein powder. Blend for 10-15 seconds, or until light and fluffy. Enjoy!
Recommended Products
As an Amazon Associate and member of other affiliate programs, I earn from qualifying purchases.
Nutrition Information:
Yield:

1
Amount Per Serving:
Calories:

156
Protein:

23.1g
Step One: Blend Ingredients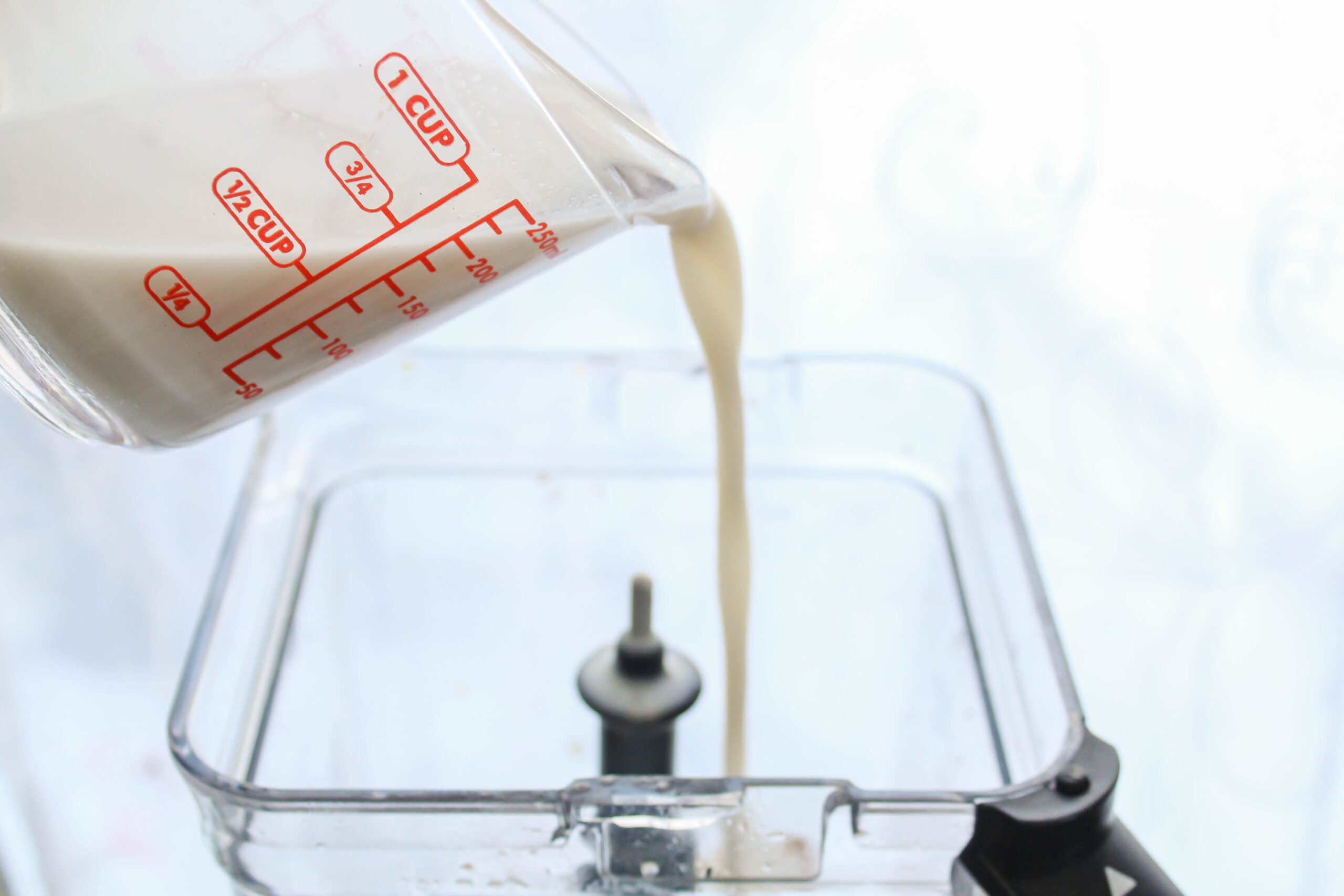 Place the coffee ice cubes, almond milk, sweetener, salt, and extract in a blender. Blend until smooth.
Add the protein powder and blend for 10-15 more seconds, or until fluffy. Enjoy!
Homemade Frappuccino Variations
Beautifying Frappe: Add 1 tablespoon of collagen.
Mocha Frappe: Omit the sea salt and caramel extract. Add 1 tablespoon of raw cacao powder.
Smores Frappe: Swap the caramel extract for marshmallow. Add 1 tablespoon of raw cacao powder.
Mint Chocolate Chip: Omit the caramel extract and add 1 drop of peppermint essential oil or peppermint extract. Sprinkle a few stevia-sweetened chocolate chips on top. Yum!
Birthday Cake: Swap the caramel extract for cake batter. Add 1/4 teaspoon of aluminum-free baking powder (trust me on this one!).
Pumpkin Spice: Add 1 tablespoon of pumpkin puree. Omit the caramel extract. Add 1/2 teaspoon pumpkin pie spice.
Matcha Latte: Brew a cup of matcha and make it into ice cubes. Use these instead of coffee. Swap the caramel extract for vanilla extract.
Vanilla Bean: Swap the caramel extract for pure vanilla. If you're feeling fancy, add a little vanilla bean. Simple but delish.
Butterbeer: Use butterscotch extract instead of caramel. Add an extra pinch of salt.
Chai Latte: Brew a cup of your favorite chai tea and make it into ice cubes. Use these instead of coffee. Swap the caramel extract for vanilla. Add a dash of pumpkin pie spice.
Berries N' Cream: Brew a cup of berry-flavored herbal tea and make it into ice cubes. I recommend using berry hibiscus tea. It's pretty and tastes great! Omit the caramel extract and add a little strawberry extract if you wish. Enjoy!
Homemade Frappuccino Notes
Don't skip this section! It contains valuable tips and tricks to help you rock this whole "at-home barista" thing.
Make a hot latte by using 12-ounces of hot coffee instead of coffee ice cubes.
Need a boost? Add a chilled shot of espresso. Or two.
For a creamier frappe, you can use full-fat coconut milk OR 1 tablespoon heavy whipping cream and 3/4 cup almond milk. These additions add calories and fat, so the frappuccino is now an "S" instead of a Fuel Pull.
If you don't mind adding a little decadence, you can top your frappe with homemade whipped cream, or keto sprinkles. The homemade whipped cream would make this low-carb versus low-carb AND low-fat.
Be sure to add the protein powder at the end. Adding it before doesn't give it that fluffly frappe effect!
If you want an extra thick frappe, add a 1/8 teaspoon of gluccomannan or xanthan gum. Don't go too heavy on this, as too much will throw off the texture.
Want More Deliciously Healthy Coffee Drinks? Check Out These Recipes!
This post was originally published in 2015 and has since been updated.
Pin This Post Here!
Be sure to follow me on social media to stay up to date on the latest healthy recipes, natural living hacks, and Mom life inspiration! I'm active on Facebook and Instagram.