This post might include affiliate links for products that I know and LOVE!
When you think of a peaceful home, what comes to mind? Do you picture a serene setting with classical music playing? Maybe peaceful means a day where your to-do list is completed and your kids played nicely. No matter what your vision of peaceful is, we're going to start TODAY to make it a reality in your home.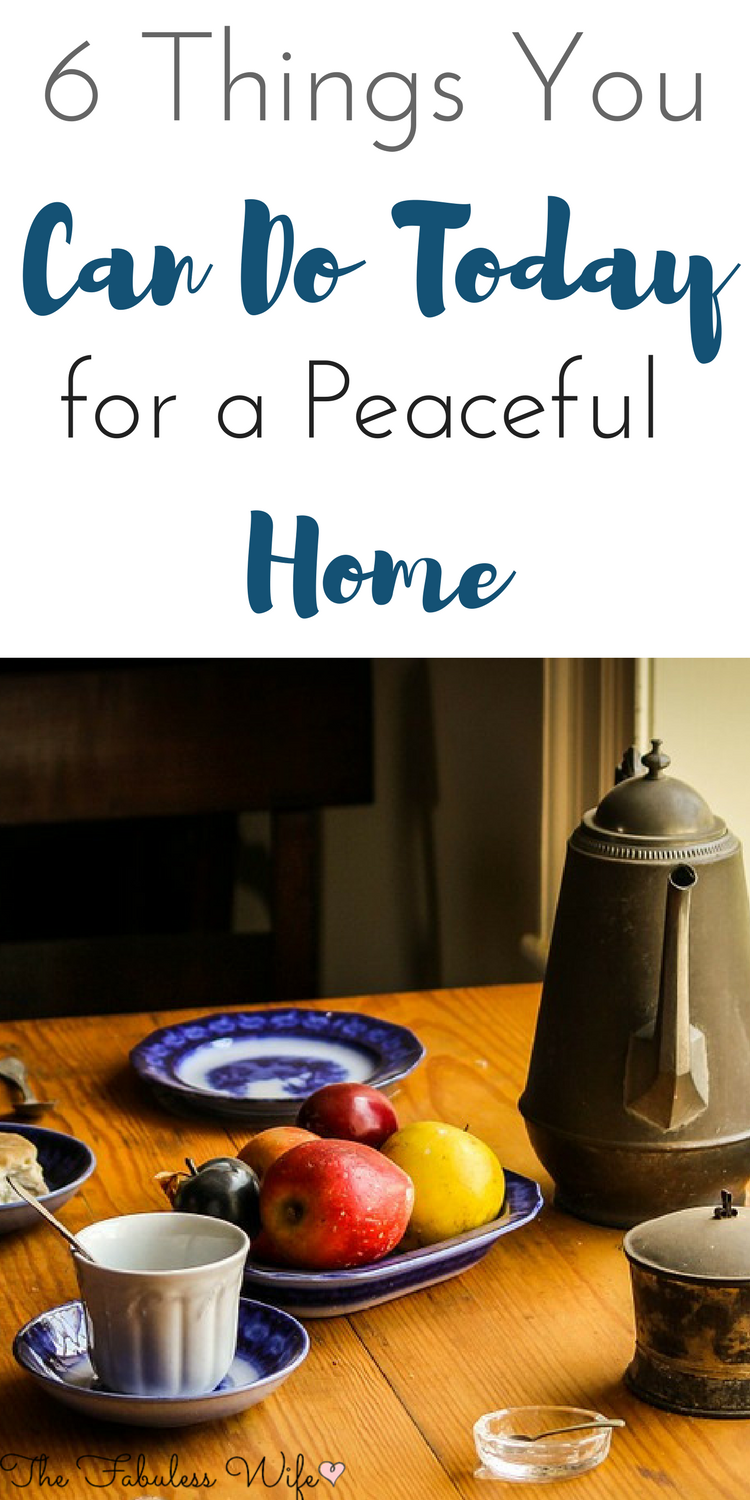 When I think about my own home, peaceful doesn't always describe it. Actually, I'll venture to say that none of us can have a completely peaceful home at all times. But, we can do some things to bring just a little bit of peace to our days. Here are a few simple things to try:
Peaceful Music
Music gives a backdrop for our memories. If I'm craving a bit of peace, I'll turn on some worship music or even classical tunes. Bonus: Little ones tend to follow the mood of whatever music is playing. Chill music = Chill tinies.
Home Blessing
I'm not referring to my beloved Fly Lady Home Blessing Hour. I'm actually talking about a special prayer that you pray over your home. My favorite prayer comes from The Book of Common Prayer. I like it because it covers every room and the people who live there.
[amazon_link asins='031033506X' template='ProductCarousel' store='thefabwif0e-20′ marketplace='US' link_id='2610257c-08e3-11e7-9664-b11ab4eee4fa']
Scent
Essential Oils or even a Scentsy pot can do wonders. I love diffusing lavender oil or my favorite Peace and Quiet Blend (See the bottom of the post for more details on that). It lifts my spirits!
Routine
Routines give you a long-term peace fix. They make life simple, they give everyone a sense of what needs to be done and they help you make the most of your days. Seriously, I could go on for days! Find a post on how I create a routine here. Not into the whole routine thing? Check out my ideas for creating a rhythm here.
15 Minute Pick-Up
If you feel like things are totally out of control, take 15 minutes to clean up clutter, to dust a few things. I actually set a timer for this and when the timer is done, so am I. You'd be surprised at what 15 minutes can do.
Snuggle
When my littles are anything but peaceful, we'll take a few minutes to sit down and snuggle with a book. It's hard to be cranky when you're snuggling!
[amazon_link asins='B01KIINO2Y,B0009RSP38,0553382179,1416534628,B01J15VL8O' template='ProductGrid' store='thefabwif0e-20′ marketplace='US' link_id='91371b84-099e-11e7-9d7a-fd7ebb470fdd']
What do you do to create a peaceful home?