This post might include affiliate links for products that I know and LOVE!
Sometimes, it's easy to get stuck in a healthy food rut, especially when you're on a tight budget. When that happens, I like to look to other people for inspiration!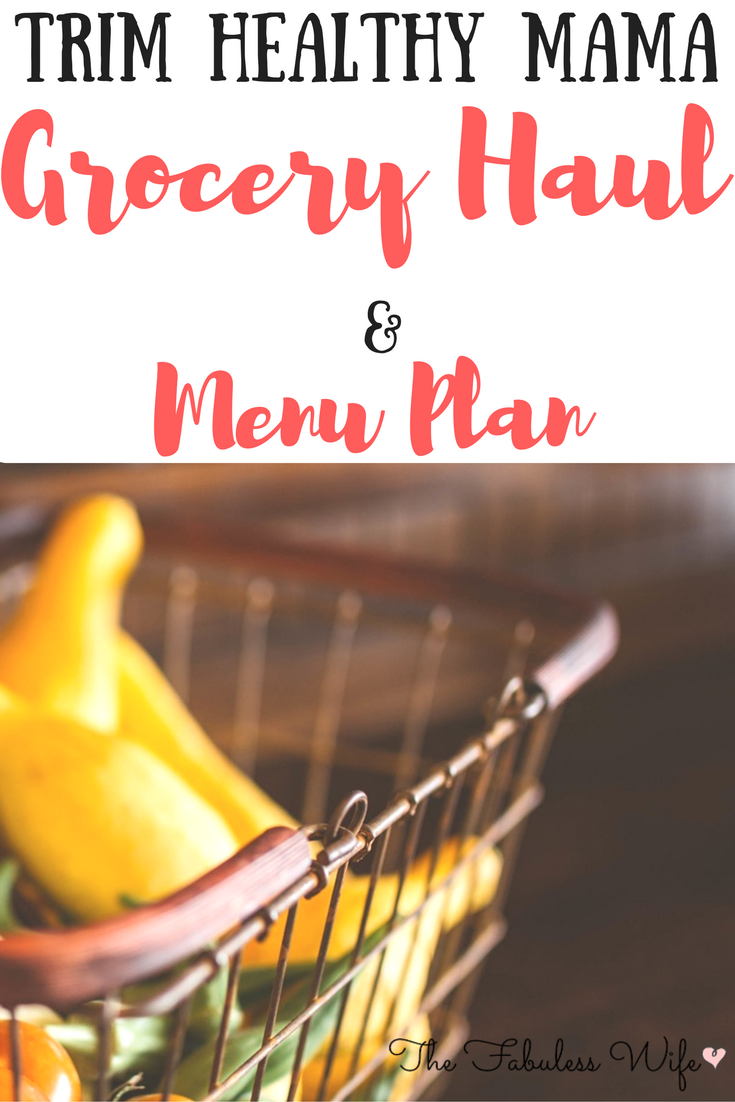 I'm hoping to be that inspiration for you today by sharing my THM grocery haul/menu plan. When I brought this idea up to my readers, they were all over it! I absolutely adore talking about healthy living on a budget, so I'm really excited to add this new feature to my blog! I'm still working out the details of what I want this post to look like, but I knew that this was a need in the THM community that could be filled, even if imperfectly. 🙂 I am considering making this a bi-weekly feature on The Fabuless Wife. If you're looking for a weekly menu plan, please check out Darcie's Dishes! She posts frugal menu plans each week and they pretty much rock.
This is what I bought at the grocery store and my menu plan for the week. To give you a few background details:
My total budget each week is $120. Sometimes, this budget needs to include personal items like laundry soap etc
I don't have an Aldi, Sam's Club or anything like that. For these hauls, I'll be using Hyvee, Fareway, and good ol' Wal-mart
I have 4 people in my family including myself, a husband that's not fully THM and still likes his junk food treats and two toddlers who lately are putting away as much as an adult!
At the bottom of this post, you can find my grocery list of items that I bought and the price to give you an idea of what I'm working with!
I like to keep things simple and I LOVE my leftovers!
I make my own bread to save $$$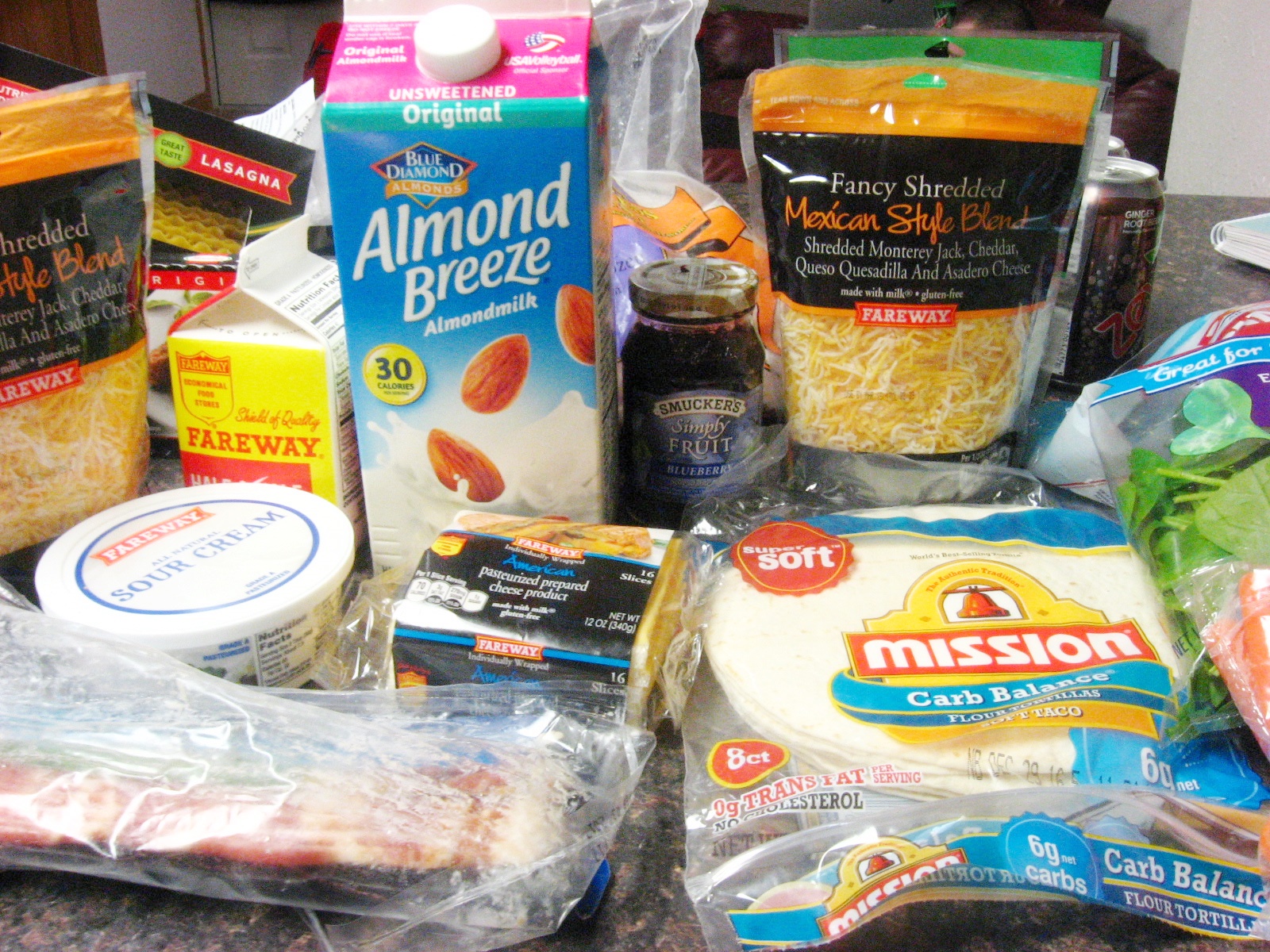 Here's this week's menu plan. To learn more about menu planning click here:
Breakfasts:
Saturday-Over easy eggs with 1 slice of toast (S Helper)
Sunday-Eggs and sausage (S)
Monday-Toast with Jam, Scrambled Egg Whites (E)
Tuesday-Eggs, Sausage, 1 slice of toast (S Helper)
Wednesday-Granola with Almond Milk (E)
Thursday-Toast with Jam and Peanut Flour (E)
Lunches:
Saturday-Salad with cheese, lunch meat and ranch (S)
Sunday-Bean Burritos,  (E)
Monday-Fotato Soup (Fuel Pull)
Tuesday-Salad (S)
Wednesday-Salad with sauteed chicken breast, a dash of olive oil and balsamic (S)
Thursday-Fotato Soup (FP)
Dinners:
Sunday-Rice and Beans with cajun seasoning (E)
Monday-Creamy Chicken Rice Soup (E)
Tuesday-Leftover Soup (E)
Wednesday- Quesadillas, celery and ranch (S)
Thursday-Sandwiches, sweet potato fries (E)
Friday-Jalapeno Popper Sliders, Side salad (S) (Recipe coming soon!)
Saturday-Chicken Alfredo Lasagna, celery and PB (S)
Snacks:
-Celery and Cream Cheese
-Gingerbread Bars (Coming soon!)
-Celery and Peanut Butter
-Apple and cheese
-Bananas
Here's what I bought and the price. This week, I only shopped at Fareway.
Turkey Bologna-$2.00
Cloves-.99
Nutmeg-.99
Frozen Cauliflower-$1.69
Low-Carb Tortillas-$4.59 (Splurge, but a must-have for me!)
Honey-$3.48 (For little ones and to make Soft Sprouted Bread, found in the new THM Cookbook)
Celery-$1.49
Bananas-$1.17
Sausage Links-$1.29
Carrots-$1.29
Apples-$1.68
Spinach-$1.50
Shredded Cheese-$6.00
Eggs-$1.58 (2 dozen!)
Sliced Cheese $2.49
Bacon-$3.88
Cream Cheese-$3.33 (For 3)
Sprouted Wheat Flour-$2.99
Wasa Crackers-$2.99
Chicken Breasts-$6.99
Dried Beans-$1.29
Almond Milk-$2.88
Dreamfields-$1.89
Half and Half -$1.15
Sour Cream-.99
Brown Rice-$1.19
Natural Peanut Butter-$2.99
All Fruit Jam-$2.79
Salsa-$2.00
Butter-$3.99
Alfredo Sauce-$2.50
Zevia-$3.98 (Another splurge item!)
Not listed is special items for my husband and children like milk, saltines, snacks to have at work etc that cost about $30! My total this week was $120 and change. I planned all my meals ahead of time and wrote my list according to those meals, because that helps me to stay frugal and sane in all honesty!