This post might include affiliate links for products that I know and LOVE!
Need an easy breakfast that screams Fall? Try my Pumpkin Roll Baked Oatmeal! It's simple, tasty, and full of protein.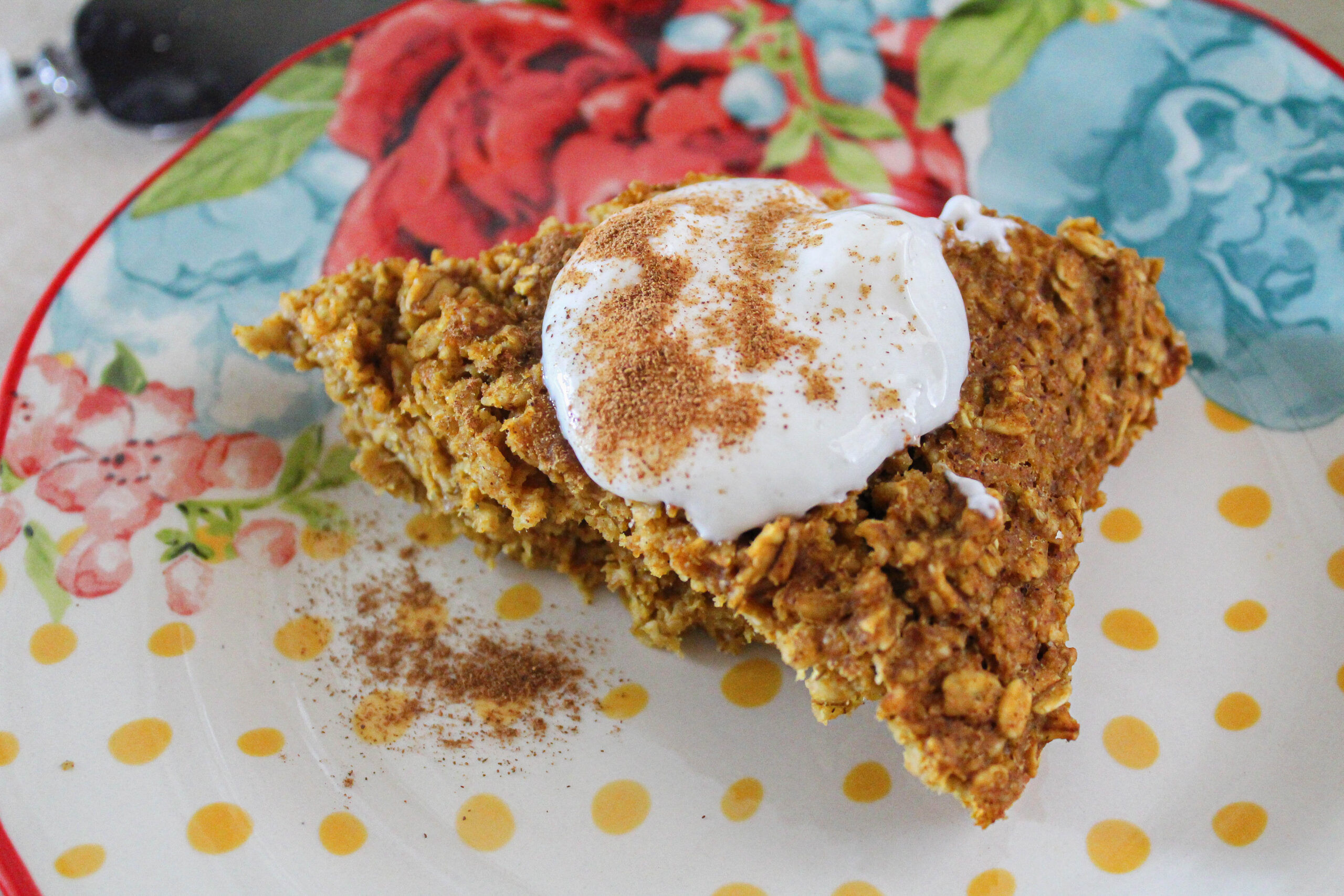 If you've been reading my blog for awhile, you've probably tried my Cinnamon Roll Baked Oatmeal. This is pretty similar, except the texture is a little moister (yes, I went there!). I love preparing this breakfast in bulk and waking up knowing I have a healthy breakfast for my fam. It has saved this Homeschool Mom's life many many times over! Eating this Pumpkin Roll Baked Oatmeal is like eating cake for breakfast.
I love finding new, creative "E" breakfasts. I always get asked what consistency BAKED oatmeal has compared to regular stove-top, so here is my best description. Baked Oatmeal is more "cakey" than the sticky, porridge consistency of stovetop oats. Pumpkin Roll Baked Oatmeal is basically oatmeal on steroids and you NEED it in your life!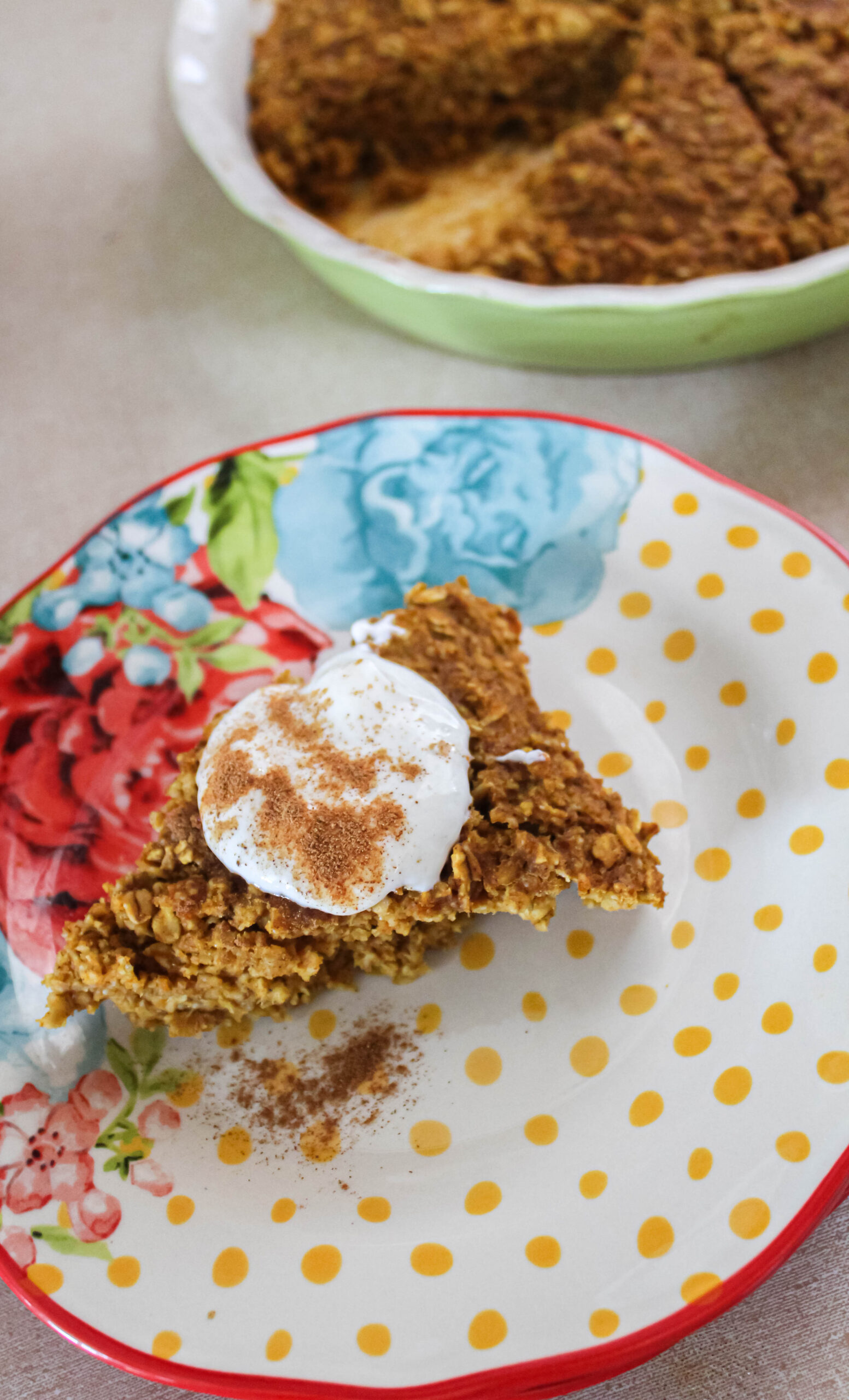 Now, the topping is optional, but it gives this recipe that extra bit of jazz and it fuels your body with extra protein. If you're low on time, skip it, but if you have a few minutes..definitely whip it up. I like doubling this recipe to fit a 9×13 inch pan and reheating leftovers for snacks!
So, let's talk ingredients for a minute.
Oats: I have used both instant oatmeal and old-fashioned in this recipe. I much, MUCH prefer the texture of old-fashioned.
Pumpkin Puree: To keep this THM-friendly, use the plain puree, not the pie filling.
Sweetener: I like using Gentle Sweet AND stevia in this recipe. Feel free to use half the sweetener amount and use Super Sweet instead. I do this from time to time because Super Sweet is more budget-friendly. I do recommend using ONLY Gentle Sweet in your topping though.
Customize for the Kiddos?
Make this a Crossover for your kids by adding a pat of butter to the top. You can also put spread some cream cheese on top or serve it with whole milk.
Be Sure Not To:
Overbake! This creates a dry oatmeal bake that probably won't win you any chef awards.
Prep this the night before! Again, you'll get a dry Pumpkin Roll Baked Oatmeal.
Need More Simple Breakfast Ideas?
Cranberry Orange Scones: Elegant, easy, delicious!
Peanut Butter Chocolate Chip Baked Oatmeal: A twist on an old fave!
Peanut Butter Banana Muffins: A grab and go breakfast!
Pin This Post Here!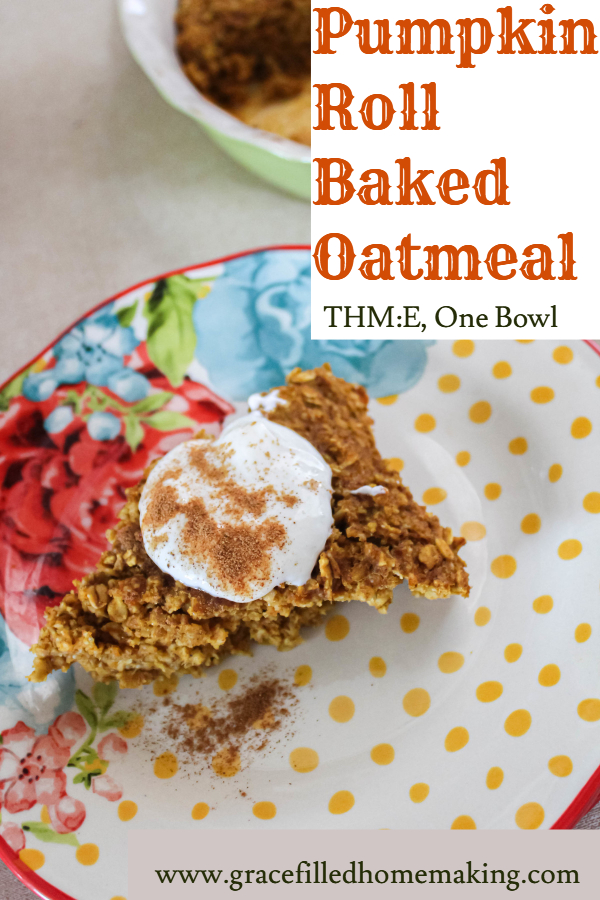 Pumpkin Roll Baked Oatmeal
Yield:
1 8x8 inch pan OR about 9 servings
Ingredients
3 C. Oats (I used Old Fashioned)
1 C. Egg Whites
1 C. Pumpkin Puree
1/2 C. Almond Milk
1 t. Vanilla
1/4 t. Salt
1 t. Pumpkin Pie Spice
1/2 C. Gentle Sweet + 1 Doonk Stevia if you want it extra sweet
1/2 t. Baking Powder
1/2 t. Baking Soda
Topping
1/2 C. Plain Greek Yogurt
2 T. Gentle Sweet
1/2 t. Vanilla
Instructions
Preheat oven to 350 degrees
Lightly spray an 8x8 inch pan with coconut oil spray
Mix all the baked oatmeal ingredients together until smooth.
Pour in pan and bake for 30 minutes or until golden brown on top.
While the oatmeal is baking, make your topping!
Mix the yogurt, vanilla, and sweetener together until smooth.
Recommended Products
As an Amazon Associate and member of other affiliate programs, I earn from qualifying purchases.