This post might include affiliate links for products that I know and LOVE!
This simple homemade granola has all the best flavors of Fall. Who can resist the warm spices of apple cinnamon? Definitely not me. This delicious breakfast is gluten-free, sugar-free, and, if you use coconut oil instead of butter, dairy-free.
It crisps perfectly in the oven, making your home smell amazing and giving you a healthy make-ahead option. As a busy homeschool Mom, prep-ahead meals are my jam. Anything to give me a few more minutes in the morning! Plus, my kids can "prep" their bowls themselves. Independence is a lovely thing. 🙂
This recipe is one of our favorite Fall recipes, but you can enjoy it anytime you need a fast breakfast that keeps you out of the drive-thru. Topped with fresh berries, it's absolute heaven!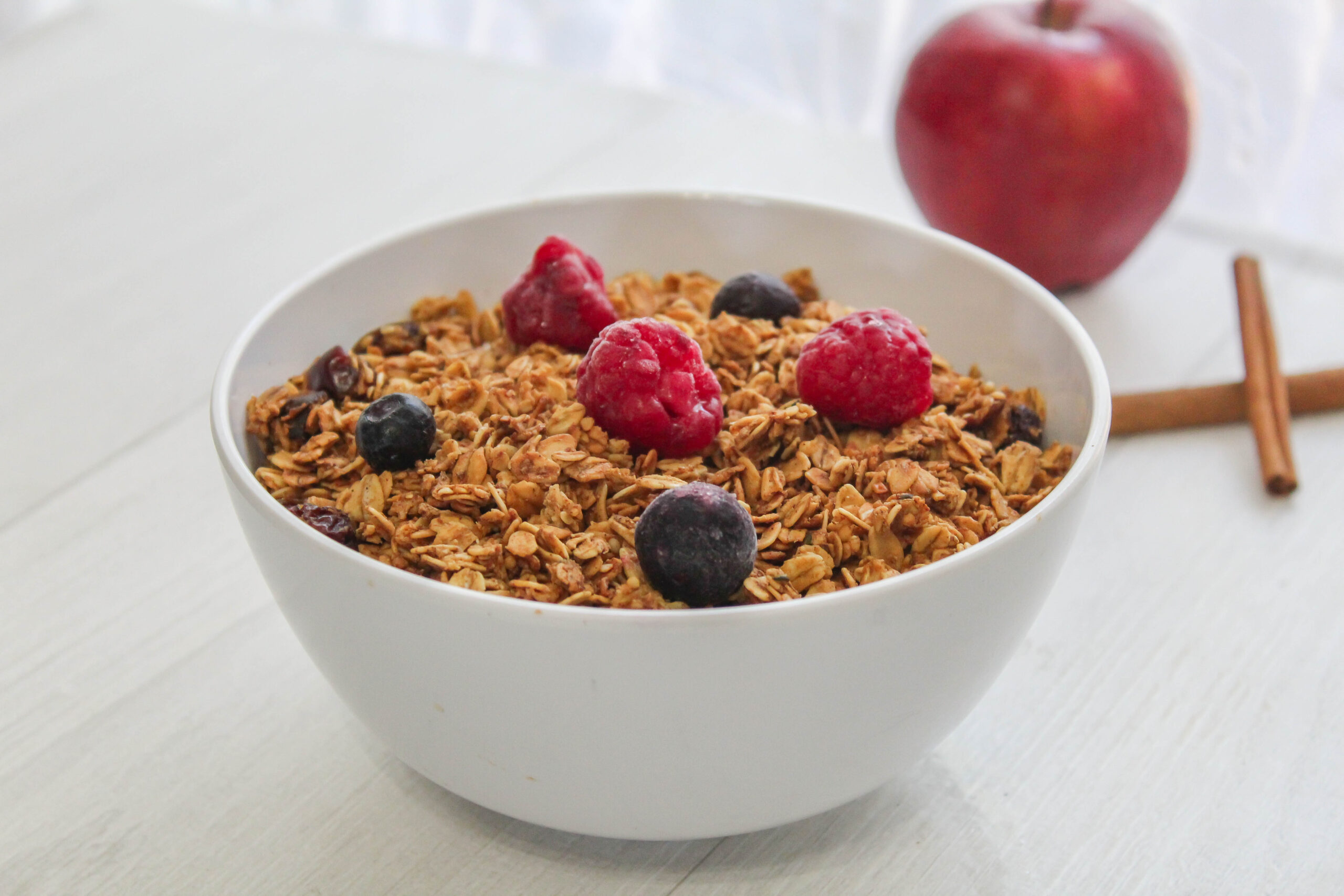 It gives me peace of mind knowing my little students are filling their tummies with a hearty breakfast that isn't packed full of sugar or gross fillers. This is one family-friendly meal kids adore, especially if you use it to top a bowl of protein-packed yogurt!
Trim Healthy Mama friends, this recipe is an "E" if you leave out the optional hemp hearts. If you choose to leave the hemp hearts, you'll have a tasty cross-over breakfast.
Ways to Customize Your Breakfast
Variety is the spice of life, and there are SO many fun ways to customize your granola. We eat this breakfast about once a week because it's filling, tasty, and budget-friendly. With the cost of groceries, frugal meals are a must!
Here are some ways we change it up.
Omit the applesauce and cinnamon. Add vanilla extract for plain granola.
If you don't mind mixing fats and carbs, add unsweetened coconut shreds, nuts, or sugar-free chocolate chips.
Create a healthy parfait by layering berries, yogurt, and granola.
If you are running short on time, make my Crock-Pot granola. It's JUST as good, and you get so much bang for your buck.
Sub equal parts mashed banana for the applesauce and add 1/4 cup defatted peanut flour. A granola Elvis would totally approve of.
Add a dash of cocoa or cacao powder for a chocolatey treat.
Once the granola has cooled, you can add freeze-dried fruit. We love mango!
Substitute equal parts pumpkin puree for applesauce and equal parts pumpkin pie spice for the cinnamon. Another "WOW" Fall flavor you'll love.
Use this tasty treat to top your smoothies.
Take a bag on the go to the park, sporting events, and more.
Better For You Breakfast Options
This granola is a fabulous way to incorporate whole foods into your diet without spending a lot. We don't do a lot of store-bought cereal. I'd love to say this is because I'm super ingredient-conscious (which I am!), but honestly, my primary reason is that it's so expensive. When my kids eat sugary cereal, they turn into tiny hobbits who want 2nd, 3rd, and 4th breakfast.
Plus, my homemade granola uses healthy sweeteners and a tiny bit of unrefined fat. No gross oils here and no energy-zapping sugar! My primary sweetener of choice is liquid stevia because it blends extremely well into the wet ingredients.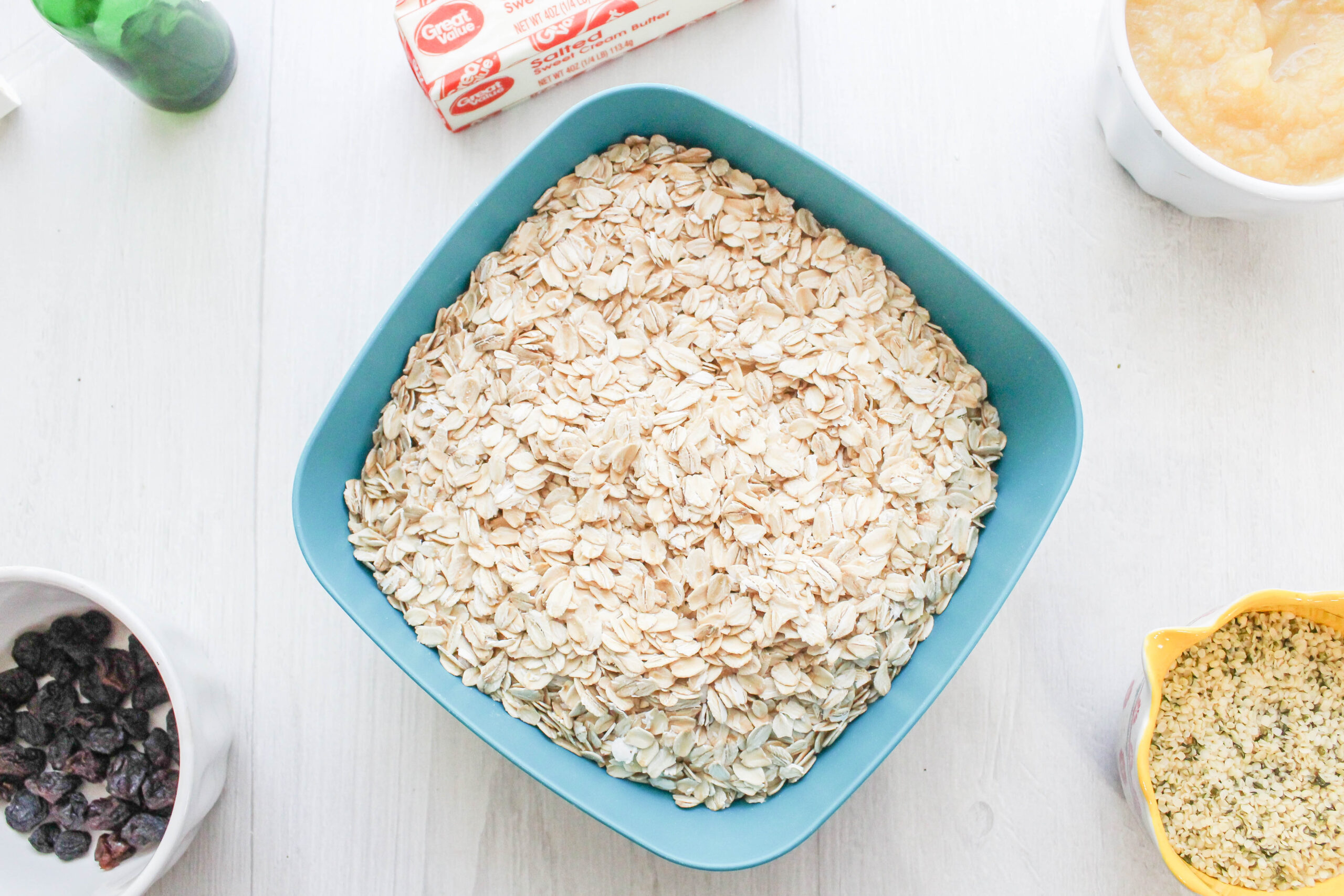 All you need to make this recipe is a few simple ingredients.
Unsweetened applesauce is a must for any healthy kitchen. It's a great snack on toast, or plain. My kids love it!
Hemp hearts are an amazing option full of healthy fat. I love the texture they give this granola. Ground cinnamon adds the perfect hint of spice, and a few raisins add the perfect pop of sweetness!
Egg whites help our granola bind together and clump perfectly if that's your thing. 😉
If I'm not using liquid stevia, I'll add a little of Trim Healthy Mama's Gentle Sweet or Super Sweet. Both of these options are low-glycemic and taste awesome.
On rare occasions, I'll use raw honey, pure maple syrup, or coconut sugar for a change of pace.
Freeze this breakfast for later! Let it cool, then store it in an airtight bag. When you want to make a bowl of granola, take the bag out of the freezer, let it thaw at room temp for 10 minutes, then proceed as usual.
Other Healthy Breakfast Options Include:
Breakfast Burrito (Bowl or low-carb tortilla)
Omelets
Eggs and Sausage or Bacon
Smoothies
Fruit and Oatmeal
Make Homemade Granola
This recipe is so easy to make. My kids love helping in the kitchen, and stirring the bowl is my 3-year olds favorite job! There's nothing better than a from-scratch breakfast.
This is the perfect recipe to add to your meal prep rotation, especially if you plan on making it in bulk!
Step One: Mix Ingredients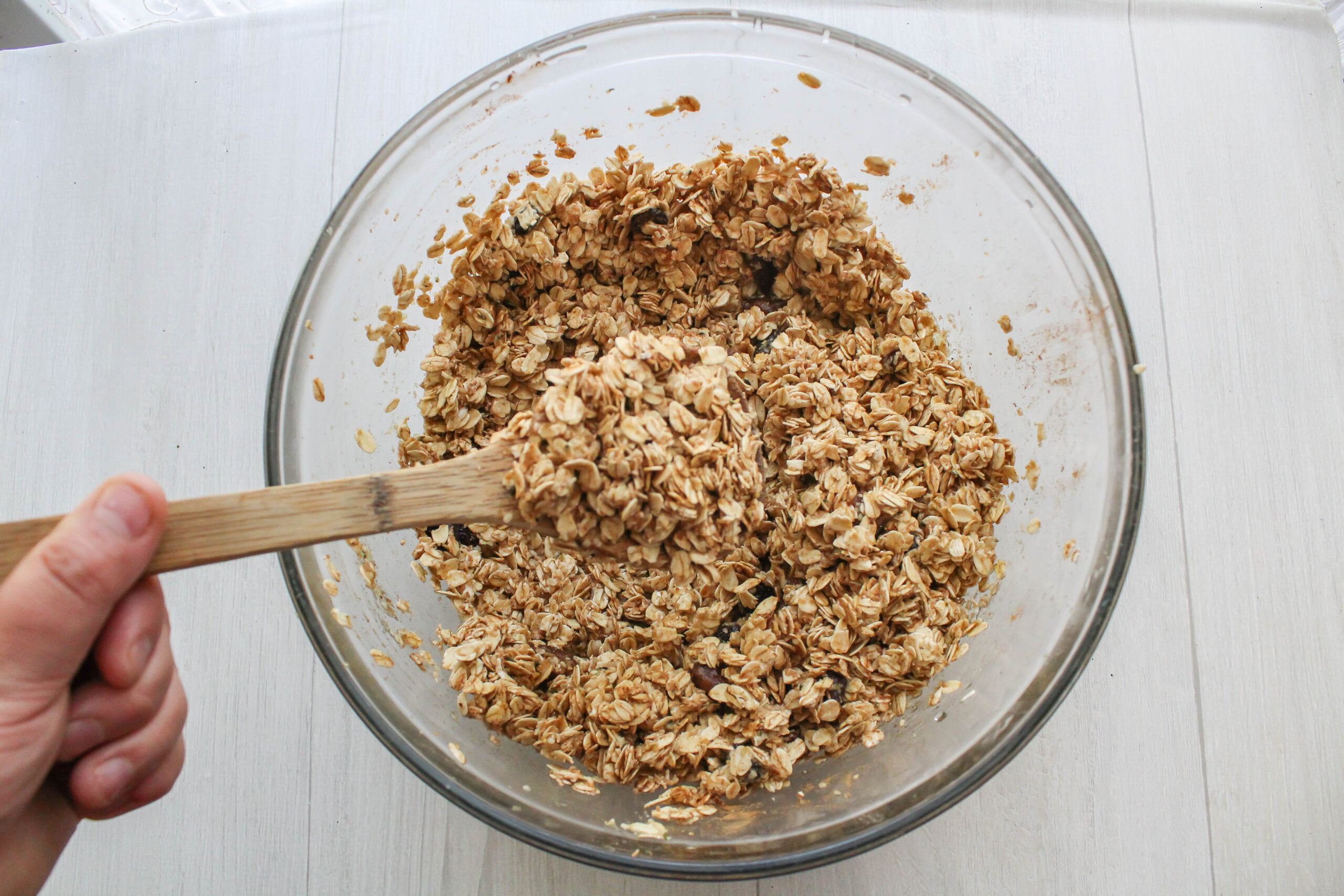 Preheat the oven to 350°F. Mix the applesauce, egg whites, melted butter, and stevia in a medium bowl.
Stir in the raisins, old-fashioned oats, cinnamon, and hemp hearts, if using.
Step Two: Bake the Homemade Granola
Spread on a parchment-paper-lined sheet pan and bake for 1 ½-2 hours, stirring every 20 minutes. Your granola will look like this when it goes into the oven..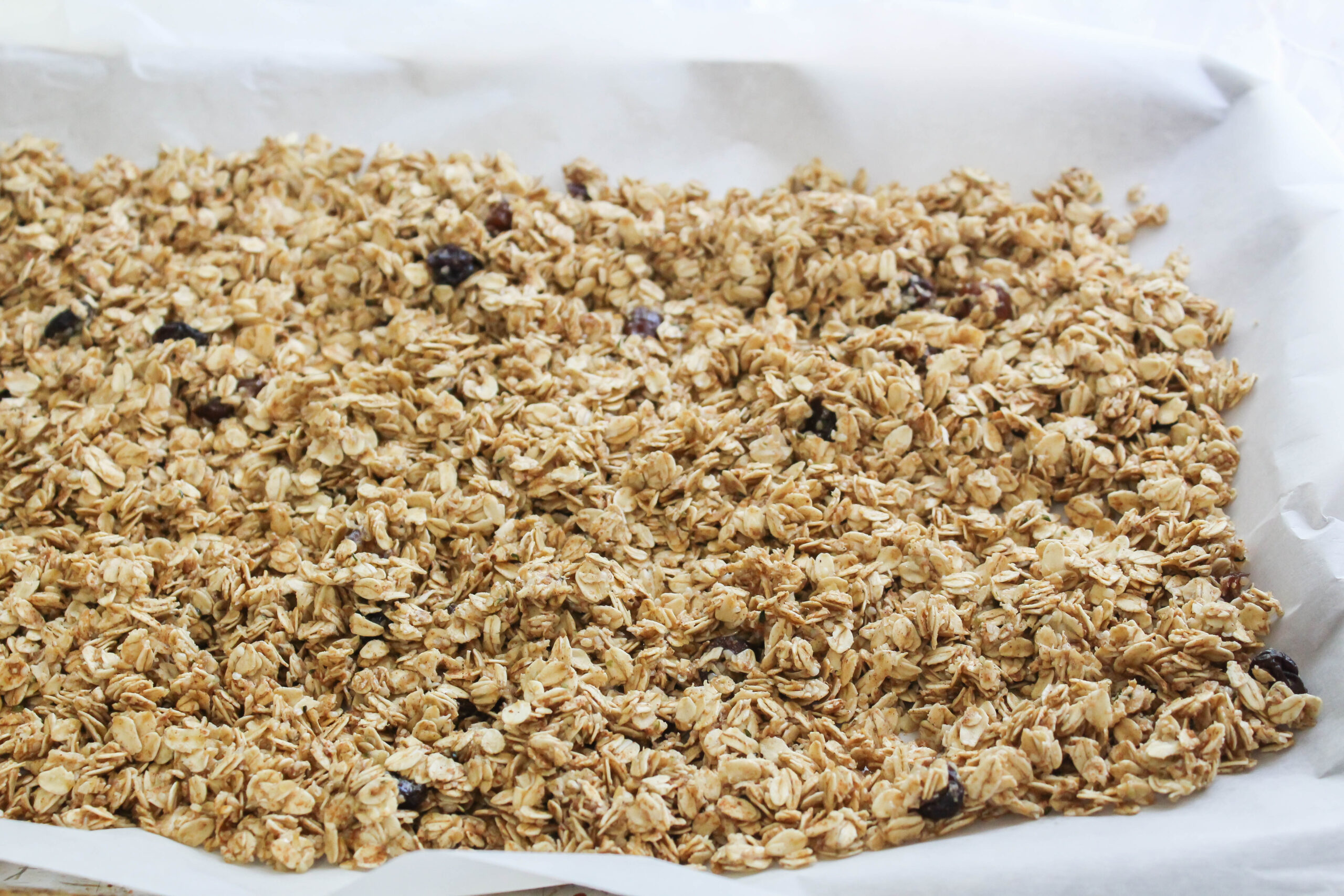 And it will look gorgeously golden like this when it comes out.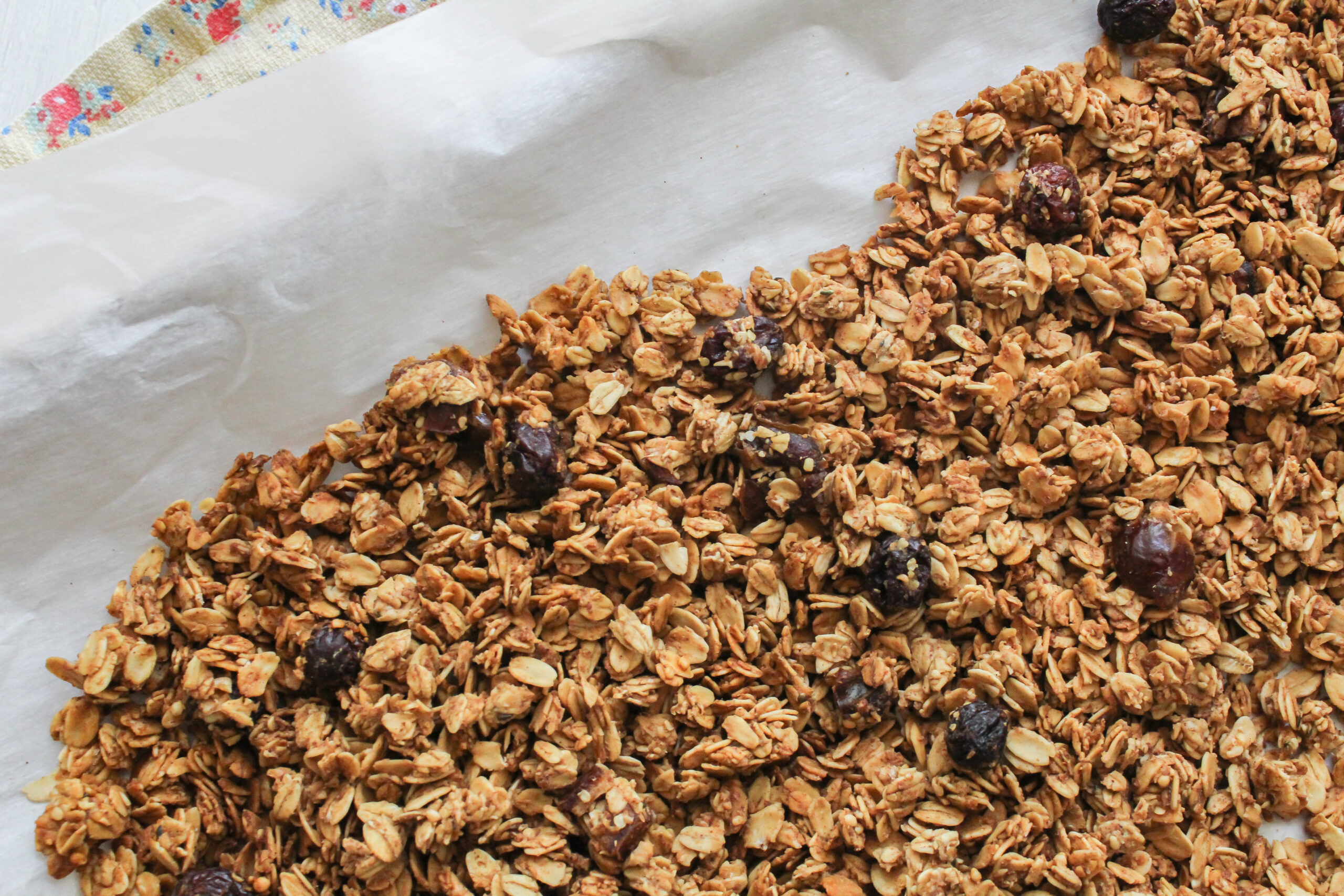 Let cool, break if needed, and store in an airtight container. Enjoy!
Things to Know…
While oats are naturally gluten-free, they are usually processed in plants where they can become cross-contaminated. If you're following a gluten-free diet, be sure to purchase certified gluten-free oats.
If you want your granola to be clumpier, press it down firmly in the pan at the beginning of the cooking cycle and every time you stir.
Be sure to watch your granola towards the end of the cooking cycle, so it doesn't burn.
Any additions (coconut, fruit, etc.) need to be made after the granola cools.
This granola keeps in an air-tight container for a month or in the freezer for 3 months.
If frozen, thaw the granola to room temp before eating. It tastes SO fresh out of the freezer!
Pin Here!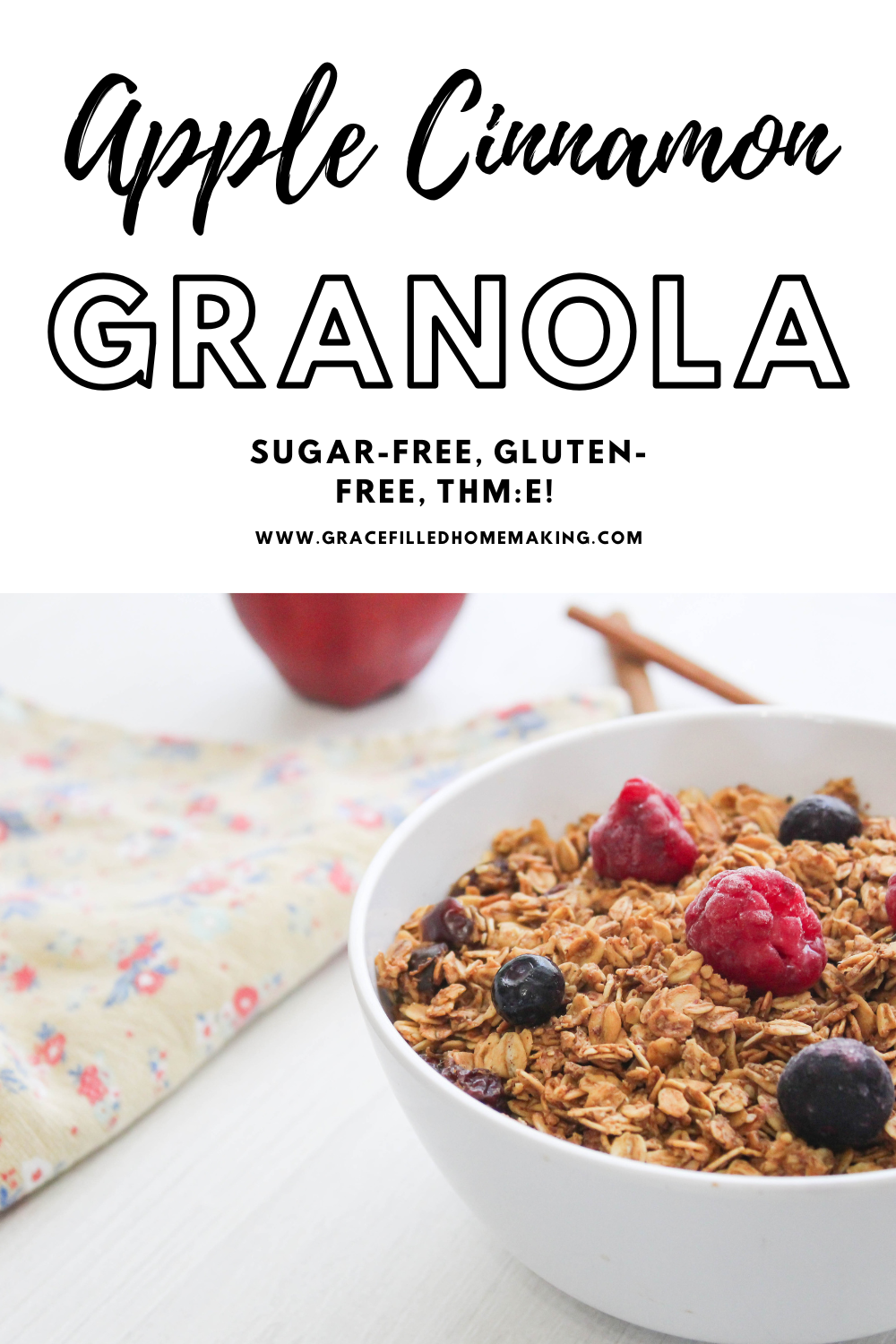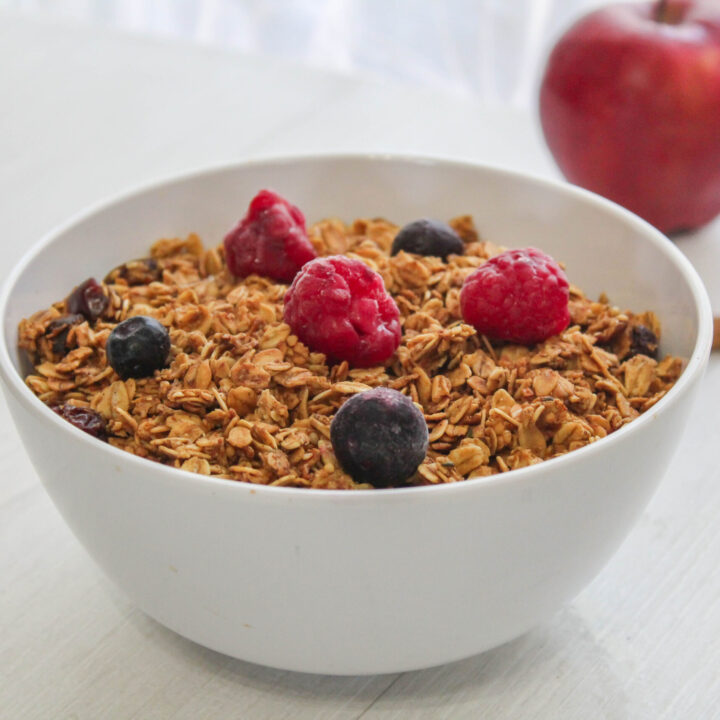 Apple Cinnamon Granola
Cook Time:
1 hour
30 minutes
Total Time:
1 hour
40 minutes
Ingredients
2/3 cup unsweetened applesauce
1/4 cup egg whites
2 tablespoons butter or coconut oil, melted
3 droppersful liquid stevia*
1/4 cup raisins
4 cups old-fashioned oats
2 tablespoons ground cinnamon
1/4 cup hemp hearts**
Instructions
Preheat the oven to 220°F.
Mix applesauce, egg whites, butter, and stevia in a medium bowl.
Stir in the raisins, old-fashioned oats, cinnamon, and hemp hearts, if using.
Spread on a lightly greased sheet pan and bake for 1 ½-2 hours, stirring every 20 minutes. Your granola is done when it's golden brown.
Let cool and store in an airtight container. Enjoy!
Notes
*You can also use 1/4 cup Trim Healthy Mama Gentle Sweet, 1/8 cup Trim Healthy Mama Super Sweet, or your favorite healthy sweetener to taste. Coconut sugar is also a great option on occasion.
**Omit this ingredient if you want an "E" breakfast