This post might include affiliate links for products that I know and LOVE!
One of my favorite desserts is the ever-so-popular "Better than Anything Cake". Chocolate cake with sweetened condensed milk soaked into it. A hint of caramel sauce. Whipped cream topping with candy bar pieces dusting the top.

Yummy, yet so unhealthy.

I created my own version with a fudgy, brownie-like cake, sweetened condensed milk from a genius THM blogger, a hot fudge sauce that I created from lite coconut milk, and a caramel whipped cream topping. It's reminiscent of a Snickers bar, only better.

This recipe makes an 8×8 pan. It's very rich, so I'd recommend using your self-control skills! It does take a little more work to make, but it is so worth it!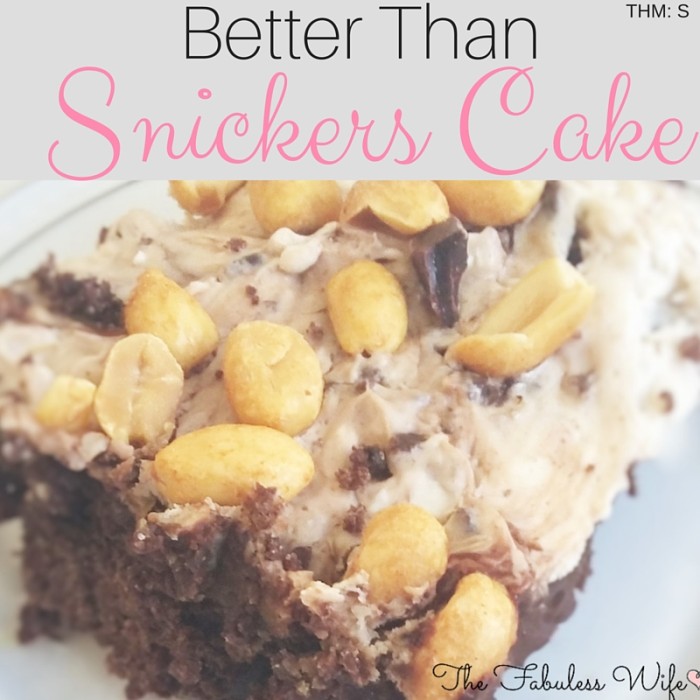 Here's how to make it:


Fudgy-Brownie Cake Base:
Combine 1 stick of melted butter with 1/2 C. Gentle Sweet and 3 T. almond or cashew Milk. Add 3 eggs and 1 t. vanilla and stir until smooth. Mix in 3/4 C. Baking Blend, 1/2 C. Cocoa, 1/2 t. baking powder and a pinch of salt. Pour into an 8×8 pan and bake at 350 for 28 minutes or until cooked through.
While the cake is cooling, make the sauces. You can make one or both. If you're making just one, I'd recommend doubling the condensed milk recipe. 🙂
I also created my own hot fudge recipe:
Combine 1/2 C. lite coconut milk, 1/4 C. cocoa, and 1/3 C. Gentle Sweet. Bring to a swift boil, then let simmer until thick. This sauce does have a hint of coconut flavor (obviously!), so if you're not into that, you can use a plan approved chocolate syrup.
When the cake has cooled to room temperature, poke as many holes as possible into the surface. Pour the condensed milk and hot fudge into the holes and let it soak into the cake.


To create your whipped cream topping:
Whip 1/2 C. cream, 1 t. caramel extract and 2 T. Gentle Sweet until light and fluffy.
Top the cake with peanuts and 85% dark chocolate pieces!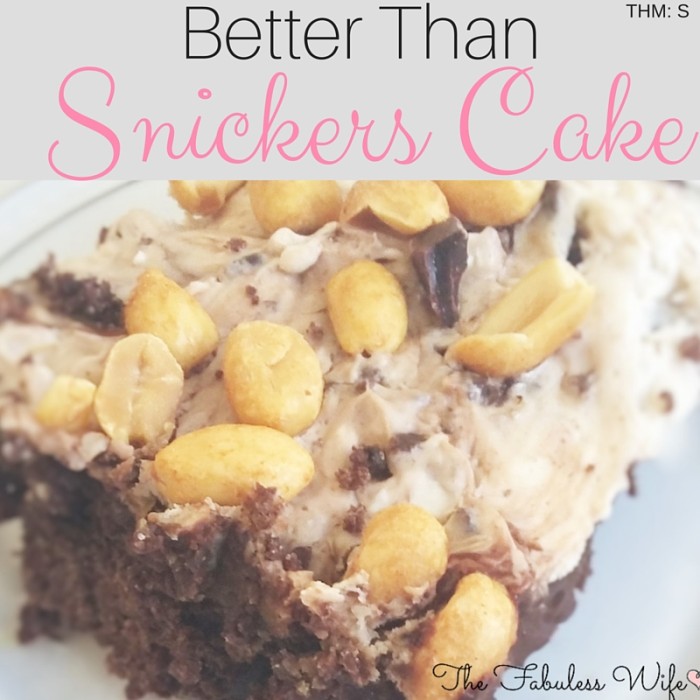 Better Than Snickers Cake: THM "S"
Ingredients
1 Stick Melted Butter
3 Tablespoons Cashew Milk
1/2 Cup Gentle Sweet
3 Eggs
1 Teaspoon Vanilla
3/4 Cup Baking Blend
1/2 Cup Cocoa
1/2 Teaspoon Baking Powder
1 Pinch Mineral Salt
Hot Fudge Sauce
1/2 Cup Lite Coconut Milk
1/4 Cup Cocoa Powder
1/3 C. Gentle Sweet
Whipped Cream Topping
1/2 Cup Cream
1 Teaspoon Caramel Extract
2 Tablespoon Gentle Sweet
Instructions
Fudgy Brownie Cake
Hot Fudge Sauce
Whipped Cream Topping