This post might include affiliate links for products that I know and LOVE!
When I thought about what I most needed as a Trim Healthy Mama, I found that coupons were at the top of my list. I've tried a few methods of couponing before and every method took a lot of time and energy. It's no secret that eating healthier can cost a bit extra. I want to make it possible for everyone to eat healthy food while sticking to their budget. 

Each Monday, I will update this post with any changes in THM friendly coupons. Every Trim Healthy Mama friendly coupon I can find will be in this one place, which will save you SO much time! If you have a coupon that you'd like to share, you can comment or email me at [email protected]!



As far as specialty products such as sweeteners, peanut flour, and protein powder, the Trim Healthy Mama Store has the lowest prices I've seen.
Want to save even more money? Sign up for the ibotta app to get rebates on dairy, produce and health and beauty products. If you sign up through my link, you automatically get an extra $10 when you verify your first rebate (and I get $5 added to my account!). Win-win for both of us! Here's my link.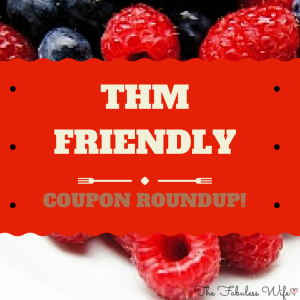 CLIPPABLE COUPONS: 
Get this week's coupons here.

BRAND SPECIFIC COUPONS: 

Dreamfields Pasta offers a coupon for $1 off a box of pasta

So Delicious offers an array of coupons that you can use on any of their products, including plan-approved ice cream.

When you sign up to receive a sample of Truvia, you can also get a coupon for $2 off.


Green and Black Chocolate has a coupon for .50 off a chocolate bar.