This post might include affiliate links for products that I know and LOVE!
Want an alternative to harmful toilet cleaners? Look no further! These toilet bombs are natural, easy to make, and best of all, effective.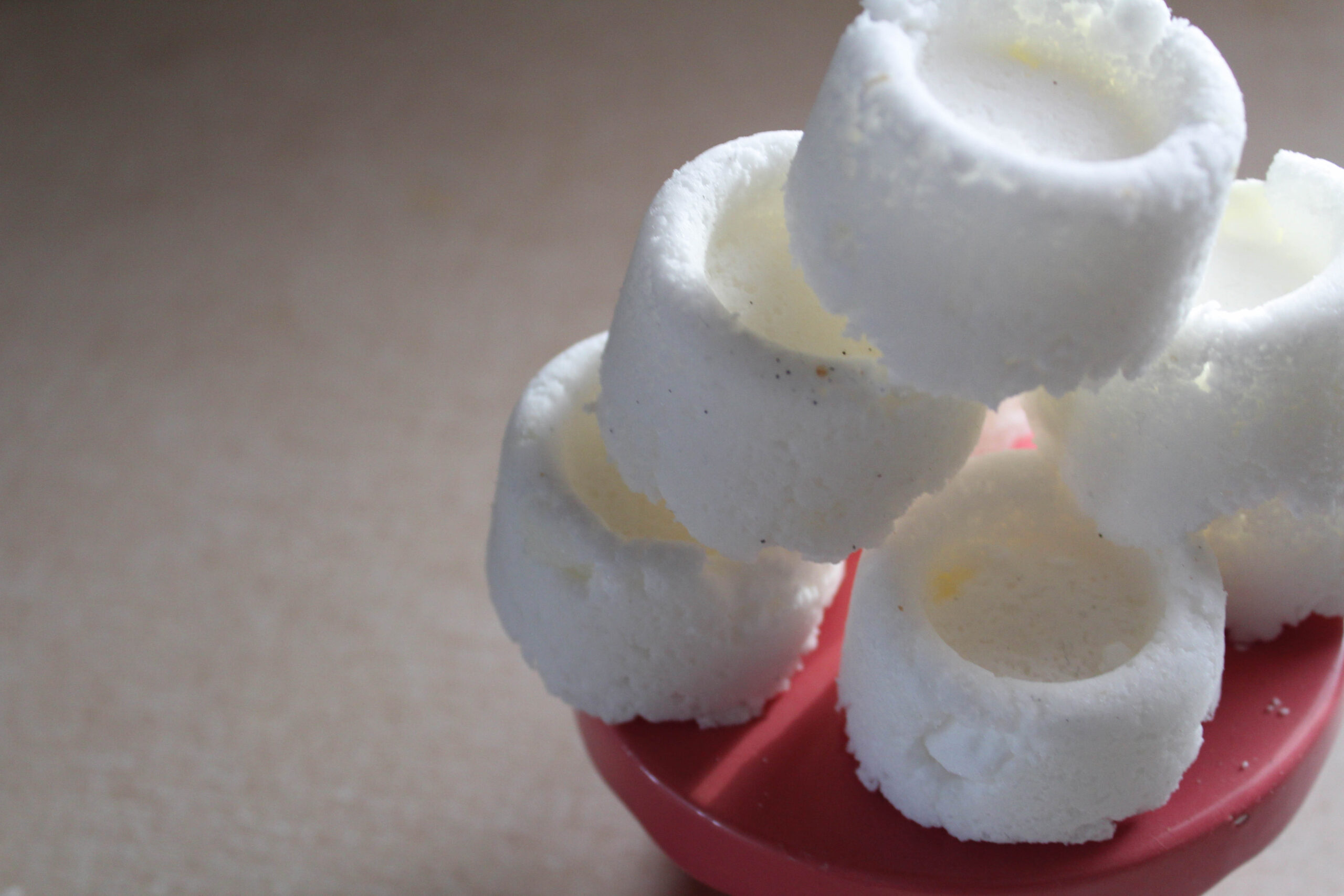 What is a Toilet Bomb?
A toilet bomb is like a bath bomb for your..toilet. It fizzes and deeply cleans stains and odors. It's a healthier alternative to harsh toilet cleaners and is gentle on the surface. Instead of using chemicals, it uses citric acid, baking soda, and essential oils to get the job done.
Ingredient Breakdown:
Citric Acid: Citric acid is known to kill germs and bacteria, making it the perfect agent to use in your natural cleaning. It also dissolves lime and rust, so it makes harsh stains disappear. The best part of citric acid is it adds a bubbly effect to whatever it's cleaning, which always makes life more fun. I purchase my citric acid at Walmart, but you can also purchase it on Amazon.
Baking Soda: Baking soda neutralizes harsh smells. It's an inexpensive green cleaner! You can usually get it for under a dollar at any grocery store. It's a natural exfoliant, so it helps scrub stains.
Essential Oils: The oils that I chose to use in this recipe are lemon and peppermint. I chose them both merely for scent! They are some of the strongest oils and the combination makes for a clean-smelling bathroom. I use Young Living's oils.
Thieves Cleaner: Instead of using plain water to mix together the ingredients I used thieves cleaner. It's my favorite cleaning combination because it does the job! Not only does it smell great, but it's also great for septic systems, which is important when you live in the country as I do. It's completely plant-based. You can buy it here.
Molds: I use a silicone mold similar to this one. I found mine at a thrift shop! I would recommend using silicone over a metal mold.
How Do I Use Toilet Bombs?
Easy! Just drop one in your toilet bowl and walk away. Let it sit for 10 minutes and give it a quick scrub. Or you can watch it fizz if that's your thing. 🙂
Want Other Natural DIY'S?
Pin This Post Here!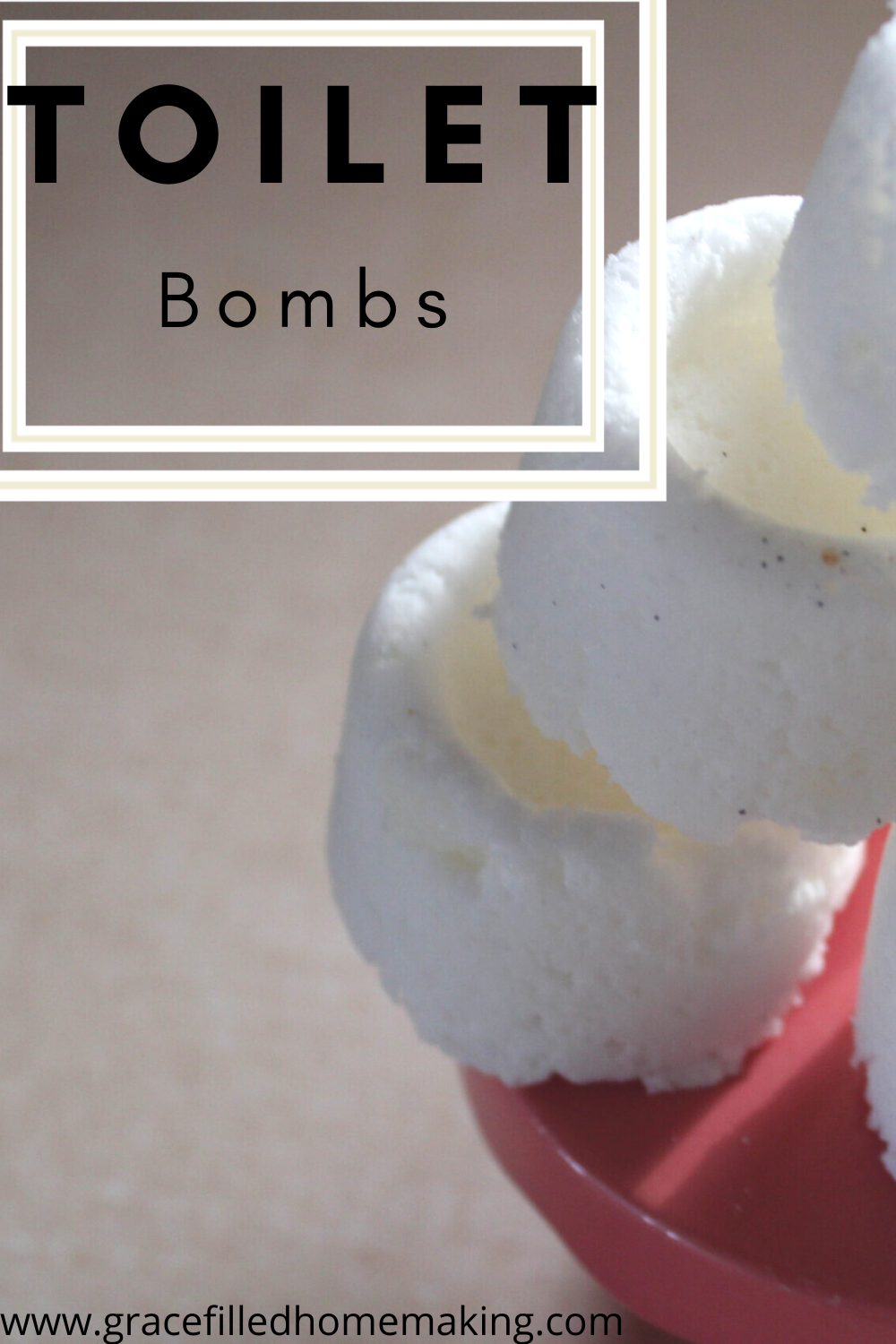 Toilet Bombs (Natural Cleaner, Green Cleaning, Essential Oil)
Ingredients
2 C. Baking Soda
1/3 C. Citric Acid
20 drops of the EO of your choice. I used lemon and peppermint. 
A spray bottle filled with Thieves Cleaner or water
Instructions
Combine the baking soda, citric acid, and oils in a large bowl.
Next, spray your cleaner or water into the bowl, just enough to moisten the mixture. This usually takes about 5 or 6 sprays.
Give it a quick stir.
Repeat steps 2 and 3 until you have a mixture that holds together when you squeeze it. You want it to harden in the mold, not fall apart!
Place the mixture in your mold.
Let harden on the counter for a couple of hours or for a speedier process, you can freeze it.
Take out of the mold and get ready for a super clean toilet!
Store in your freezer and use as needed.