This post might include affiliate links for products that I know and LOVE!
My husband and I are saving up to purchase our first home, so I am following many of Dave Ramsey's "Baby Steps" starting with creating an emergency fund. He gives an option of creating either a $500 or $1000 emergency fund and I decided that saving $500 would be my goal. My goal was to save $500 in one month and I did it!
Let me preface this post by saying I'm a lot like you. I'm not rich. I'm a work at home Mom with two toddlers underfoot, I live in the Midwest where the cost of living is pretty average and I don't have a fairy godmother willing to drop $500 in my lap on a whim. But also like you, I have a desire to create financial security for my family.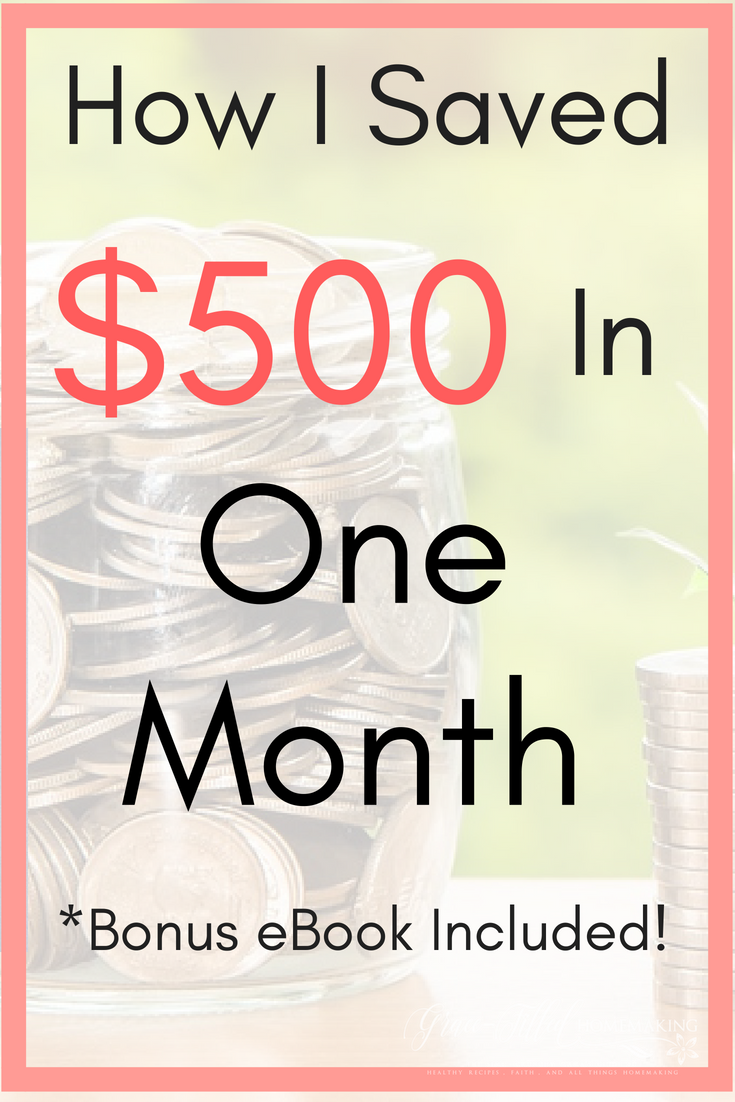 Here are some tips to help you save $500 in a month!
1. I Created a Zero-Based Budget
A zero-based budget is where you tell every single dollar where it's going and you keep close track to ensure that your money is doing what you want it to. My husband and I had been living with a set budget, but it wasn't totally in stone and it definitely wasn't zero-based. When I created our zero-based budget, it was shocking to see just how much money we were wasting on those little trips to the gas station for sodas and those random fast food runs. It adds up!
2. I Cut My Grocery Budget
I don't like discussing specifics for grocery budgets because it's such a tender topic! No matter what you spend, there's going to be someone who either thinks you can't possibly eat "human" food for such a little amount or someone who can't believe your that frivolous. For the sake of transparency, I will let you in my budget before and after. I was spending $160/week on my groceries and now I am spending $120/week. This is for 4 people. The amount I save isn't as important as the concept: I found an area that I could save $$ in and I cut it back as much as possible.
3. I Cut Out Most Extras
I went through my zero-based budget and looked for more areas that I could cut back on. We don't have cable or many subscription type things, but I still looked! This resulted in:
Eating 2 meals out a month instead of an undetermined amount
Downgrading our Hulu to the bare-bones basic
Cutting back on my random thrift store trips
Only going to the store once a week
4. Our Budget Only Included My Husband's Income
I'm a WAHM, so my income can basically fluctuate depending on how much is on my plate at that given time. When I created our zero-based budget, I made a goal to live solely on my husband's income . It's really easy to use my part-time income as "fun money" but that doesn't really result in a very good financial future! Every penny I earn goes straight into our savings account. Which leads me to…
5. I Hustled Like a Boss
Like I said, my income fluctuates and I can choose how much work I take on. So, this past month I took on a few more freelance jobs to help pad our savings. I use the Upwork platform where you can create a profile and land various writing, photography, design, editing, and virtual assistance jobs. These jobs were done in the margins of mothering tinies. Is there really any margin? Ha! Anyways, the extra work was fit in after my boys went to bed. 🙂
6. I Didn't Skimp on Giving
When I was creating my zero-based budget, I didn't cut back on our weekly giving. We also don't say no to helping out with any needs that we have the ability to meet. This isn't because my husband and I are totally awesome Christians, but because we've been given so much through Christ's sacrifice that we want to give something back. Our finances are prayed over and we try to steward them with a Kingdom mindset. I'm a strong believer that we reap what we sow and that God honors you if you honor Him with your finances! We're blessed to be a blessing and I've seen God be so faithful when I trust Him.
7. I Implemented Moderation
A couple years ago when I tried to save money, I went gung-ho and was bare bones. No spending money, no meals out, $100 a week grocery budget, the end. This time, I decided to go for moderation. A small amount of spending money, a couple meals out, a grocery budget where we don't feel deprived. These things seem so little but they can help you stick with a budget. A budget should be something that's a lifestyle, not a temporary fix. Making it doable means it's sustainable!
8. I Kept My Goals in Mind
My husband and I drove around our town looking at houses that were for sale just to motivate ourselves. The first step in saving for a home is creating an emergency fund and laying that foundation. It might sound a little lame, but I kept my goals extremely close and did whatever I could to remind myself of them. This means:
I created a vision board on Pinterest
I allow myself to daydream about decorating a home and what it might look lik
I didn't let myself express any doubt about saving money
I prayed specifically for the ability to save money and steward it well
I hope this helps you as you save money for your emergency fund! Trust me when I say an emergency fund is a must-have. You never know what's going to come up. Do you have an emergency fund? Let me know how you add money to yours in the comments below!
You Might Also Like..
To the Mom in the Midst of a Financial Crisis
How I Save Money on Trim Healthy Mama
Want more money-saving tips? Sign up for my email newsletter below and you'll get my eBook, "The Busy Mom's Guide to Eating Well on a Budget" along with 2 other free gifts!