This post might include affiliate links for products that I know and LOVE!
Birthday cake is my all-time favorite flavor of anything. I wanted to create a fun ice cream and this was the first flavor that came to mind! This ice cream is a great, on-plan way to celebrate Summer.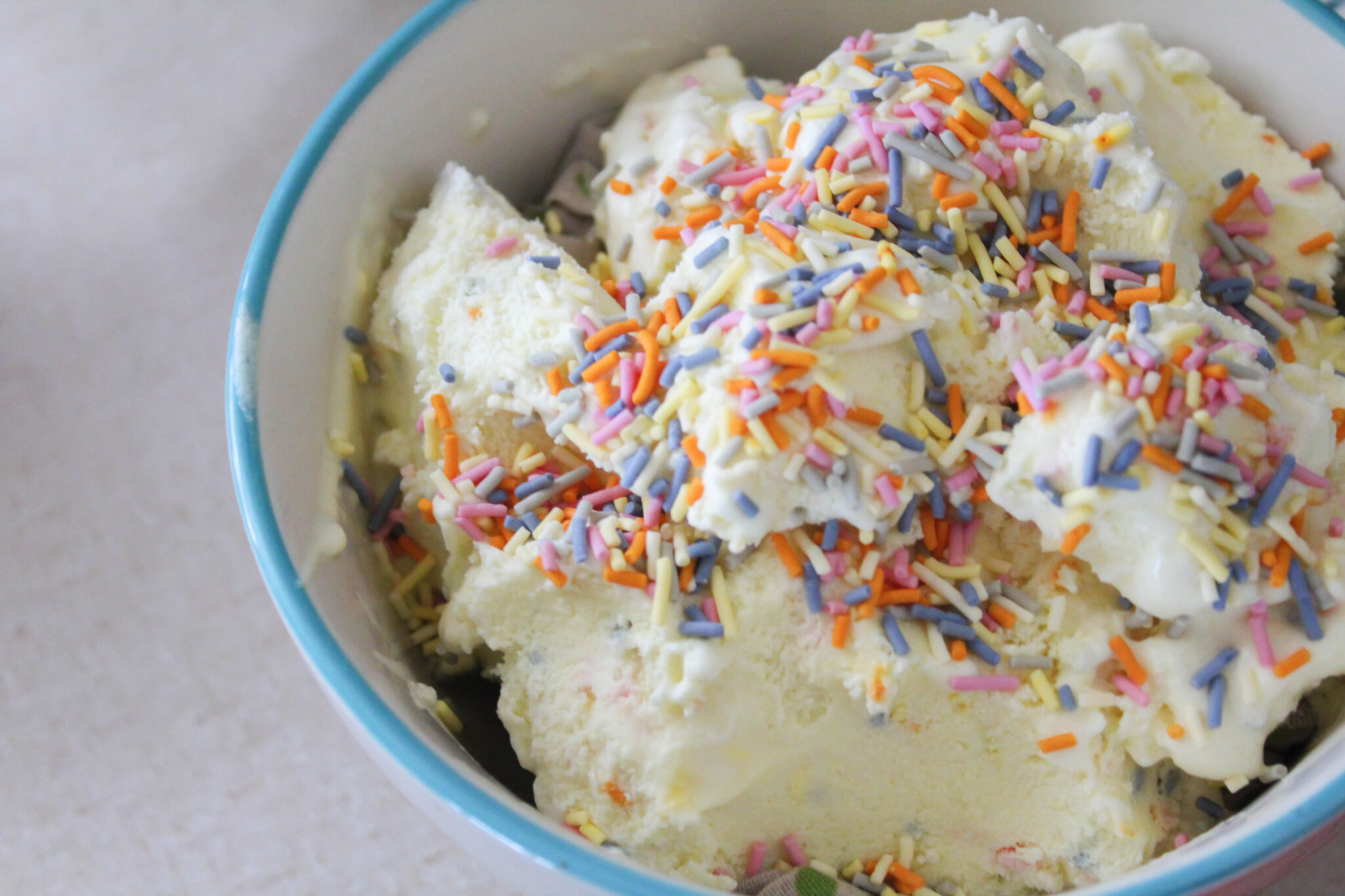 I know one of the first things you guys are going to notice is the sprinkles. Yes, they are sugar-free, however, they are a personal choice item since they contain corn fiber. I choose to use them because I like a little bit of pizzazz and I don't eat a lot of sprinkles, so it's worth it to me. You do you! Here's the link if you're interested. I'll link a few more recipes for sprinkles at the end of this post.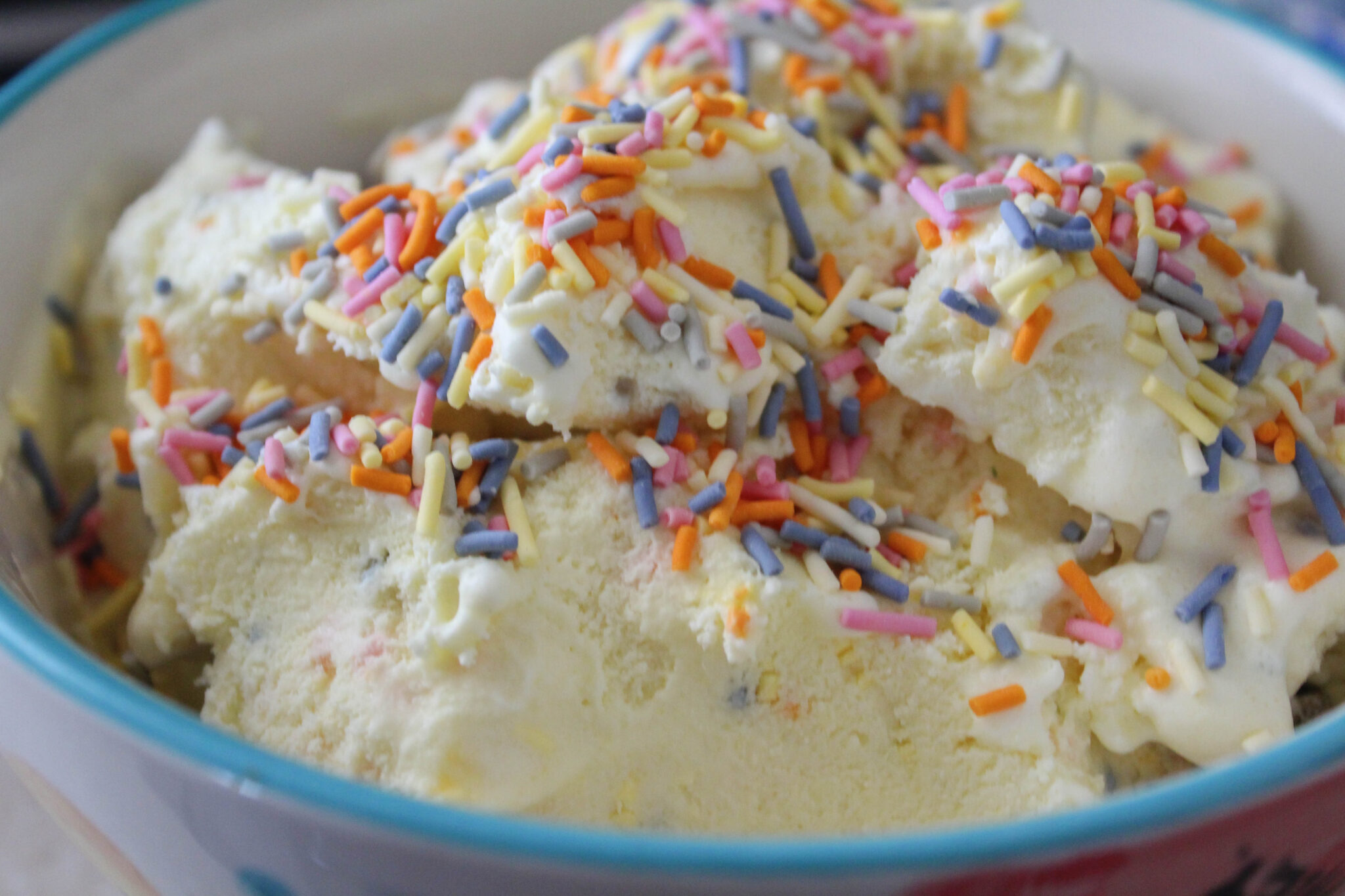 This is the Summer of Ice Cream at my house and my husband and littles could not be happier. We've had so much fun dreaming up new flavors and combos to share with you! It's so easy to make homemade ice cream and a LOT cheaper. Not to mention, you know just what you've put in your ice cream and eliminate a lot of those random preservatives.
This is the ice cream maker that I have used for 3 years. I absolutely love it and it is really easy to use. I think ice cream makers have come a long way! I remember being a kid and having to put ice and salt in the bottom of our older ice cream machine. My Dad made the BEST Peppermint Ice Cream. My version is coming soon. 🙂
Birthday Cake Ice Cream Notes
Be sure to chill your ice cream mixture. I like to chill mine for at least an hour.
After churning, you may need to freeze it a bit if you don't want super soft-serve style ice cream.
Be sure to leave your ice cream out for a little bit to make it easier to scoop. Without the random grocery store chemicals, it can freeze harder than store-bought ice cream!
I recommend using 1 T. Glycerine to help the ice cream scoop easier.
This is the cake batter extract I use. I found it at Walmart!
If you want to make your own sprinkles here are some links! All Day I Dream About Food has this recipe. Wonderfully Made and Dearly Loved has this one. Both are great options!
Pin My Birthday Cake Ice Cream Here!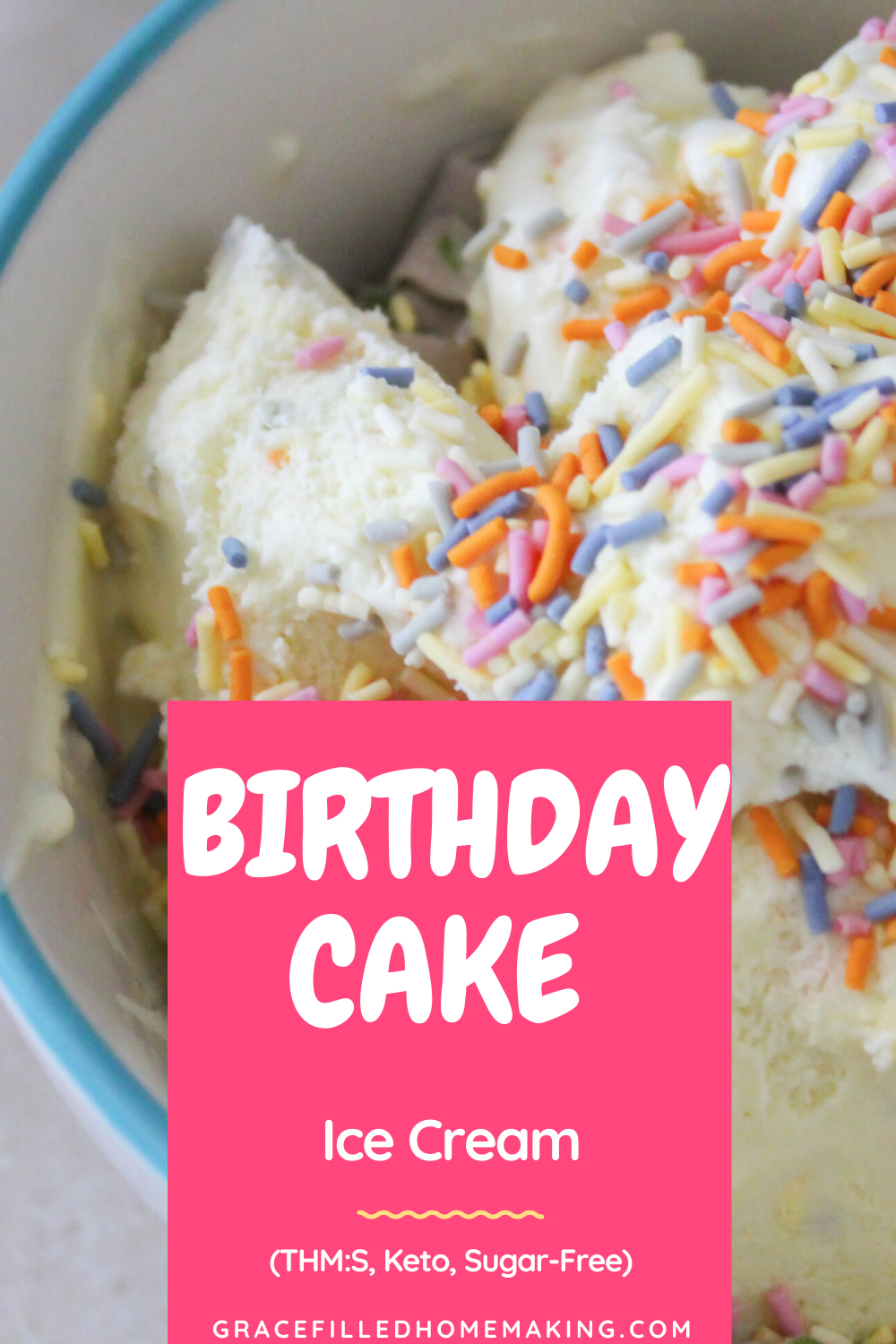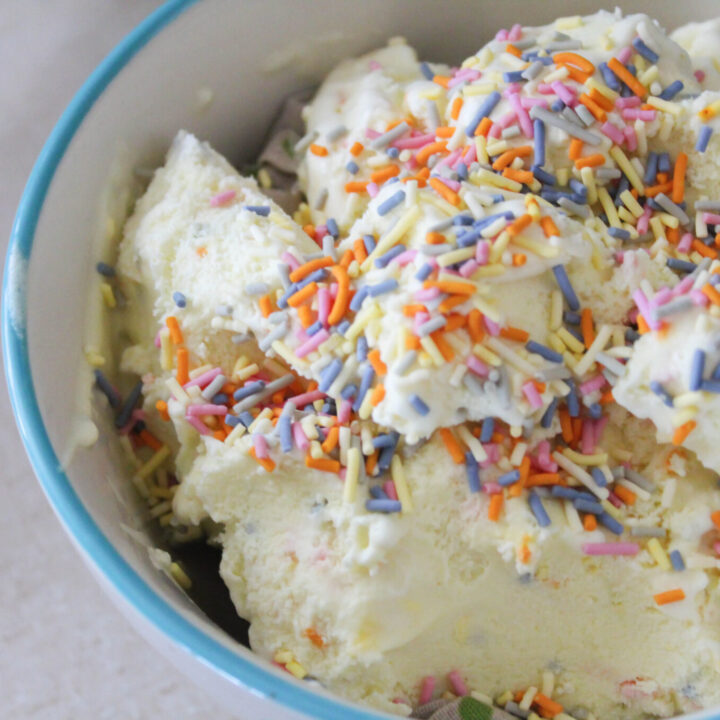 Birthday Cake Ice Cream
My Birthday Cake Ice Cream is a fun way to celebrate Summer! It's a THM:S, keto, and sugar-free!
Ingredients
2 C. Heavy Whipping Cream
1 C. Unsweetened Almond Milk
3/4 C. Gentle Sweet
1 T. Cake Batter Extract
1/4 t. Mineral Salt
Sugar-Free Sprinkles (Optional, but fun!)
1 T. Glycerine
Instructions
Mix all ingredients BUT sprinkles together in a bowl. Let chill for 1 hour. Churn according to your ice cream makers instructions. Fold in sprinkles if you're using them. I usually let the ice cream freeze for a couple of hours after churning to let it get to the right consistency. Enjoy!
Recommended Products
As an Amazon Associate and member of other affiliate programs, I earn from qualifying purchases.