This post might include affiliate links for products that I know and LOVE!
Need a simple, family-friendly dinner? Try my Ranch Chicken Enchiladas! They feature a creamy sauce and flavorful shredded chicken. This meal comes together in minutes, making it the perfect weeknight recipe!
Enchiladas are always a hit with my family! I always try to find ways to jazz them up. My kids are obsessed with ranch dressing on all the things, so I thought I would incorporate a bit of that ranch flavor into this dish. The end result was amazing! This is one of the best enchilada sauces I've ever tried.
How to Make Ranch Chicken Enchiladas
Making this recipe is easy! This is definitely something that even a beginner chef could make. Here's how to do it.
Step 1: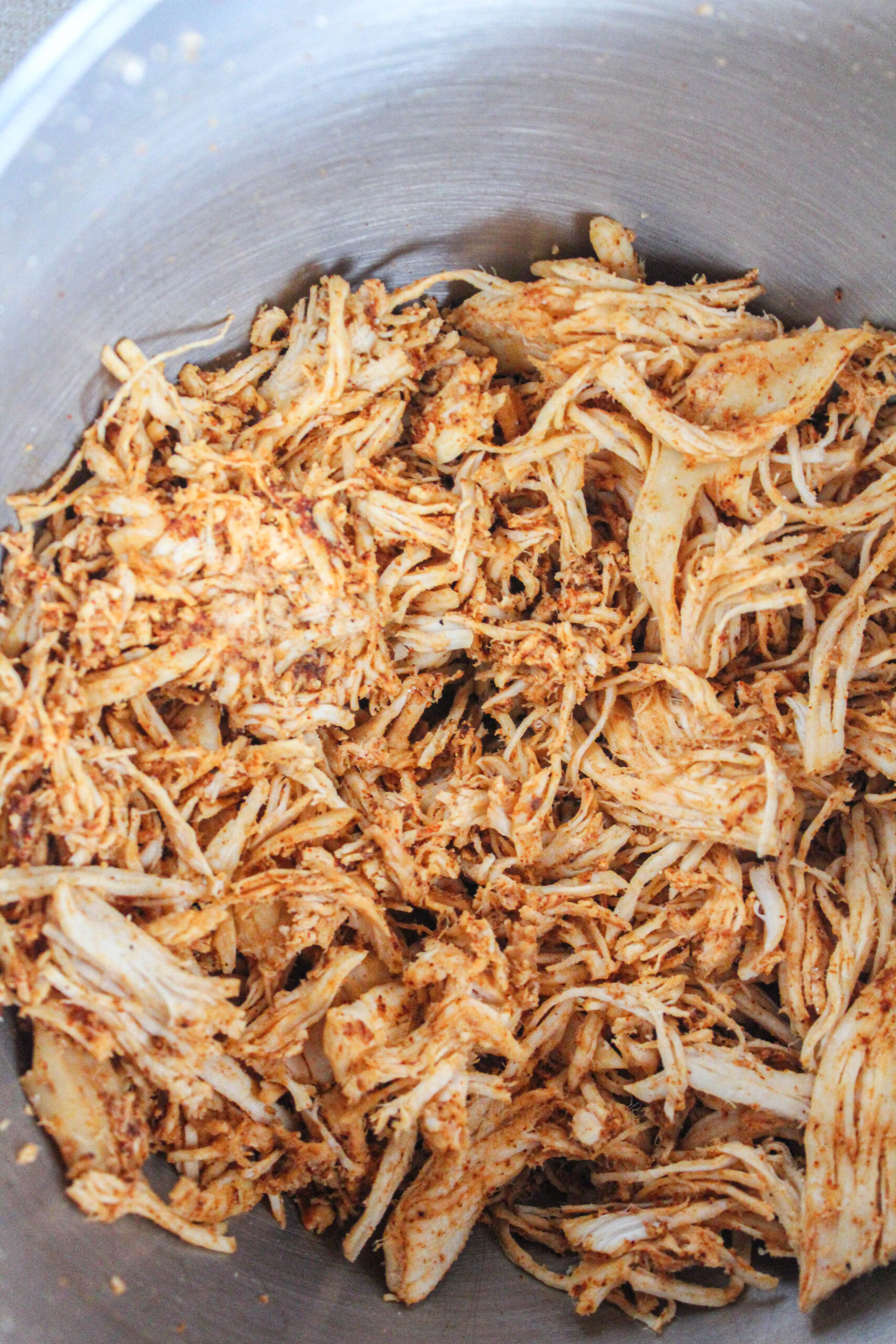 Shred the cooked chicken breast and mix in the spices. I have a fun hack for this! Place your chicken in a stand mixer and turn it on low. This will shred the chicken without any elbow grease on your end. Mix in the spices after your chicken is broken down. Note: Watch your mixer. It's easy for the chicken to turn into a chicken puree! You want the consistency to look about like the above photo.
Step 2:
Next, whip up your enchilada sauce. I mix homemade ranch dressing, salsa, and a little bit of smoked paprika in this recipe. I mostly used red salsa but added about 1/8 C. of Verde salsa for good measure.
Step 3:
Time to roll up those tortillas! Here's how I do it. I lay a tortilla flat and add some chicken and shredded cheese to the middle. You don't want to add too much or you won't be able to fold it! After I add my filling, I take one side and fold it lengthwise into the center. Then, I roll it so it looks like the picture above. Fill your 9×13 inch pan full of enchiladas. If you don't feel like rolling, you can always just layer the tortillas, cheese, and filling.
Step 4: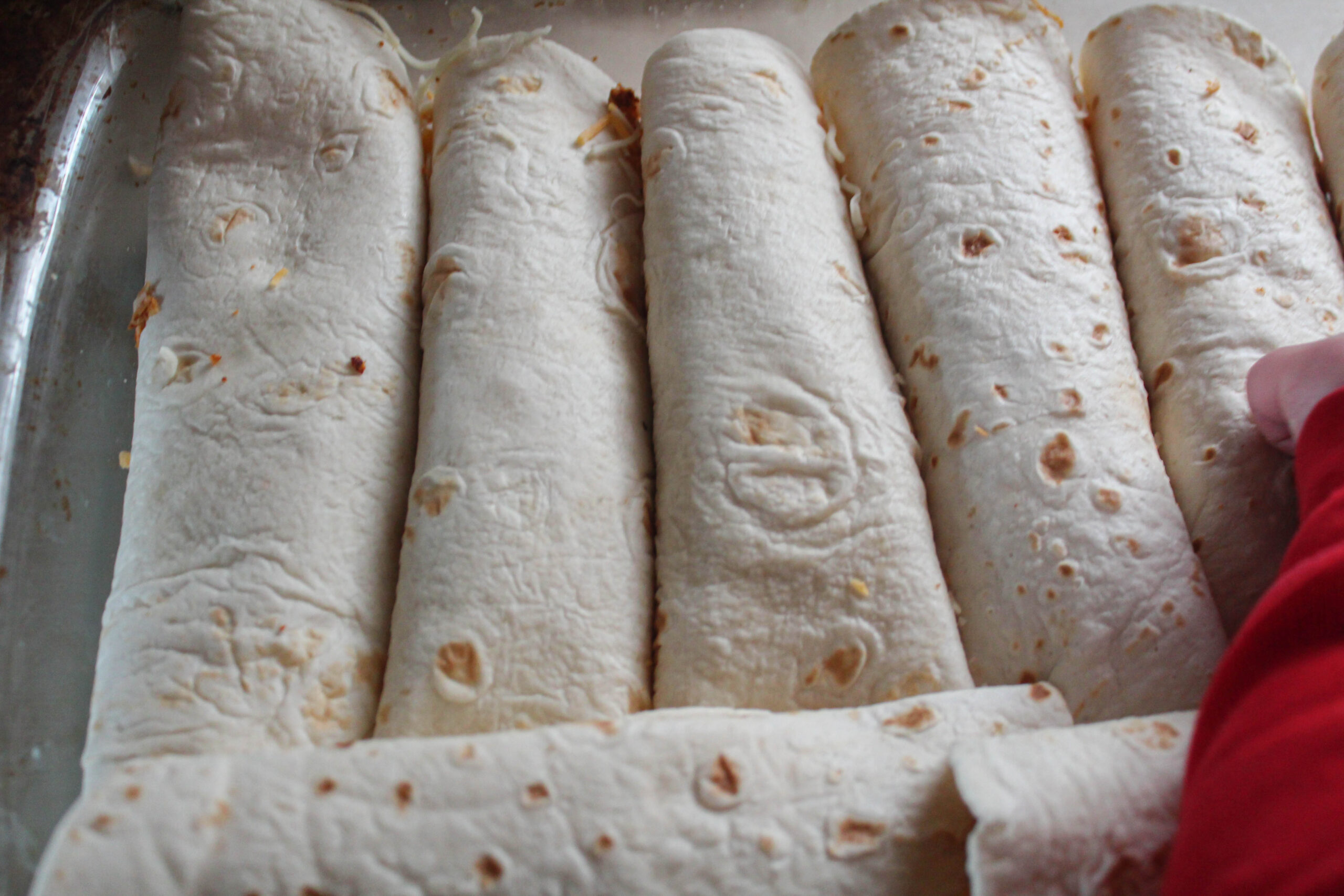 Pour your sauce over the enchiladas and top with cheese. Bake at 350 for 40 minutes. Enjoy!
Homemade Ranch Dressing?
You can use a store-bought ranch ( I prefer Ken's!), but making your own is healthier and super simple. I like making a weekly batch of Rohnda's Best Ranch Dressing. This dressing tastes better than store-bought and it's lighter thanks to the addition of Greek Yogurt! I recommend thinning it out with a splash of almond milk for this sauce. Here are a few other options for homemade ranch dressings.
What Tortillas Do You Recommend?
My favorite low-carb tortillas are from Mission! My family thinks that they taste close to "regular" tortillas. La Banderita also has a great low-carb tortilla, but it's not as "fluffy" as Mission's. Low-carb tortillas are considered a "franken-food" on the Trim Healthy Mama brand and shouldn't be an everyday thing. If you want a purist option, you can use Trim Healthy Mama's Wonder Wrap recipe.
What Should I Serve with Ranch Enchiladas?
Serve with shredded lettuce, olives, sour cream, tomatoes, pickled jalapenos, red onions, pico de gallo, or homemade guacamole. You might enjoy a side salad with an oil-based dressing. If you want a crossover, you can serve this dish with fat-free refried beans or an on-plan recipe for Mexican rice.
Want More Family-Friendly Dinners?
Pin This Post Here!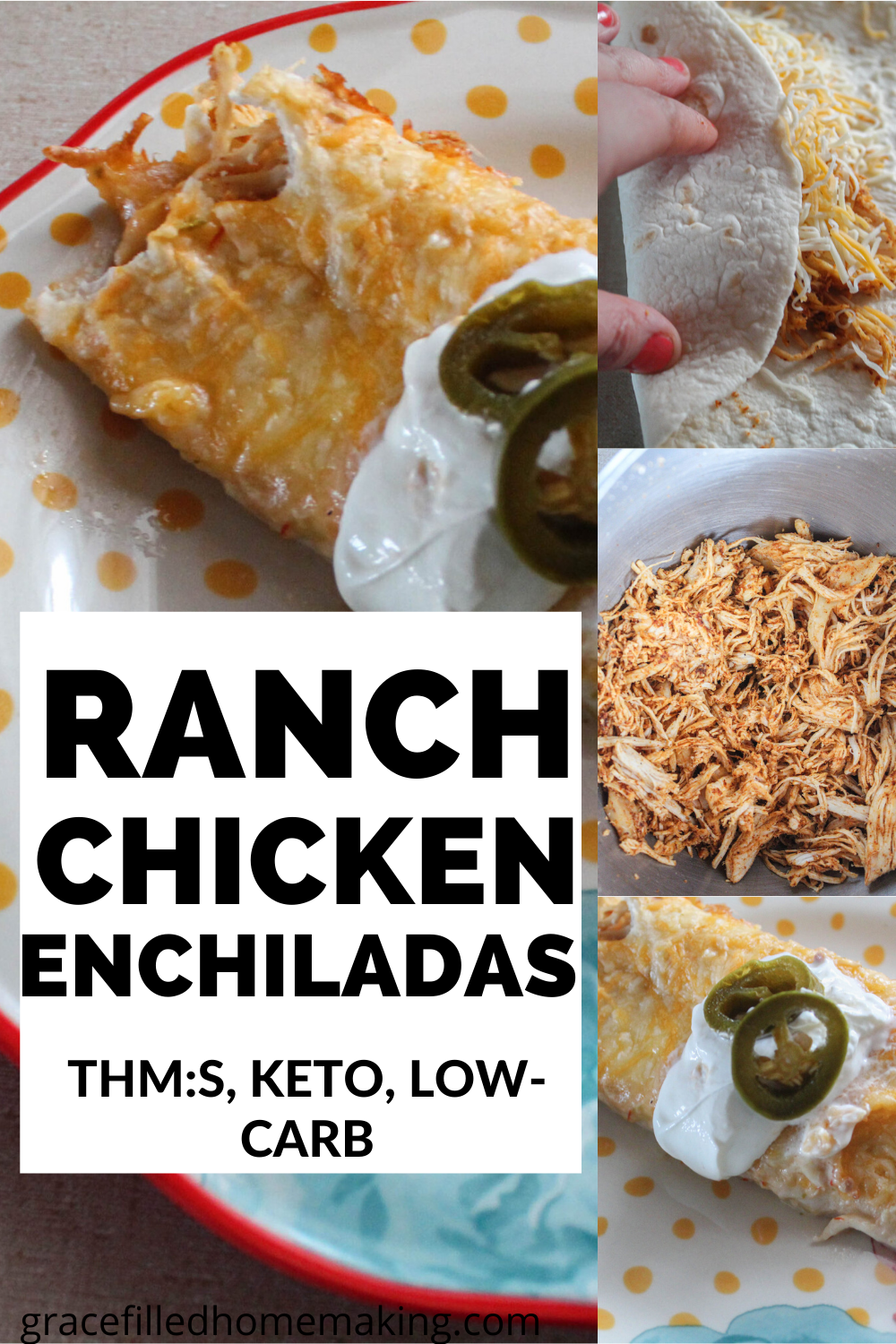 Ranch Chicken Enchiladas
Ingredients
Chicken Filling
1 lb cooked chicken breast
1 t. Mineral Salt
1/2 t. Chili Powder
1/4 t. Onion Powder
1/4 t. Garlic Powder
1/4 t. Smoked Paprika
Enchilada Sauce
1 C. Ranch Dressing (Preferably homemade)
1/2 C. Salsa of choice
Enchiladas
8 Low-Carb Tortillas
2-3 C. Shredded Cheese
Instructions
Preheat the oven to 350 degrees and lightly spray a 9x13 inch pan with coconut oil spray.
Shred your chicken breasts and add spices.
Mix ranch dressing and salsa into a sauce. Add a bit of water if necessary.
Lay a tortilla flat and add a couple of tablespoons of chicken filling and a sprinkle of shredded cheese. Roll and place in pan. Do this until the pan is full.
Pour sauce over enchiladas and top with shredded cheese.
Bake at 350 for 40 minutes.
Enjoy!