This post might include affiliate links for products that I know and LOVE!
One of the questions I get the most regarding THM is how do you include special ingredients on a budget? While special ingredients are definitely not necessary, they do add an element of fun and they allow you to make more recipes. Here are my best tips for getting THM special ingredients at great prices and making them last.
Pin This Post Here!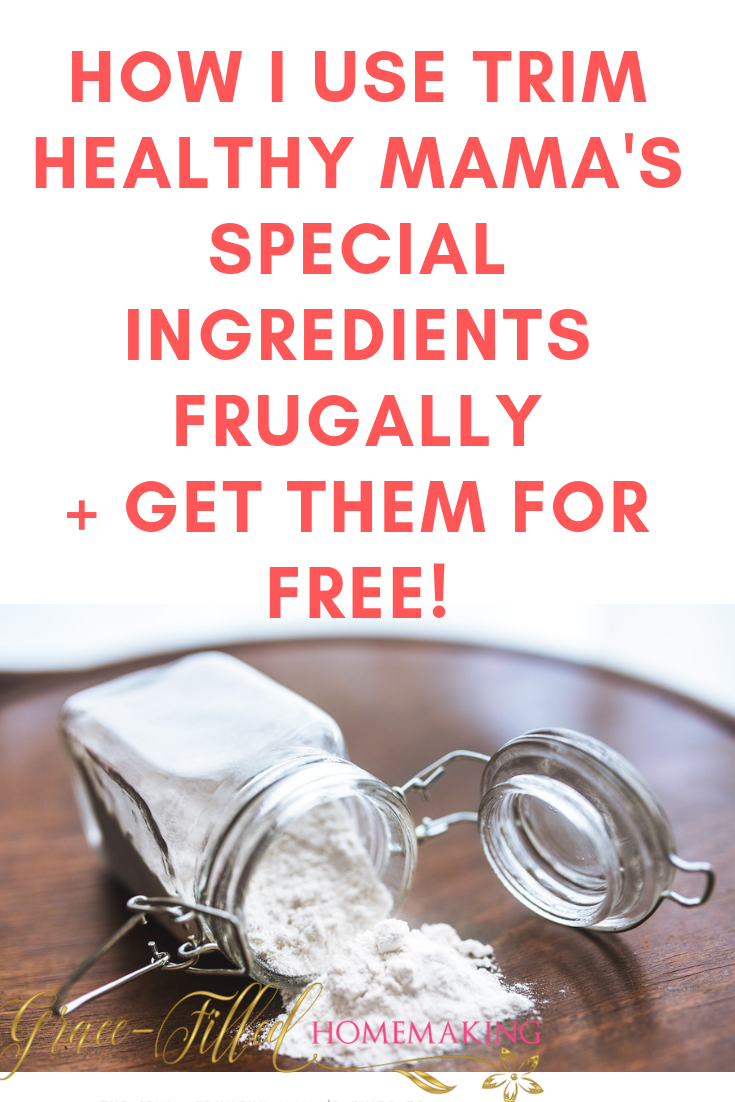 1. Shop THM's Sales
Trim Healthy Mama has sales 1-2 times a quarter. This is a great time to get your special ingredients at a discounted rate. If you follow me on Facebook, I 'll give you a heads up on sales!
2. Shop Other Sites
I love browsing other sites to find great prices on THM friendly products. My current favorite site is LuckyVitamin, which has wonderful products that fit my budget! They're always running BOGO sales and carry the latest products.
3. Use Ingredients Sparingly
If you've been a Grace-Filled Homemaking reader for a while, you know that when I post a recipe that uses special ingredients, it doesn't usually call for a LOT of that item. There are so many amazing recipes that call for 3/4 C. Baking Blend or 1 t. Collagen/Protein Powder. Adding these recipes to your rotation makes ingredients stretch.
4. Limit how Often You Make Special Ingredient Recipes
Most of my menu plan consists of no-special-ingredient recipes, mainly grocery items you can find at an ALDI. Every so often, I'll add a Trimtastic Cake in the mix, but even that is rare. I store my Baking Blend in the freezer so it doesn't go bad! If you'd like to check out a couple of my menu plans you can click here.
5. Get Special Ingredients for Free
I get a lot of special ingredients for free by using specific cash-back apps and gift card reward programs. Here are my favorites:
Want More Frugal THM Stuff?
Hope for the Mama Who Struggles Financially
I hope this post was helpful to you! If you'd like to know anything else about living a budget-friendly THM lifestyle, let me know in the comments below!