This post might include affiliate links for products that I know and LOVE!
Just when you feel like you're in your healthy eating groove, the price of groceries skyrockets! It's easy to panic and purchase processed foods, but many healthy options are frugal and stretch far. Plus, the work you put in now to eat healthily will pay off later as you save money on doctor's bills. Here are a few of my tried and true tips to help you save on groceries and nourish your body well.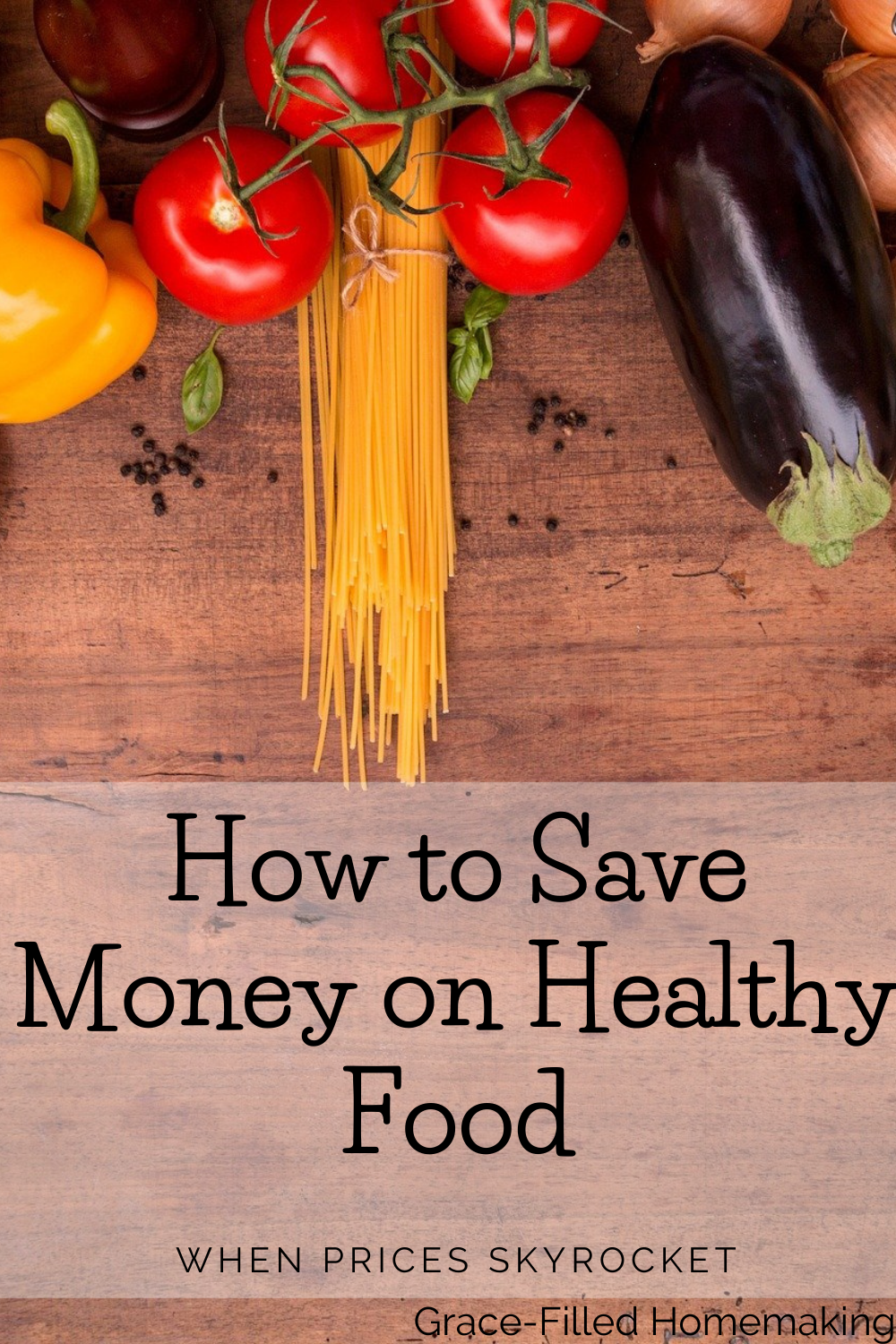 Save on Groceries by Menu Planning Around Store Ads
One of the easiest ways to save money is to scan grocery store ads and plan your meals around what's on sale. Every week, I can find produce, pantry staples, dairy, and meat at low prices. I'm then able to browse my cookbooks and create healthy, fun meals on a budget.
My menu planning has evolved over the years, but I recently snagged this adorable Pioneer Woman menu planner with slots for a week's worth of meals. I fill each space with a healthy meal, but I don't stick to a rigid schedule. I make what sounds good that night and what fits with our schedule!
This is also a great way to get healthy kids' snacks at super low prices! I try to encourage healthy eating from a young age, so I don't have to work around picky eaters. This hack requires a bit of flexibility and going with the flow, but it's a fantastic way to save a good amount of money. If you have the time, you can do this with multiple stores and have even more options. With online delivery and curbside pickup, taking advantage of sales has never been easier!
Shop at Stores That Offer Perks or Rebates
I'm from the Midwest, and my store of choice lately has been Hy-Vee. They often have a promotion that gives you a discount of 25 cents per gallon of gas for every $50 you spend. Even on weeks that sales aren't the best, I save money in another area.
I'm sure that you lovely people who are not in rural Iowa have more options, so be sure to look at each store's perks and take advantage of them!
And, of course, you can't forget about your rebate apps! I have a few on my phone, but Ibotta remains my favorite because it links to my online grocery ordering apps. They also have a web browser extension that helps me get the best discounts at many popular online retailers.
Just for signing up, they give you $10 in your account. Unlike coupons, there are rebates for healthy items like Wasa crackers, Laughing Cow Cheese, Zevia, and Lilys Chocolate. Sign up here!
Save on Groceries by Utilizing Leftovers
This is one of my favorite hacks! In fact, most of our lunches are made up of last night's dinner. Here are just a few ways we use leftovers.
Leftover rice can be made into an egg white hash, put on salads or in wraps, or even heated for breakfast.
Leftover meat and veggies makes a great soup when mixed with fun spices and chicken broth.
Leftover burgers can be cut up to make a burger salad.
Leftover chili can be put on hot dogs.
Leftover meat and vegetables can go in a quiche or omelets.
And, of course, there's the tried and true classic of eating leftovers as is.
If you're stumped, try perusing your favorite healthy cookbooks or food blogs for recipe ideas!
If we have a lot of leftovers in our fridge, I will put together a leftover night where everyone chooses their own entree. It's fun and saves a lot of money! Leftovers don't have to be boring and, when stored correctly, don't have to be gross.
Save on Groceries by Doing it Yourself
A little skill goes a long way! If the cost of certain items has got you down, try making it yourself. Over the last year, specific DIY things (I'm lookin' at you sourdough bread!) have gotten trendy. Self-sufficiency isn't just cool, though. It can give you the ability to eat the same healthy foods you always do, even when prices skyrocket.
I have a jar of sourdough starter bubbling away in my fridge, and while I'm definitely not an expert, I'll admit it was nice having healthy, fluffy loaves of bread when yeast was sold out! It also made me rethink where I should be placing my focus. This year I've learned how to make all sorts of healthy sourdough goodies, have grown a fantastic herb garden, and even raised meat pigs and chickens.
You don't have to live on a homestead to take advantage of DIY, though. Easy things you can do to make healthy food yourself, even in a small space, include:
Making homemade dressings and marinades
Eating at home instead of eating out or getting take out
Make healthy coffee drinks in your own kitchen
Instead of buying an expensive rotisserie chicken, roast your own. Here's my favorite way to do so.
Create homemade granola! This recipe uses the crockpot.
Make sugar-free ketchup or honey mustard.
You can also make your own hummus, pizza sauce, and even pickles!
Simple swaps like these ensure that your diet stays clean and your wallet remains full. You also eliminate a lot of nasty fillers and toxins found in a lot of store-bought food. Bonus: You're no longer at the mercy of a store's stock!
More Ways to Live a Healthy Lifestyle on a Budget..
Food is just the tip of the iceberg! There are so many other ways to live a healthy lifestyle on a budget. For example, you could expand your DIY knowledge into cleaning products like my Linen Spray, body care items like my Coconut Oil Lotion, or create an essential oils kit that replaces expensive remedies. Get creative and think outside the box.
I'd love to hear how you live a healthy lifestyle on a budget!
The sky is the limit! Always remember that no matter what's going on in the world, God has you. He is your Provider and is able to do exceedingly beyond what you can imagine (Ephesians 3:20).