This post might include affiliate links for products that I know and LOVE!
My Birthday Cake Protein Bar is a great, filling snack. The fun flavors of birthday cake really make this protein bar pop!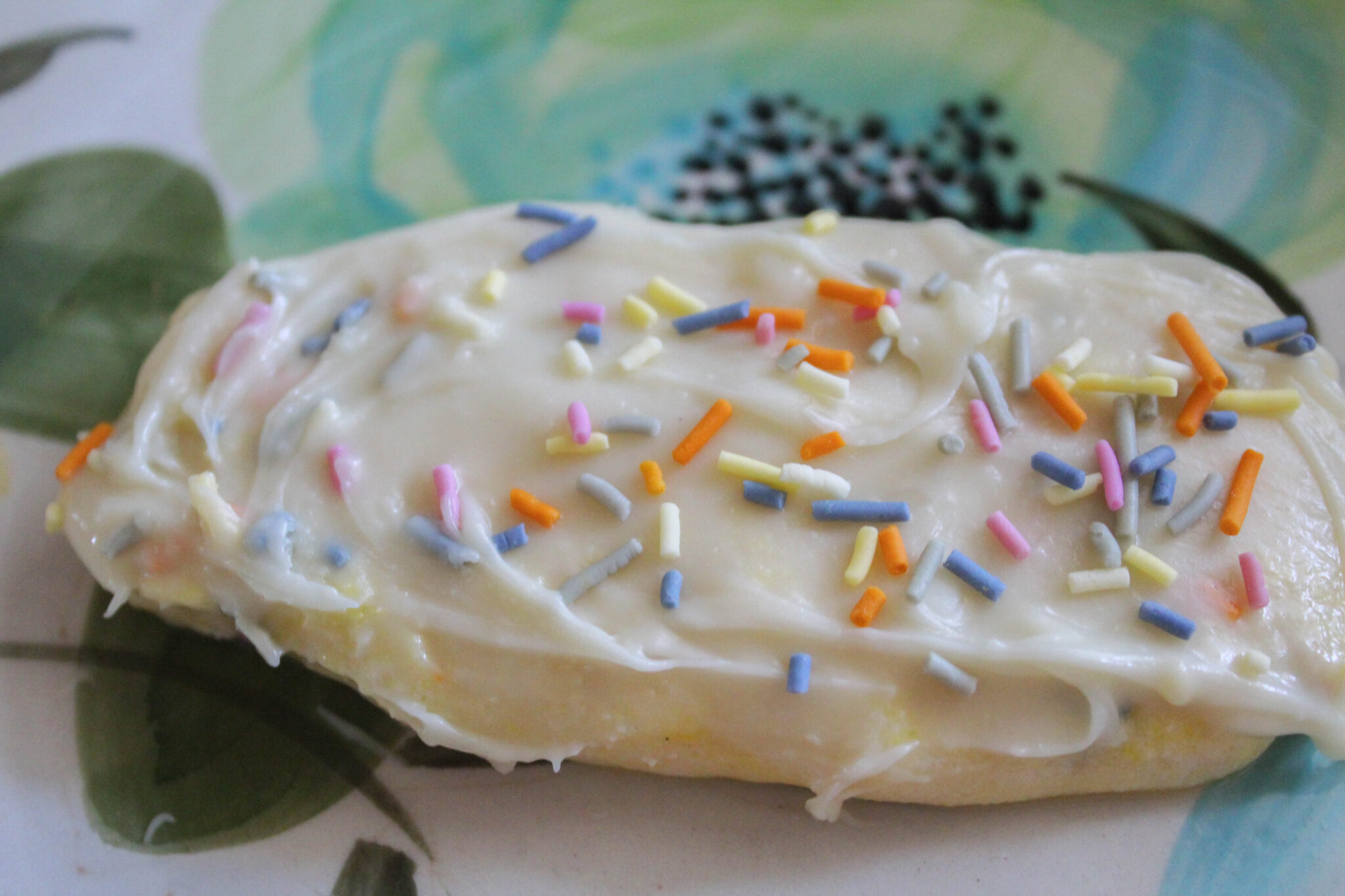 Lately, I've been trying to fit more protein in my diet, so homemade protein bars are a must! I've been enjoying the Pecan Praline Protein Bar from the OG THM Cookbook, but wanted to create a few flavors of my own. I've been obsessed with cake batter extract, so birthday cake was an obvious first choice! My apologies in advance for all the birthday cake recipes coming your way. 🙂
Protein Powder and Collagen make an amazing duo, when mixed with a liquid. The consistency is very protein-bar ish and it really sticks together well. I love the health benefits associated with these two products. Add in some MCT oil and you have the trifecta of ultimate health!
This protein bar is a Trim Healthy Mama S. It would be a Fuel Pull if you decide to leave off the chocolate chip coating. I recommend using Trim Healthy Mama's brand of Protein Powder, Collagen, sweetener, and MCT Oil. Their products are always very clean and high-quality.
You'll notice that I mention sugar-free sprinkles. This is a personal choice item because the brand I use has corn fiber, which is not ideal. I justify this in my own life because I really like being extra and I don't down a whole bag of sprinkles at once. 🙂 If you want to check out the brand I use here's the link. There are also THM friendly sprinkles you can make yourself. Here's one from All Day I Dream About Food and one from Wonderfully Made Dearly Loved.
Want More Snacks?
Berries and Cream Cake for One
Don't forget to follow me on Instagram and Facebook to stay updated!
Pin My Birthday Cake Protein Bar Here!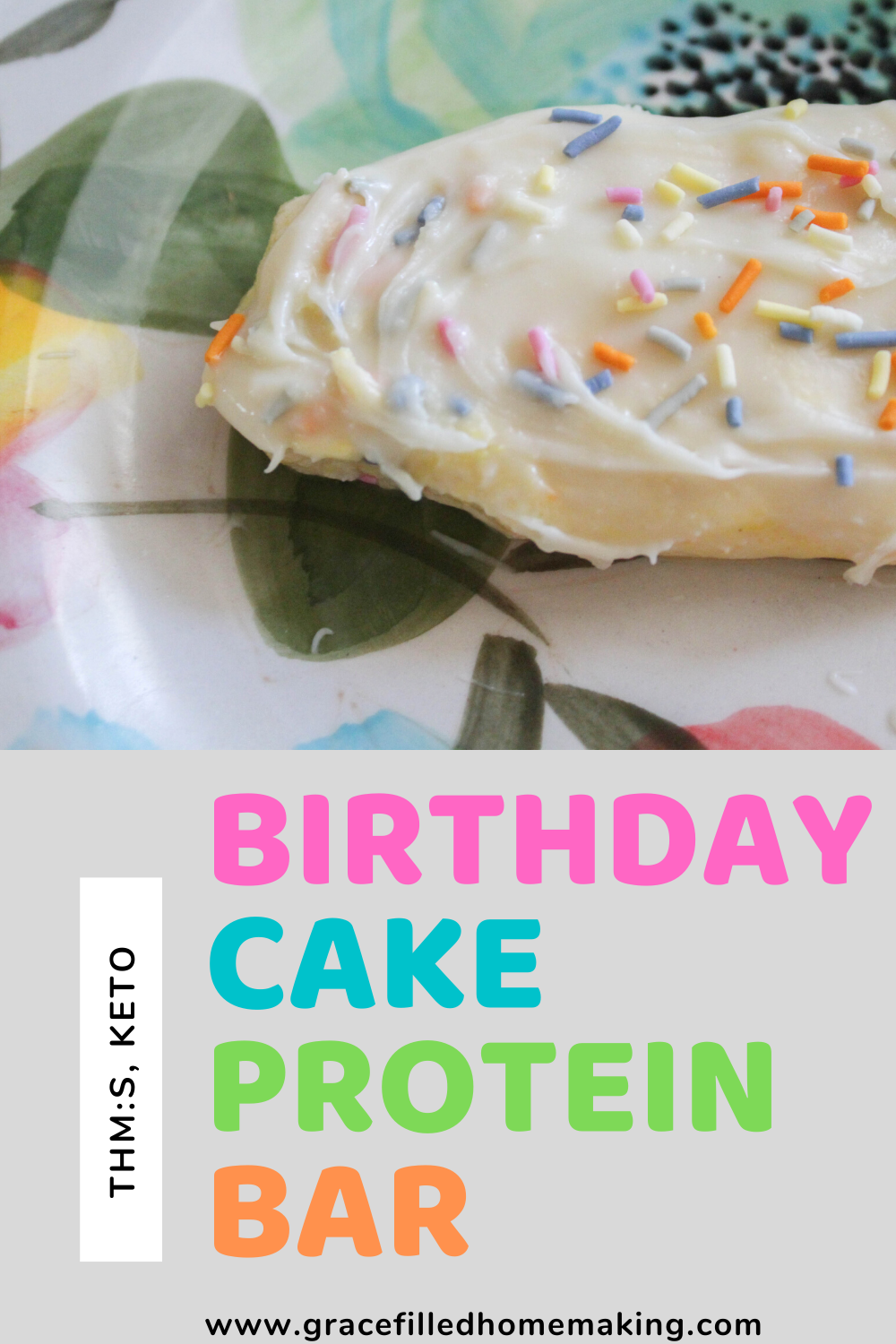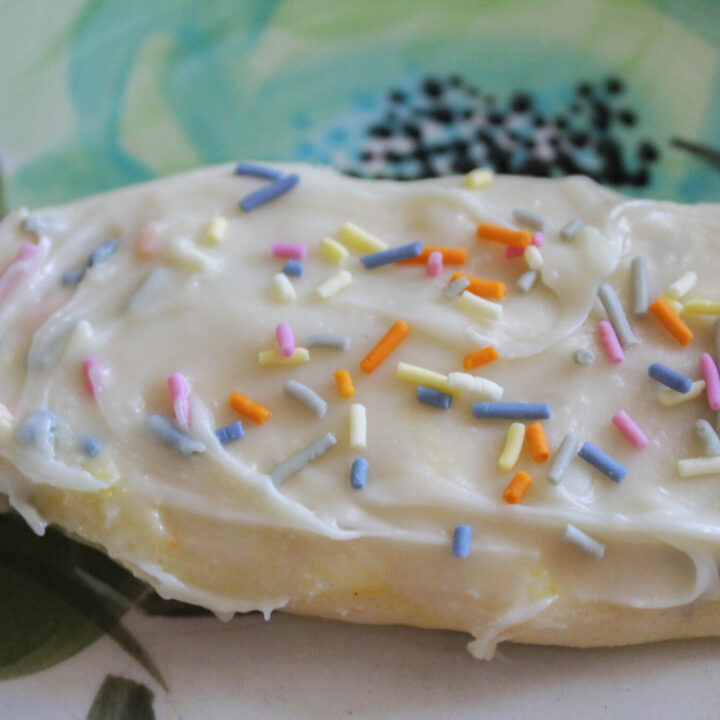 Birthday Cake Protein Bar
Ingredients
4 T. Protein Powder
3 T. Collagen
1 pinch Mineral Salt
2 T. Gentle Sweet
1 t. MCT Oil
1/4 t. Cake Batter Extract
1 1/2 T. Water
2 T. Sugar-Free Chocolate Chips 
Sugar Free Sprinkles
Instructions
1. Place the protein powder, collagen, salt, sweetener, extract, and MCT oil in a food processor and pulse until smooth. Add water 1/2 T. at a time until the mixture barely sticks together when pressed. Remove and shape into a bar or bites.
2. Melt the sugar-free chocolate chips and spread over the protein bar. Dust with sugar-free sprinkles if desired.
Recommended Products
As an Amazon Associate and member of other affiliate programs, I earn from qualifying purchases.