This post might include affiliate links for products that I know and LOVE!
There is no better feeling than taking off your makeup at the end of a long day. Without this critical skincare step, our pores can become clogged, which leads to irritation and blemishes. Traditional makeup removers can make your skin worse and affect your health negatively over time. Cue my Natural Makeup Remover! This gentle, non-toxic formula comes together in minutes. It soothes the skin and moisturizes it. I know you're going to love it as much as I do!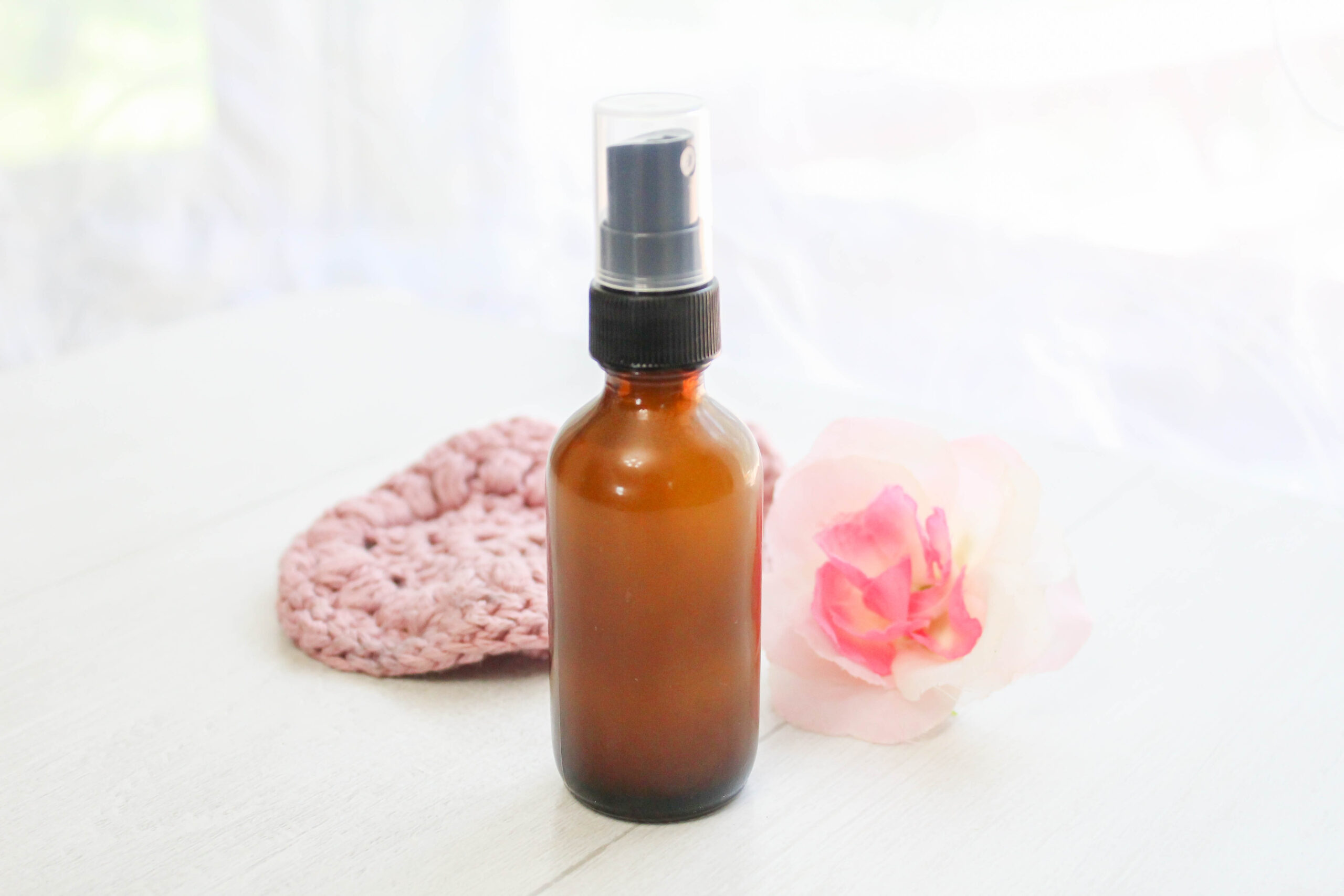 Why Ditch Non-Toxic Products?
There are thousands of makeup removers on the market, some of them all-natural. Why go through the effort to make your own? Here's why I choose to DIY.
1. DIY Is Frugal
Almost all of the all-natural makeup removers in the store cost a lot. Products that don't contain fillers use more ingredients, after all! As a Mama to three little ones, my resources mainly go to the basics. You know, like food and shelter. 😉 Dropping half of my weekly grocery budget on one makeup remover usually isn't in the cards. I love DIYing my products because the ingredients stretch. I can make two or three recipes with one ingredient!
2. DIY Works FOR Me
I have skin that breaks out easily, so I have to be extremely careful with the products I choose. I love using essential oils in my DIYs because I can easily customize them to work FOR me. For example, if it's the dead of cold Iowa winter, I can add a few extra drops of carrier oil. Or, if I'm making a bottle for an older friend, I can add in anti-aging essential oils, like geranium or rose. I found that with many storebought products, I had to work hard to get them to do anything for my skin. With DIY, I can create skincare products that give me my best skin ever, with hardly any effort.
3. DIY is Non-Toxic
Have you guys ever done a deep dive into those ingredients listed on the back of your skincare products? The information is totally appalling. To start, there's often alcohol, which is known to dry out your skin. Plus, most skincare products include artificial fragrances. If you're trying to research a specific fragrance element, good luck. Most companies hide many different components under that simple "fragrance or parfum" label. The worst part is, that's their right due to the FDA's trade secret loophole. With DIY, you can know exactly what's in your skincare product. There's no greater feeling than knowing you have products that are so safe; even a child can use them.
The Simple Ingredients in Natural Makeup Remover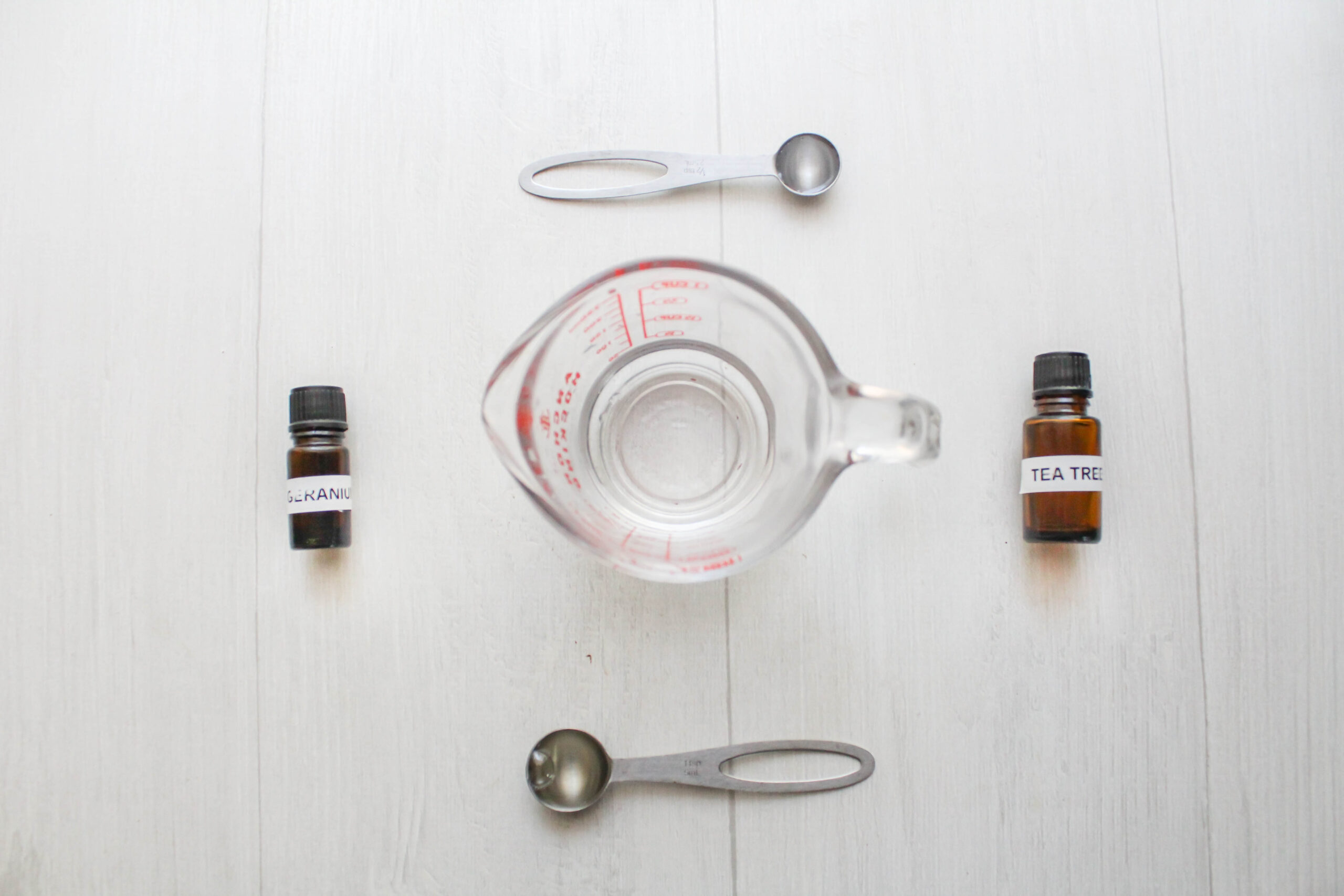 Your skin will love this all-natural makeup remover, especially if you customize the ingredients to fit your specific skin type. No matter what kind of skin you have, the base is going to be the same. Here's what you need to get started!
How to Customize Your Natural Makeup Remover
You may be wondering how to create the perfect makeup remover for your skin. There are endless possibilities that you can achieve by using essential oils. Here are a few of my favorite essential oils for each skin type.
Oily or Acne-Prone: This skin type needs oils that are anti-inflammatory and anti-bacterial. These properties can clear acne and prevent future flare-ups. Tea tree, cedarwood, peppermint, lemongrass, and rosemary essential oil are all fantastic choices.
Dry: This skin type needs gentle essential oils that will moisturize the skin and keep it balanced! Rose, chamomile, helichrysum, sandalwood, jasmine, and myrrh are all great additions.
Normal: Note: These essential oils can be used for any of the above skin types as well. They are universally friendly! Lavender, frankincense, ylang-ylang, patchouli, geranium, and neroli all make any skin combination glow.
How to Create Your All Natural Makeup Remover
If you have about five minutes, you have all the time it needs to make natural makeup remover. Seriously! It's that easy. Here's what you need to do.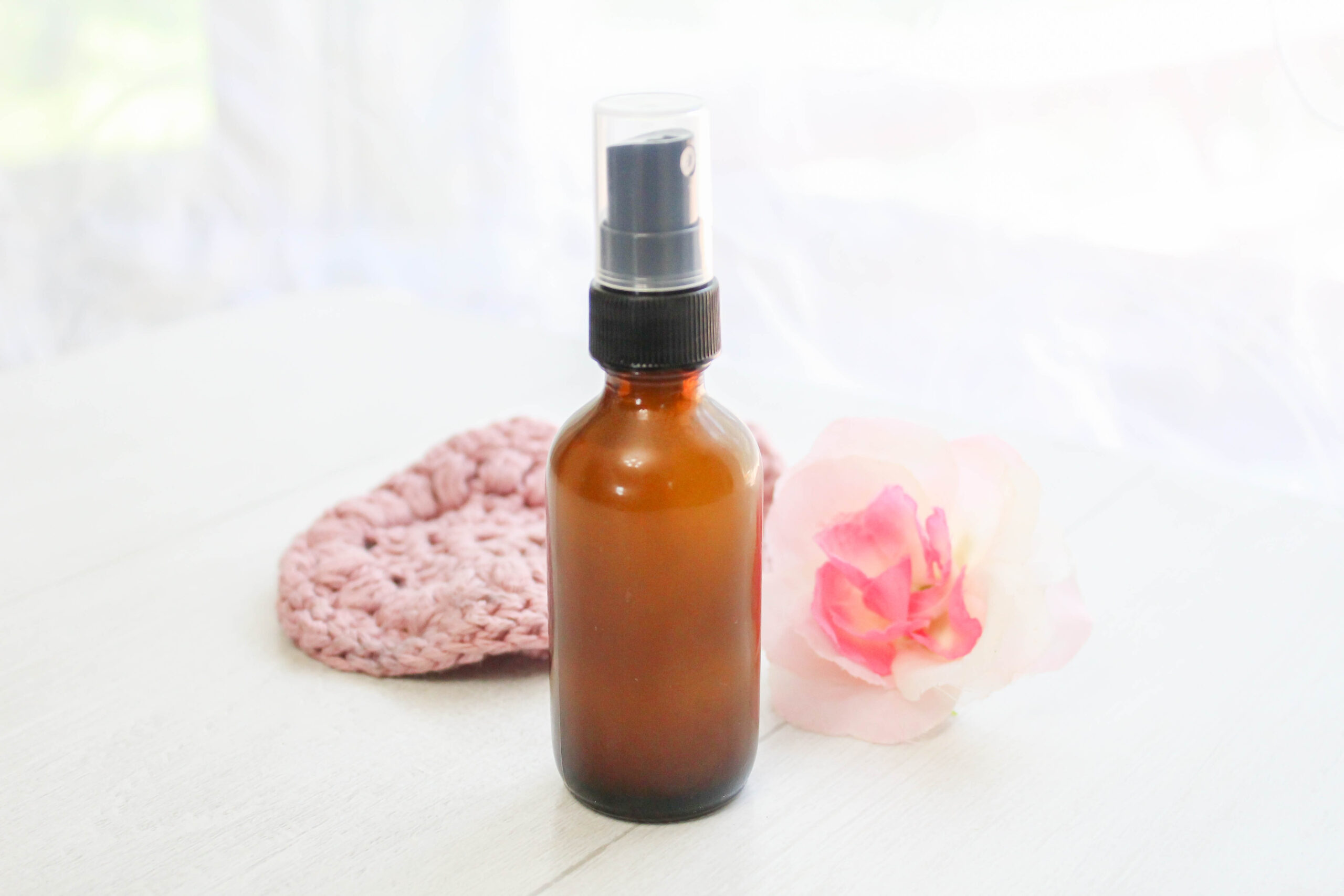 Natural Makeup Remover + Micellar Water
Traditional makeup removers can make your skin worse and affect your health negatively over time. Cue my Natural Makeup Remover! This gentle, non-toxic formula comes together in minutes. It soothes the skin and moisturizes it.
Ingredients
1 teaspoon aloe vera juice 
2 teaspoons Dr. Bronner's Liquid Castile Soap
1 teaspoon carrier oil (sweet almond, fractioned coconut oil, olive oil, etc.)
1 teaspoon witch hazel
3 drops essential oil of choice (See above for suggestions!)
1/4 C. Water
Instructions
Combine the aloe vera juice, castile soap, carrier oil, witch hazel, essential oils, and water in a large glass cup.
Pour the mixture into a dark amber glass spray bottle. Enjoy!
Step One: Combine All Ingredients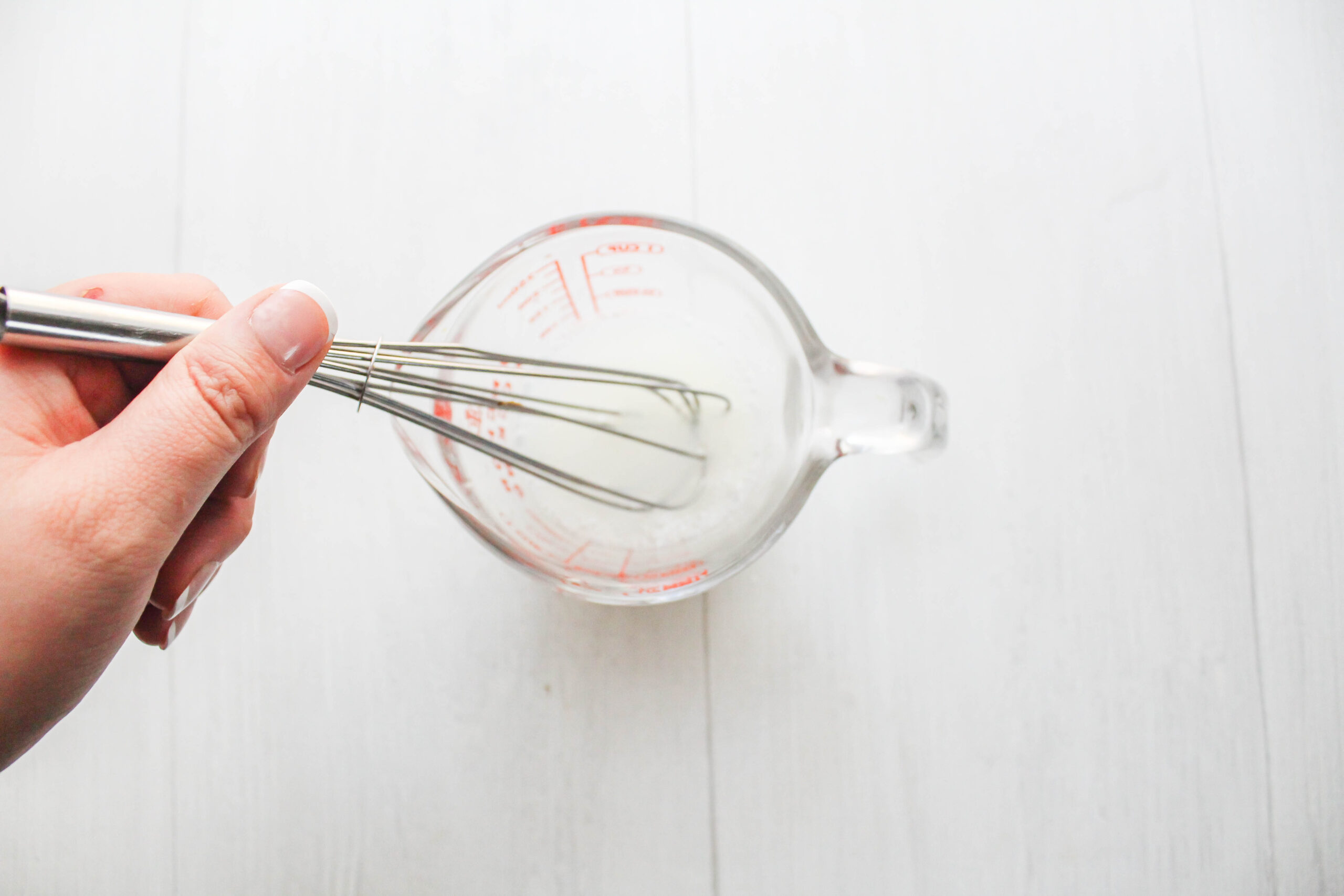 First, combine the water, aloe juice, witch hazel, castile soap, and the essential oils of your choice in a small glass cup. I love using my handy-dandy Pyrex cup for all my DIY needs. You'll see why in a minute. Mix the ingredients until well combined!
Step Two: Pour Into a Glass Spray Bottle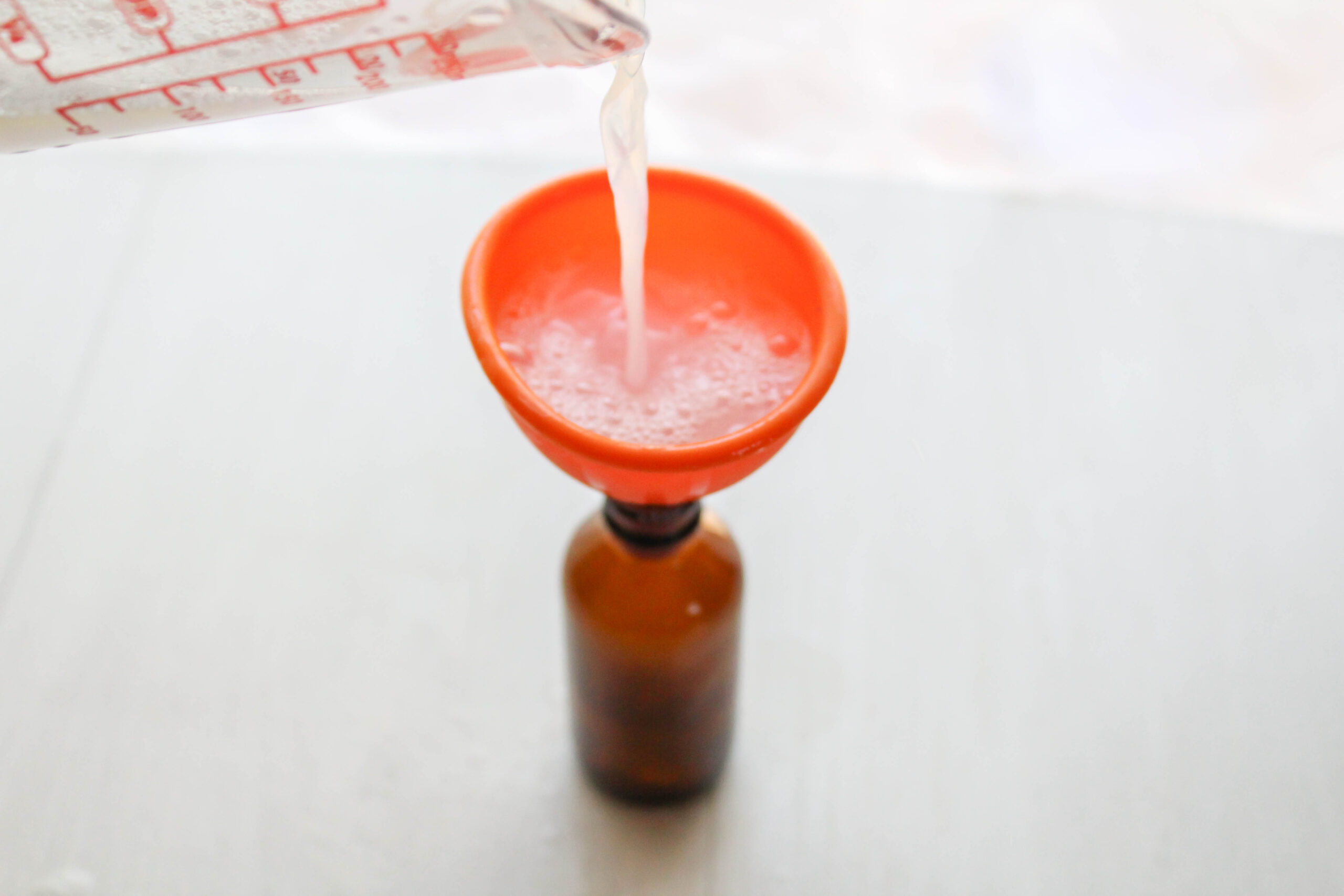 Next, pour your mixture into a glass bottle. See why that Pyrex cup comes in handy? 🙂 When you choose a bottle for this recipe, choose a dark-colored one like this. DIYs that contain essential oils will literally eat through plastic bottles. Plus, you always want to keep essential oil DIYs hidden away from the light. This keeps your EOs potent! Bonus: You can reuse these bottles for more DIYs.
To use this recipe, you can spritz some of your makeup remover on a cotton pad, or a reusable face scrubby and gently swipe over your face. My sister made me these ones, and they are SO cute. Zero waste for the win! It's up to you whether you want to do an additional cleansing step or not.
My Favorite Skin Care Recipes and Products
Need glowing skin? Try my Frankincense Exfoliator! It's my version of a microdermabrasion scrub. If you want a great facial cleanser, try this one from Natural Living Family. I love moisturizing with Trim Healthy Mama's Orange Silk Hydrating Cream (Smells SO good!) and I've also been loving their Made Makeup line, especially their foundation.