This post might include affiliate links for products that I know and LOVE!
I can think of a few times in my life where I felt overwhelmed deep down to my very soul. Financial struggles make up the majority of those times. The worst season was when my husband and I were newlyweds, I was very sick during my first pregnancy and unable to continue my job duties. My husband was a factory worker, as he only had factory experience, which is great if you don't live in a town where every single factory is slowly closing. We went from one job to another, barely getting our feet on the ground before the next layoff. It was an endless cycle that left us discouraged. I remember being so downtrodden I could hardly get out of bed. When your situation consumes you, it can be very hard to speak truth into your life. You need voices of others to speak that truth over you, which is what I hope to be today. 🙂
The truths I'm sharing today are the things that I would have told myself a few years ago. If you need more encouragement, check out my post "To the Mama who Struggles Financially"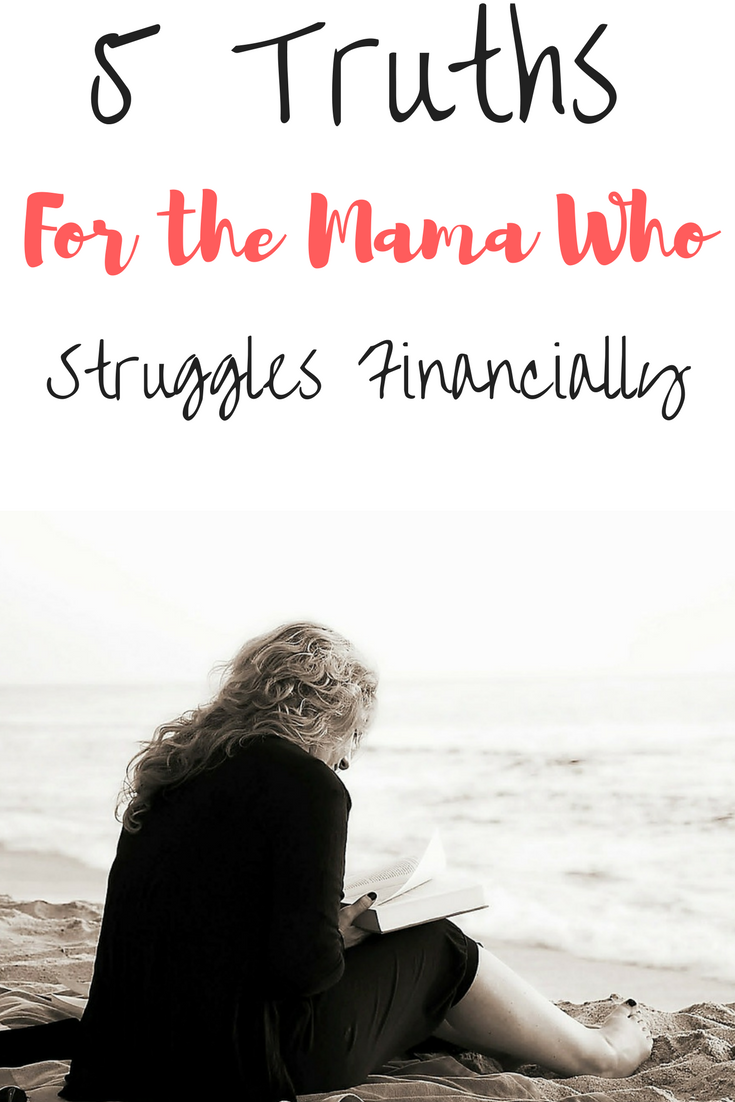 Your Worth is Not Dependent on Your Income
Or in other words, you are not your financial struggle. Your finances make up a very small part of who you are. They don't determine your smile, your wit, your talent, your creativity or your heart. Your worth is ultimately dependent on what Jesus did for you and who He is through you. Your ministry is also not dependent on your income. While giving financially is important, your talents and hospitality are just as needed. You can still encourage others, open your home, or just simply be there for someone. So, though it may be hard, separate your finances from yourself.
God is Always Up to Something
God is always up to something. He's always working to set things straight, even when we can't see it. If you think back on past victories, I'm going to take a wild guess and say that you weren't able to tell the day things started to turn around until the storm passed. We rarely do. It's only when we think back over a season that we can say, "Wow! THAT was the thing that set change in motion. THIS was the moment!" Try to take a few moments each day to recognize God's blessings and your perspective will change.
This Season is So Small in Light of Eternity
Whenever life gets to be too much, I like to take a step back and think, "Ok, in light of eternity what does this look like?" The truth is, even our lives on earth are short compared to an eternity with Christ. 2 Corinthians 4:17 says, "For this light momentary affliction is preparing for us an eternal weight of glory beyond all comparison," It might seem like the end of the world, but it is most likely a season.
Stay Faithful in the Small Things
I'm going to be honest. When life starts to go downhill, I have to fight for the desire to stay in the Word and pray. I have to make a deliberate decision to honor God. Even though I don't want to, I need to be faithful. Even in the small things.  Luke 16:10 says, "Whoever can be trusted with very little can also be trusted with much, and whoever is dishonest with very little will also be dishonest with much." Choose joy, stay in God's Word, praise him in advance for what He's going to do and stick close to Jesus. God will honor that.
Surround Yourself with Positivity
Fill your life with uplifting songs, encouraging books and sermons. There will be some people who are discouraging during this time (there's always one!) but lift your eyes higher than those, take what they say with a grain of salt and replace any hurts with God's truth. I found so much peace in reading blog posts from other ladies who had been through what I was going through. There's so much comfort in knowing you're not alone. One of my favorite bloggers during that time (and now!) is Erin Odom from The Humbled Homemaker. She gives money-saving tips while providing encouragement. She just wrote a book that I had the privilege of reading called, "More Than Just Making It".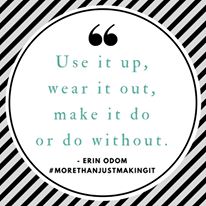 This book is Erin's telling of her personal story of financial struggle. She's transparent, if you've been there you'll know no detail is exaggerated or made small. This book was so encouraging to my heart and I believe it will encourage your heart as well, because not only do you see Erin's struggle but you also learn what led to her victory. She shares her best tips for budgeting, eating well on a tight budget, purchasing things second-hand and more. The actions she shares are practical, I found that I could immediately use many of them.
This book also shaped my heart and helped me have more compassion on those who are struggling. It helped me look for "Kisses from Jesus" in my own daily life and I now see more of His mercies each day. I wish I had this book at the peak of my financial struggles. It would have made a world of difference! I'm so grateful that there is now a resource like this available. I highly recommend this book to any Mama, not just those struggling financially. Learn more about the book here.  If you order before September 5th, there are so many awesome pre-order bonuses. You get over $220 worth of bonuses including:
Erin's eCourse "What's 4 Dinner Challenge"! I've personally taken this. It's awesome.
A 40% off coupon to ThredUp
The first 3 chapters of More Than Just Making It
and more!Pre-order here.
* I received More Than Just Making it as a thank you for being part of the book's launch. All opinions are mine.