This post might include affiliate links for products that I know and LOVE!
A cleaning routine can help you in so many ways. Your house will look better, you'll have peace of mind knowing things are done and, believe it or not, you'll have more free time.
Some people cringe at the very mention of the word, "routine", but the truth is, without a set idea of what needs to be done each day, things fall apart! I know this first-hand! If you search the word "cleaning routine", you'll find binders, planners, and lengthy to-do lists. Copying someone else's routine might work for a few days, but what happens when lists aren't your thing and your house is still so cluttered that you can't even find your cleaning binder?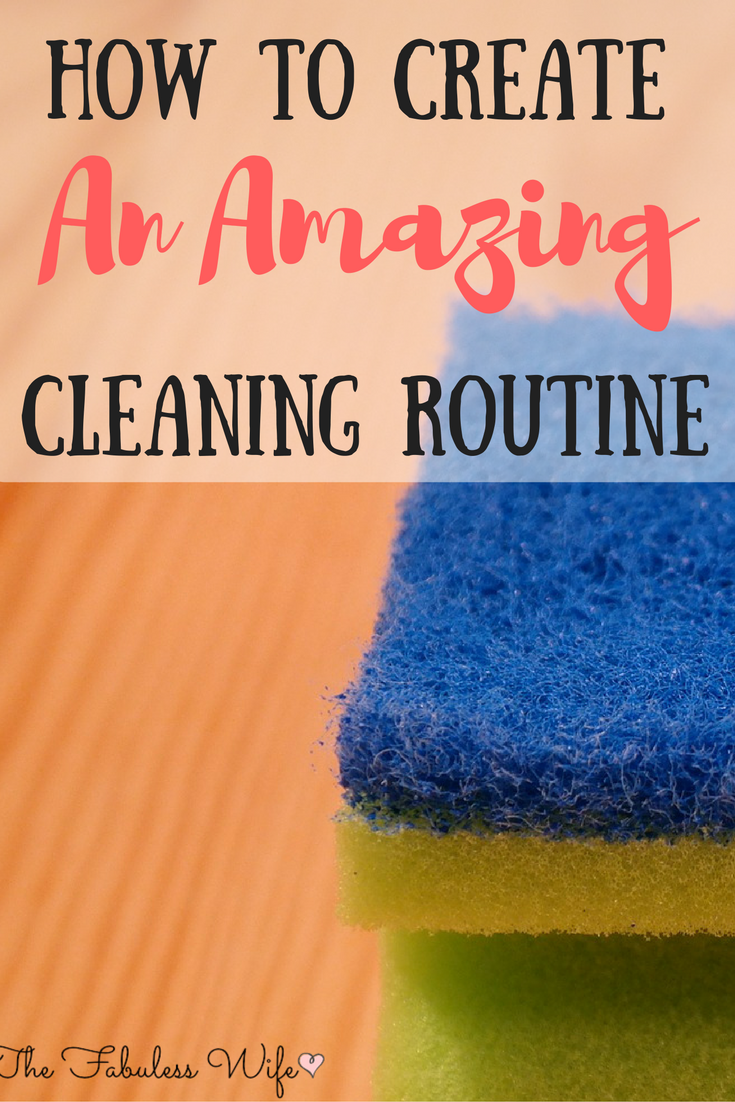 There is a perfect cleaning routine out there for you, you just have to find it. I created this ultimate guide to help you figure out what's going to work best for your family and the steps you need to take to get there.
Step 1: Discover
For some of us, having a sparkling clean house is at the top of our to-do list. For others, our dream home looks a little more lived in. Realistically think about what your vision is for your home. Are you thinking model home, with sparkling windows, spotless carpets, and pristine walls? Maybe your dream home is a comforting place full of texture, scent, cozy decor and great atmosphere. This is your home, so go into detail! I've created this printable to help you get your vision down. Download it here!
What Is Your Personality?
If you're a fly by the seat of your pants kind of gal, a huge binder full of daily checklists probably isn't for you! Your routine will fail if you don't take into account your personality. Work with what God gave you and don't try to fit into a mold that isn't you!
How much time do you have to clean each week? What are you committed to doing each week? I don't believe that cleaning should leave us feeling burnt out, but if we don't take inventory of our time it can do just that. You want your routine to be doable with the time you have.
Our last step of discovery should be to think about what's realistic. It's easy to fall into a comparison trap and think that just because someone else's house looks a certain way, it's realistic for ours to as well. The truth is, your life circumstances might not allow for a model home and that's okay! The point is to do the best you can with what God gave you.
Step 2: List Your Daily Must-Dos
For this step, we're going to make a list of what needs to be done each day. When making this list, try to think of those essential things that you must do or your house falls apart. Some examples of these types of chores:
Making the bed
Dishes
Sweeping or Mopping
Laundry
These chores are going to be the base of your cleaning routine. Try to keep this list minimal, yet effective.
Step 3: List the Rest
After you've determined what chores need to be done every day, start thinking about those things that need to be done weekly, monthly, and seasonally. This gives you a chance to lighten up your daily load, while still finding time to do those little things like:
Organizing closets
Cleaning gutters
Washing your sheets
Separate this list with the following categories
Seasonal
Monthly
Weekly
Bi-Weekly
Then, as you find spare time, schedule a couple of these chores in.
Step 4: Choose Your Method
Last, we're going to choose our method. I personally use a couple different methods based on whatever my season of life looks like:
This is such a great way to keep all of your cleaning lists in one place. I like to use this method along with some dry erase markers to keep life in check! I used a binder from Wal-Mart and printable lists from Flylady.
Flylady is a great option to use if you have no clue what choes need to be done or if you'd rather have your cleaning routine on auto-pilot. Her daily page gives you a list of things to do each day as well as a "mission" to complete. You work in zones, so each room of the house gets clean eventually. You can jump in where you are! Not interested in the site? Check out the best-selling book, "Sink Reflections" here.
Here are a couple more methods that I've heard people rave about:
There are quite a few chore apps available for both iPhone and Android. A lot of these come with pre-loaded chore charts, but I have seen a few that you can customize.
Google Calendar

Plain old paper and pen
Creating a cleaning routine is going to save your sanity many times over! How do you keep your home tidy?