This post might include affiliate links for products that I know and LOVE!
Sometimes, you just want a super hearty breakfast! This Simple Breakfast Skillet fits the bill. This is a THM Crossover that is sugar-free, dairy-free and has the option of using just one pan. Your family will love it!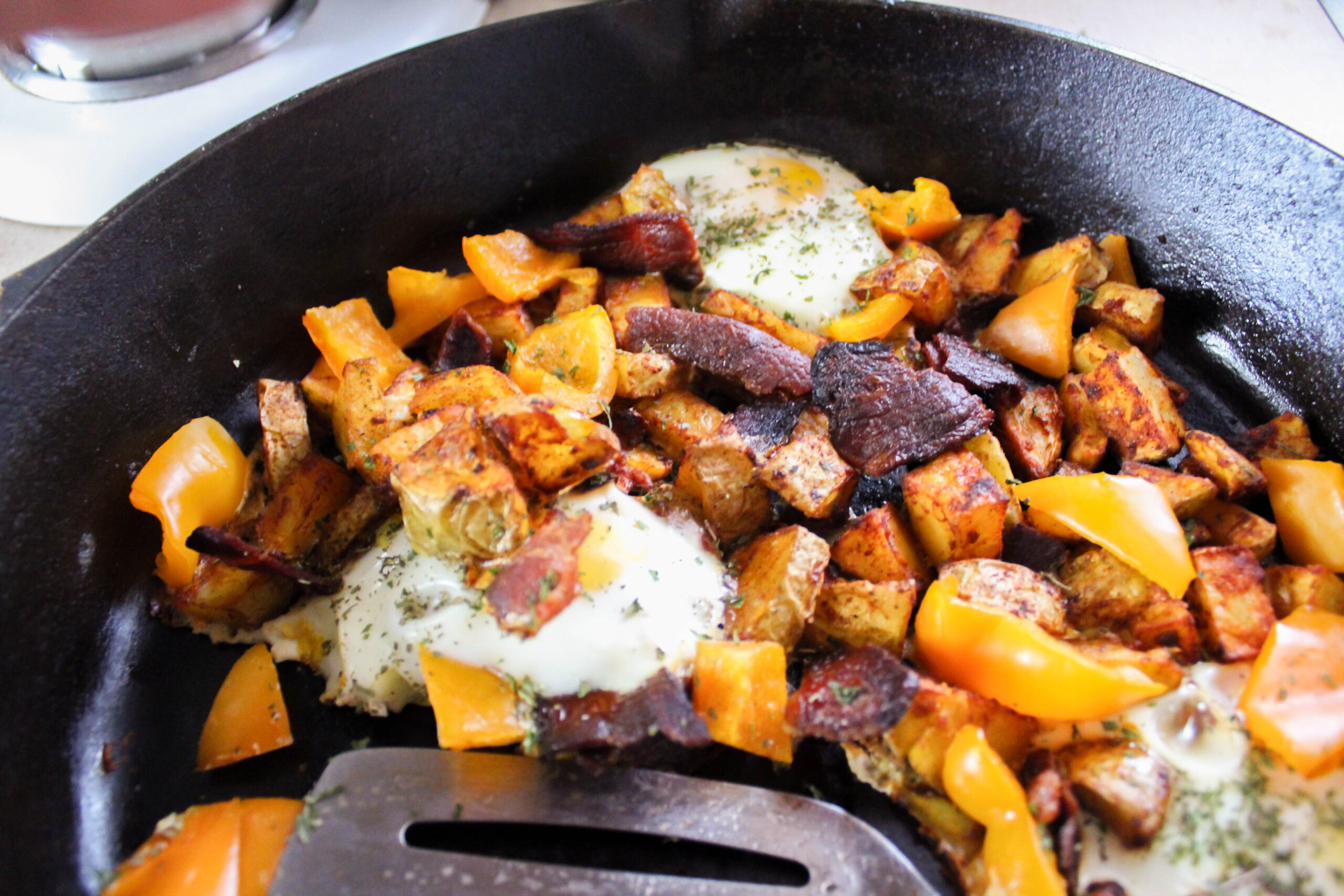 Have you heard the news? Golden potatoes are on plan in "E" or low-fat meals. This was recently announced in an episode of "The Poddy". While this takes a little bit of a mind-rewiring, I'm happy to have a good option for fries, hash, and all the other potato-y things. If you're a bit wary of adding this starch to your diet, you can add cut up radishes to your potatoes, which is what I did in this recipe. It increases bulk without altering the taste.
One of my favorite things about this Simple Breakfast Skillet is that it is SO versatile. Make it with whatever leftovers you have in your fridge. Here are a few alternative ingredients that I've found taste amazing in this dish.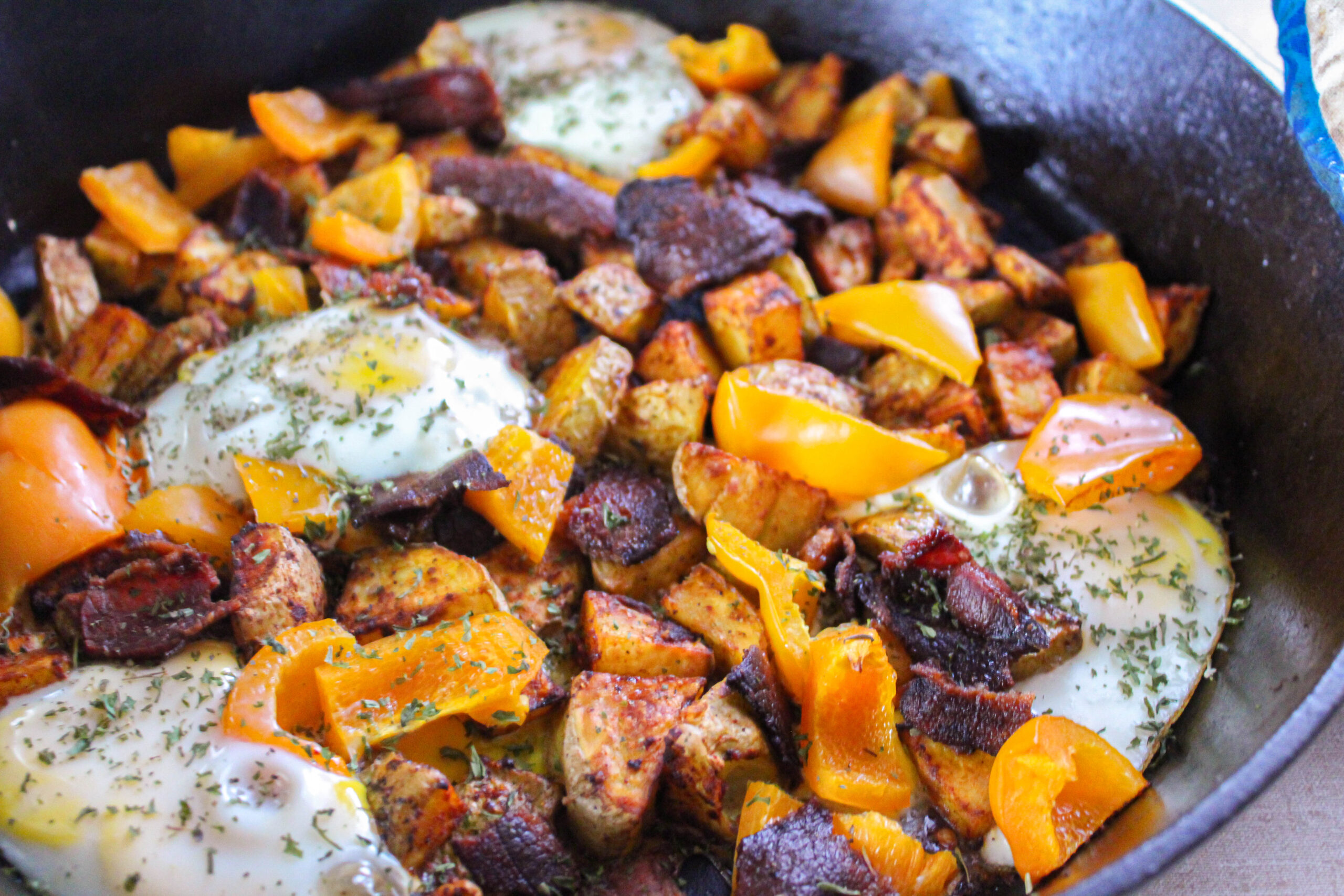 Veggies: Spinach, jalapeno peppers, kale, onions, zucchini, squash, cauliflower rice, and mushrooms.
Meat: Leftover pork, steak pieces, chicken, lunch meat, sausage, bacon.
Odds and Ends: Cheese, sour cream, hot sauce, salsa, avocado.
To Skillet or Air-Fry?
You'll notice in the recipe that I give you two options for frying the radishes and potatoes. Skillet frying keeps this a one pan breakfast, which is nice for busy days! Air-frying the mixture, however, makes for an amazingly crisp potato, which is just how I like it.
Make Mine An "E" Meal!
You can easily make this an "E" meal with 2 little tweaks. The first is to definitely air-fry those potatoes! Instead of putting coconut oil in the mixture, you can omit it and lightly spray with coconut oil spray. Whole eggs put this breakfast into Crossover mode, so whisk some egg whites and pour them over the veggie mix to keep it in "E" territory. Omit the meat in favor of more vegetables. 🙂
I Want An "S" Skillet!
For an "S" breakfast, simply use a whole pound of radishes. Throw in some chopped zucchini or squash if you'd like! This is something I do a lot and it really works well!
Want More Easy Breakfast Ideas?
Peanut Butter Chocolate Chip Baked Oatmeal
Bananas Foster French Toast Bake
Pin This Post Here!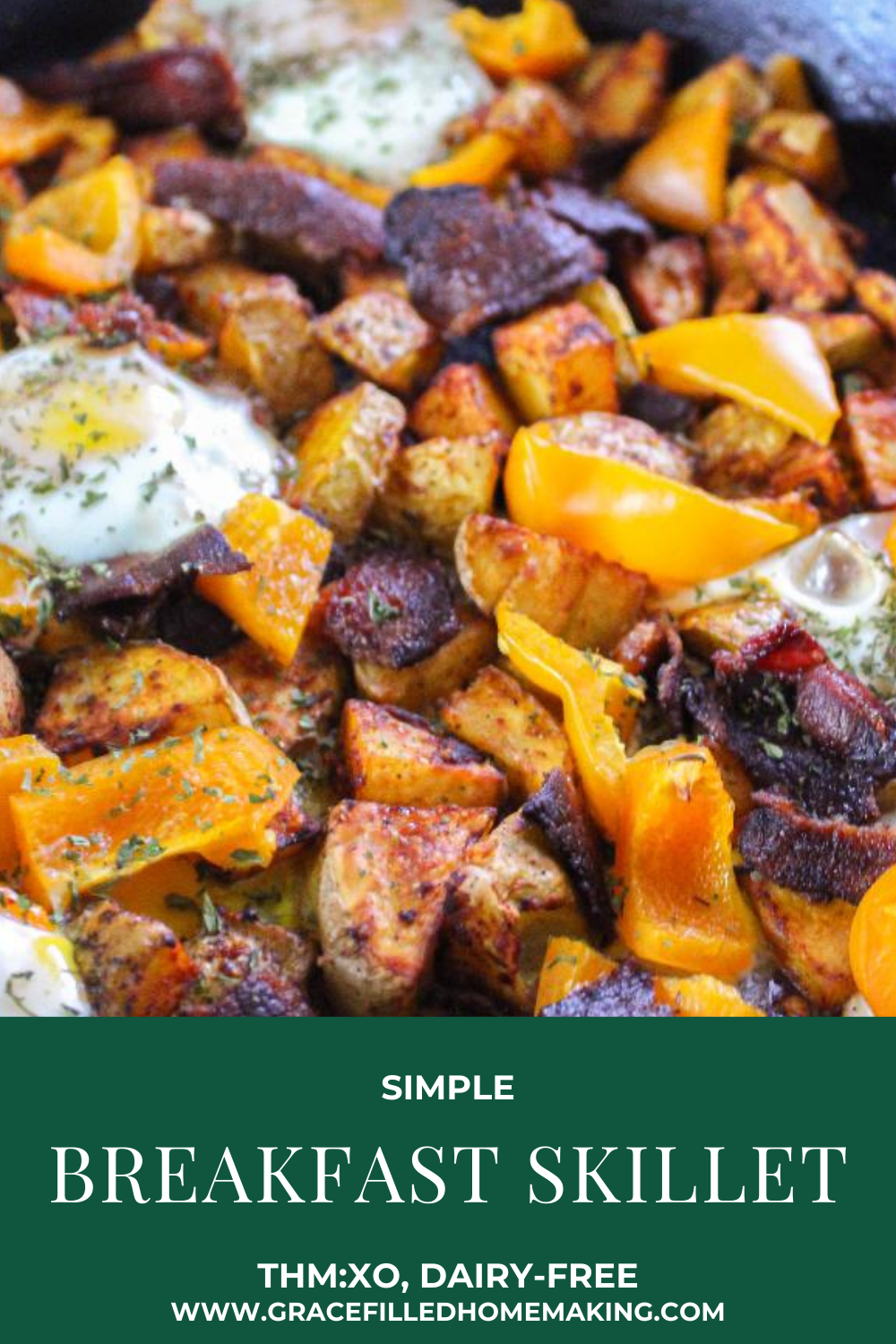 Simple Country Skillet
Ingredients
3-4 Golden Potatoes (Chopped)
1/2 Lb Radishes (Choppd in half)
1/2 t. Mineral Salt
1/4 t. Black Pepper
1/4 t. Smoked Paprika
1/4 t. Garlic Powder
1 T. Coconut Oil (Melted)
Veggies and meat of choice
Eggs ( I usually do one a person!)
Instructions
Preheat the oven to 375 degrees.
Mix together the potatoes, radishes, spices, and oil in a large bowl.
Get those potatoes crisp! You can do this by sauteing them in a large skillet until they are brown on the outside. Or to get a crispier tater, you can put them in your air fryer for 9 minutes at 400 degrees. It's up to you!
Put your now crisp potatoes and radish mixture in your skillet (if you air-fried it). Sprinkle your veggie and meat additions of choice all over the pan.
Crack your eggs on top of your skillet mixture. I usually do one egg per person and try to make a little nest for each egg.
Time to bake! For softer eggs, bake for 12-15 minutes. For firmer eggs 20-25 minutes.
Enjoy!