This post might include affiliate links for products that I know and LOVE!
My biggest accomplishment over the last couple of months has been switching my toddler's usual snacks of cookies, fruit snacks, and other not-so-great for you snacks to THM-friendly snacks. And it wasn't nearly as hard as I thought it would be! They eat many crossovers, either for snacks or meals to make sure that they grow as God intended them to. You'll also see that I make them some honey-sweetened treats as that is on plan for kids who don't have weight issues. My littles eat a LOT of stevia-sweetened treats as well. So far, they haven't complained once about their snacks or even asked for their old treats! I put together a BIG list of what they've been eating and of what I'm planning for them to eat so you can include some of these snacks in your own home. Hint: This list works for husbands too. 🙂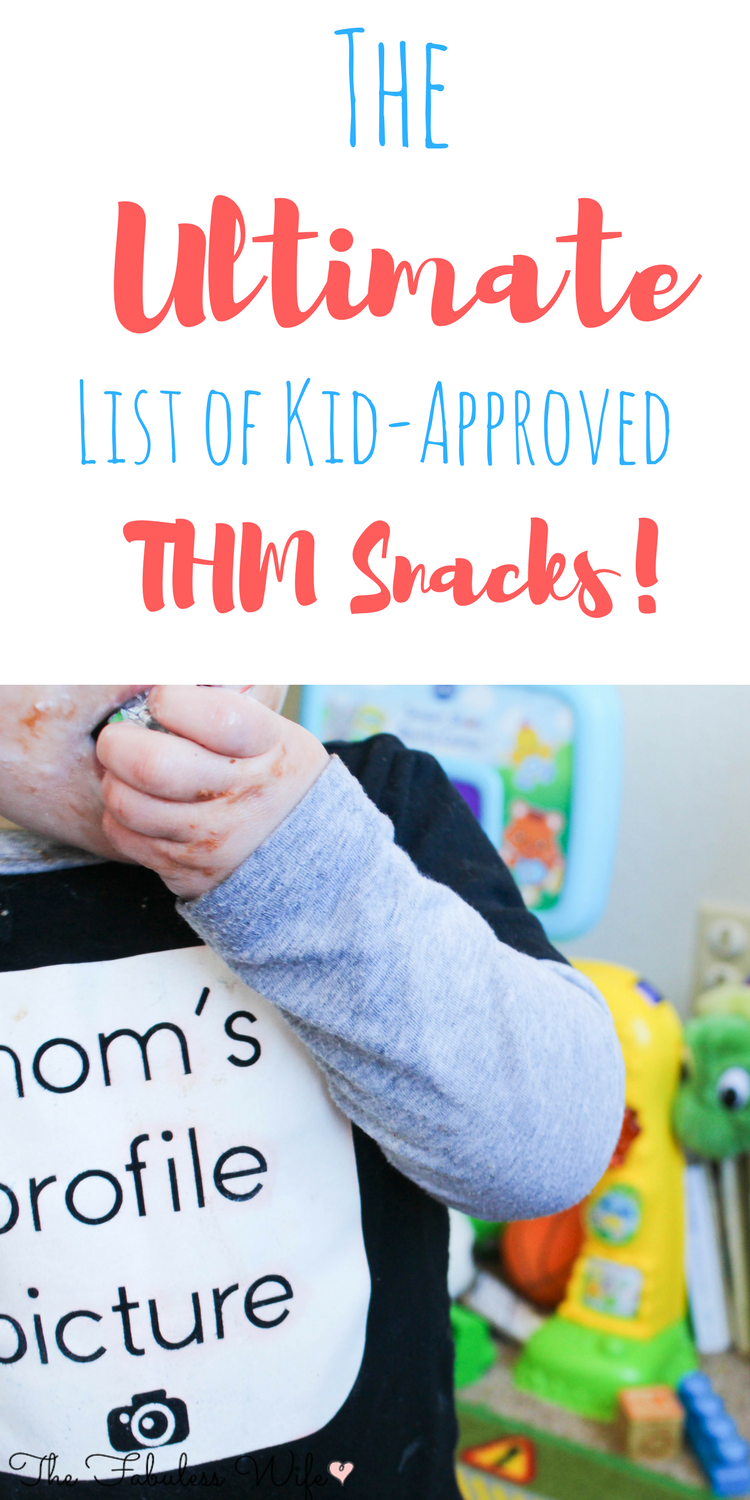 [amazon_link asins='1101902639,0988775115,1101902663′ template='ProductCarousel' store='thefabwif0e-20′ marketplace='US' link_id='a6c9613d-25f5-11e7-8a50-a30a33b02bae']
String Cheese and Lunch Meat (S)
Cottage Cheese, fruit, dash of honey (E)
Tummy Tucking Ice Cream with bananas (Crossover)
Celery and PB (S)
Honey Sweetened Granola Bars (Crossover, recipe to come!)
Almonds and 85% Chocolate (S, Yes, my toddlers will eat this chocolate!)
Air-Popped Popcorn with Butter and Parmesan Cheese (Crossover)
Apples and PB (Crossover)
Greek Yogurt with All-Fruit Jam (E)
Greek Yogurt with honey
Cucumbers with ranch dip (S)
Jello Jigglers (Recipe to come!)
Wasa Crackers with Laughing Cow Cheese and cucumber/deli meat (S or E depending!)
Oikos 000 Greek Yogurt (A special treat at our house! Usually bought in the big container)
Breyers Carb Smart Ice Cream or bars (S)
Cottage Berry Whip (Cookbook)
Cheesecake Berry Crunch (Cookbook) (S)
Deviled Eggs (S)
Honey Sweetened Smoothies (E, S, or Crossover)
Berries and homemade whipped cream (S)
Fat Stripping Frappe with added cream (S)
Sweet potato fries with ranch (XO)
Skinny Chocolate with an orange (XO)
Oatmeal with berries, sweetener, and cream (XO)
Quesadilla made with low-carb tortilla and cheese (S)
Baked Blue Corn Tortilla Chips and Cheese Nachos (XO)
Strawberry Cheesecake Shake (Cookbook) (S)
Peanut Butter Fudge (Cookbook) (S)
I hope this helps you in your journey to better your families health! What are your kids favorite THM snacks?