This post might include affiliate links for products that I know and LOVE!
There are perks to being a stay at home Mom. Unlimited snuggles, seeing all those first moments, and a relaxed atmosphere. There are also a lot of downsides that we rarely mention, like being there for every single meltdown, rarely getting out and the ever-so-common "Mama Meltdown".
I'm not talking about that huge tantrum that Moms throw when overwhelmed, but rather a complete shutdown where you completely lose motivation and give up on everything that used to matter. Suddenly, housework gets behind, you realize that Netflix has played a bigger part in your child's life than it ever should,gone are the "fun" Mama activities and your appearance? Yeah, let's not go there.
I believe that every stay-at-home Mom goes through this cycle every so often. I know I do. But the truth is, when we lose our motivation, we start to lose ourselves and that leads to a much larger crisis. I think there are a few practical things we can do to minimize those seasons of low-motivation and actually redeem them into something good: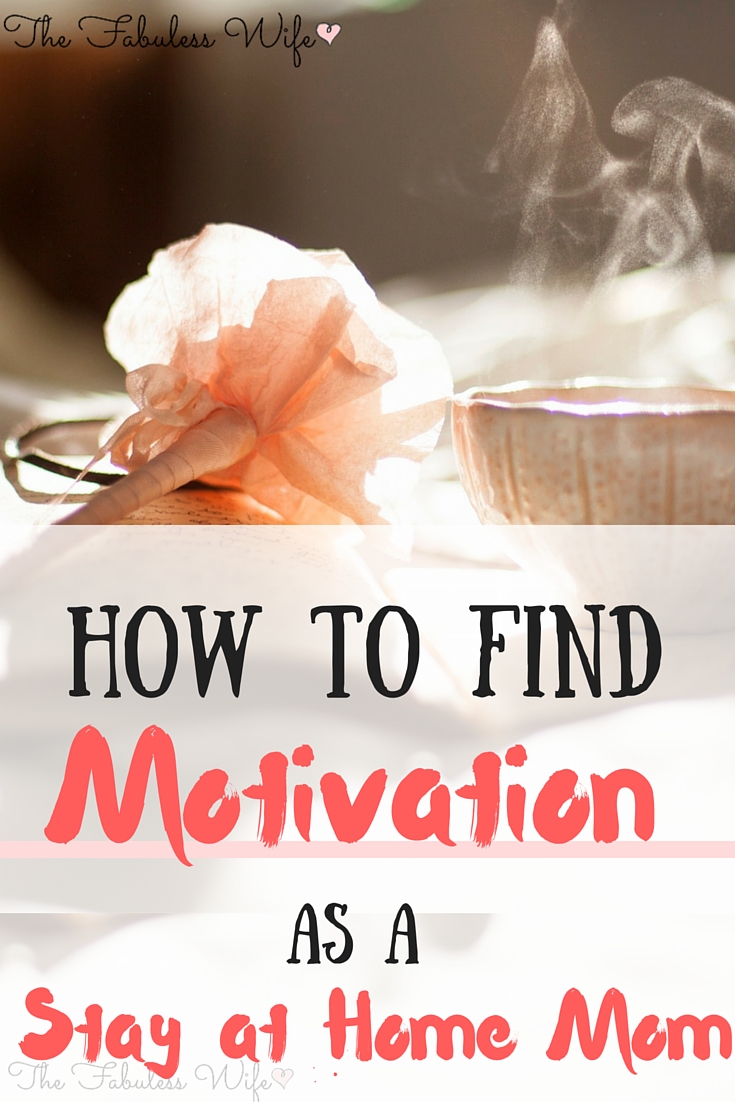 Get Dressed and Dressed Well
Never underestimate the power of wearing something you feel good in. I actually learned this concept from the Flylady, who connects being fully dressed to getting stuff done. I've seen this trick work so many times. There's something about looking put together that makes you want to get out there and be awesome. Plus, you feel way better about yourself. No one likes looking in the mirror and seeing a girl they don't even recognize. When I say dress well, I don't mean your best pantsuit, although if that's your thing, go for it! My version of dressing well most days is a flattering pair of yoga pants or jeans, hair simply fixed and light makeup. It doesn't take longer than 10 minutes, but it makes a huge difference.
Unplug
It's easy to get caught up in a comparison trap. We look at those picture-perfect vacations, outfits, bodies and kids, then start to think, "Why even try?" The truth is, sometimes it's easier to just give up than to try your hardest and not measure up to the picture in your head. I believe that God makes every single Mom unique and gives her the exact personality traits she needs to raise the little ones that He's entrusted her with. Sometimes, it takes stepping back and doing your own thing to gain momentum in the life that God has given you.
Give Yourself a Break
Sometimes, lack of motivation is your heart telling you it's time to rest. If you're anything like myself, chances are, it takes a huge shout-out from your body to get you to take a break. Life works better when we are well-rested and our souls are renewed. If you suspect this might be the problem, take a day off, do those things that make you feel refreshed and start again tomorrow.
Reevaluate What Matters
Maybe your loss of motivation comes from the fact that your attention is placed in too many different directions, some of which don't actually matter. Think about the things you hold high in your life. Are there any priorities that shouldn't be on such a high pedestal? Is there anything that you can push aside, even for a season? The fewer things you have demanding your attention, the more things you'll be able to do greatly.
Create a Rhythm that You Absolutely Adore
One of the things that have impacted me most as a SAHM is creating a rhythm that I adore. The things that make me want to get up in the morning are a good cup of coffee, Bible reading, cuddling my babies, seeing my sons be creative and cooking. I do my best to make room for those things every single day along with the regular mundane things like housework and laundry. 🙂 I've realized that in order to find motivation to live my life, I have to be living a life that I am happy with.
Motivation can be fleeting, but with these tips I'm sure we'll be able to harness our motivation and do great things where we are.
How do you stay motivated?