This post might include affiliate links for products that I know and LOVE!
Winter hasn't run it's course and in Iowa, we are all about comfort food this time of year. Cozy Winter dinners like hearty soups, delicious casseroles and decadent bakes all seem to make chilly nights a little bit better.
I've lived through 25 Midwest Winters (lol!) and I love creating cozy recipes to bring my family around the table. These recipes are Trim Healthy Mama friendly, which means that they are also waist-line friendly! In classic Cate form, the recipes are simple, family-friendly, and budget-friendly.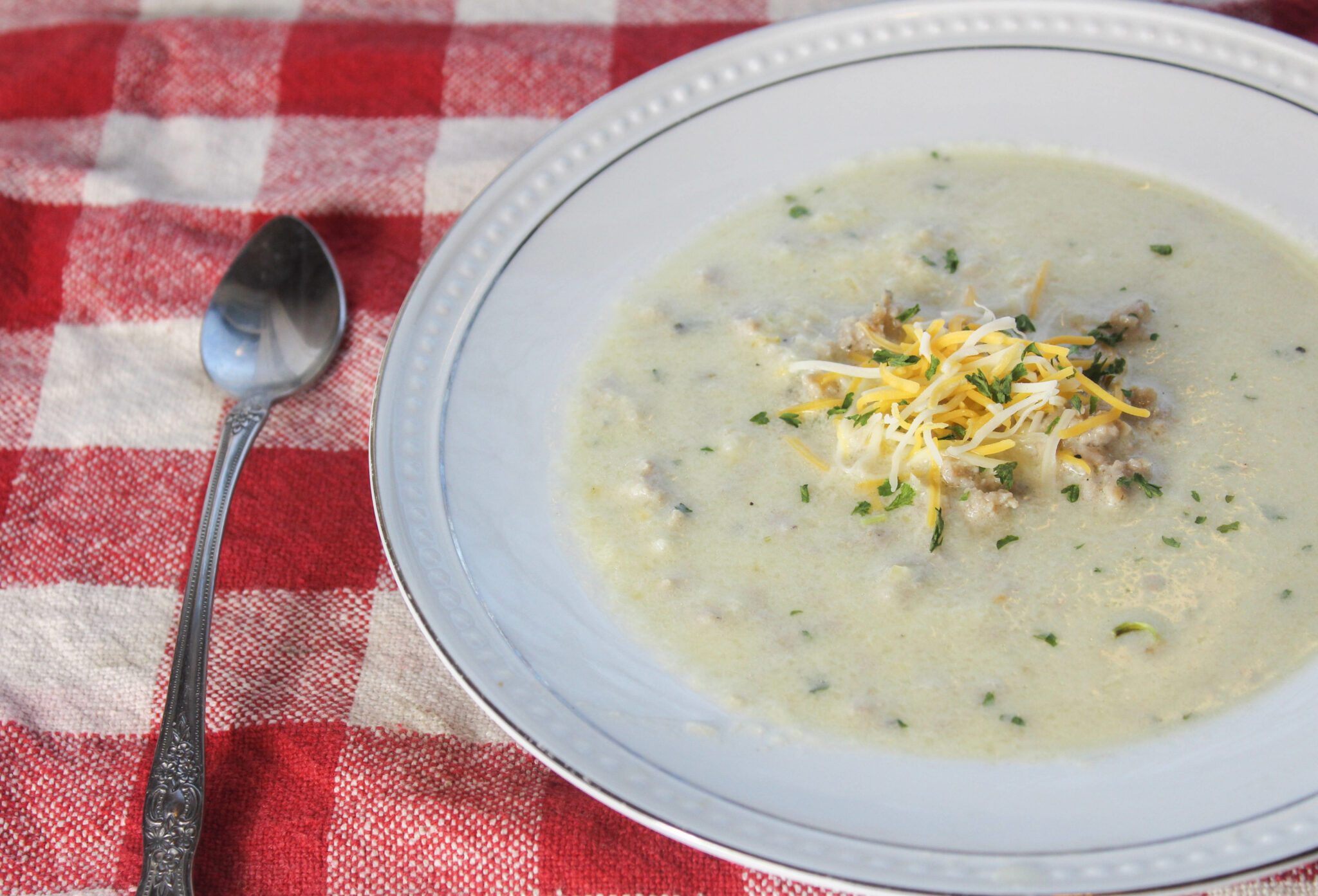 I've also included my favorite way to serve each dinner, along with a side dish idea or two.
Cozy Winter Dinners
My Creamy Chicken Broccoli and Rice Casserole tastes just like your childhood favorite gone healthy! This dish uses cauli-rice and it really hits the spot. I usually serve this on its own! Click here to find the recipe!
My Bacon Swiss Chicken Bake is simple, yet decadent. This dish has mushrooms, swiss cheese, bacon and an ingredient that gives it a smokehouse flair. I like serving this dish with a side salad and some green beans. Find the recipe here.
This Chicken Bacon Ranch Soup tastes creamy, but is veggie based! I've had people swear there were potatoes in it, but no! Cauliflower shines here. This soup is fine on its own, but feel free to add a small side salad if you wish! Recipe is found here!
My Creamy Lemon Garlic Shrimp is my husband's favorite meal of all time. It's so decadent and because it requires a couple of pricier ingredients, we prefer to save this for date night. I serve this over Dreamfields noodles with a Caesar-style salad. Find the recipe here!
My Cheesy Beef Stroganoff Casserole is another family fave. You can put it over a salad, spaghetti squash, or Dreamfields pasta. We like to eat this with some roasted cauliflower. Click here to check it out!
This Loaded Sausage Fotato Soup is surprisingly light in calories. It tastes really creamy and the flavor profile is superb! It also feeds a crowd. I think we had leftovers for days! You can serve this with an "S" friendly bread, or even a slice of sprouted toast for an S Helper. Find the recipe here!
Smothered Chicken Verde Burritos are reminiscent of your typical loaded burrito. They're smothered in a creamy, spicy sauce that is to die for! My kids enjoy this with baked blue corn tortilla chips. I like to add some raw veggies like cucumber to my plate as a crunchy side. Check it out here!
Bacon Cheeseburger Meatloaf will easily become one of your family's new favorite meals. What could be better than a super big cheeseburger? 🙂 This tastes best served with green beans and mashed cauliflower. Find the recipe here.
I'm a huge fan of this Fiesta Rice Casserole because it's so versatile. I've successfully used chicken OR ground beef/turkey in this dish and it's turned out great. Check it out here!
Bacon Ranch Bombs are one of those dinners that come across as super complex but is actually easy-peasy. This dinner will wow any guests, particularly of the male variety. I serve these chicken bombs with a side salad and roasted, buttered broccoli. Get the details here!
Winter might not be SO bad with great dinners like this to warm me up. What's your favorite meal to serve in the Winter? Let me know in the comments below!
Pin This Post for Later Here!