This post might include affiliate links for products that I know and LOVE!
I've had a lot of interest in our cloth diapering routine since I posted a photo of my cloth diaper haul on Facebook! I've used cloth diapers will all 3 of my babies, so I have about 5 years of experience. In that time, I've saved SO much money and learned a lot of best practices. I'm so excited to share this with you guys!
What Cloth Diapers Do I Use?
I use AlvaBaby cloth diapers. The specific kind can be found by clicking here. I always use their 5-layer bamboo microfiber inserts because I like the added protection. I chose AlvaBaby because they have adorable prints for both boys and girls and the price is unbeatable!
How Many Cloth Diapers Do I Purchase?
I purchase JUST this set. So, 30 diapers per baby. My 2 boys are 18 months apart, so I bought each of them a set. My daughter is our last baby and I'm embracing all things lovely, so she got her own set as well.
When Do I Start Cloth Diapering?
When my little ones are about one month old. I've had preemies and cloth diapering isn't an easy feat for the NICU! AlvaBaby diapers can fit newborns, which makes them even more awesome. Here's a video that I found super helpful.
How Much Money Do I Save?
This was the most popular question! I would purchase at the MINIMUM 1 package of higher-end disposable diapers a week. That is at LEAST $40 a month or about $500 a year. I paid under $200 for my cloth diapers, a wet/dry bag, and a pail liner (more on those later). These diapers will last until my daughter starts potty training at 2 1/2-3.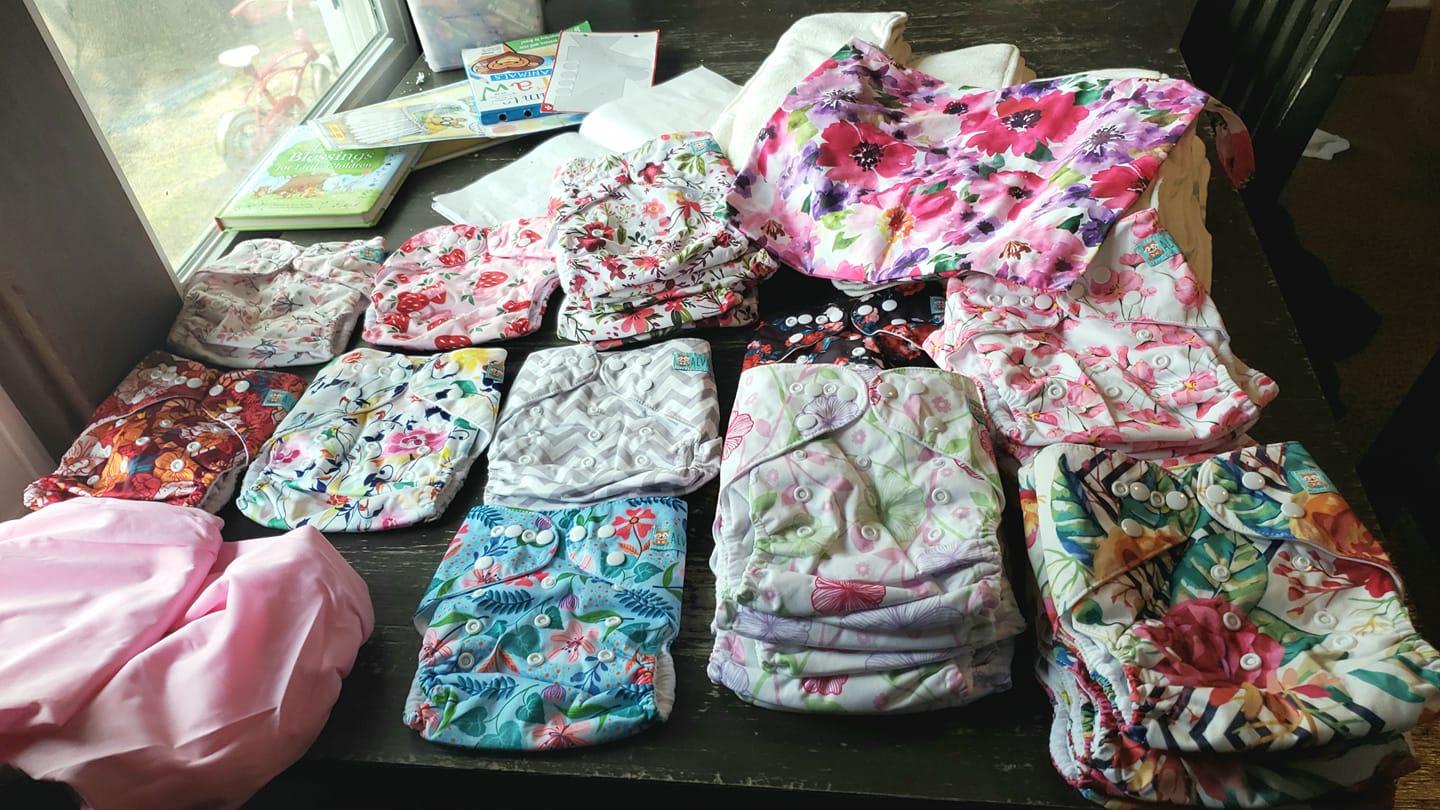 How Do I Wash Cloth Diapers?
Once the soiled cloth diaper is off, it goes into a 5-gallon bucket with a lid. I found mine at Menards for under $5. I line it with one of AlvaBaby's pail liners. These are washable so it makes everything convenient! When I'm ready to wash them (usually every other day) they go into the washer. I wash them in this order: Pre-soak, Wash, Extra Rinse. I do all of this on hot, I've heard of people using cold water for the pre-soak. I prefer using natural detergents so I use Seventh Generation's Baby Natural Laundry Detergent.
I get this at a discounted rate on Grove Co. At the time I wrote this post it's only $7.99! If you want to try it out, you can use my referral link by clicking here. You'll also get a free gift set if you do. 🙂
A couple things to keep in mind: Make sure your detergent is cloth diaper approved. You definitely do NOT want to put fabric softener on your diapers, it ruins their magic absorbing abilities. I dry my diapers on LOW only. This keeps the inserts fluffy.
How Do You Take Cloth Diapers Out and About?
The same way I do disposables! I bring a few extra in my diaper bag and when they get dirty I put them in AlvaBaby's Wet/Dry bag. This is washable too, so you can just throw everything in the dryer.
My kids usually are only watched by family and they have no trouble using cloth diapers. If they've needed to be watched for a long period of time, I've grabbed a cheap pack of disposables for the baby-sitter to use. It just depends on what your people are comfortable with!
What about Wipes?
I use cloth wipes too! Here are my favorite ones from Amazon. I've also purchased from small Etsy shops before and have had great success. I usually just use a solution of water and a tiny bit of Castille soap, but I'm about to try these little wipe solution drops.
Do Cloth Diapers Give Your Baby a Rash?
Nope! We have had VERY few rashes over the years and the ones we've had have come from sickness rather than the diapers themselves. If you follow basic diaper washing instruction, you should be good to go. 🙂
More Cloth Diapering Resources!
While I have a lot of years of cloth diapering experience, I have stayed pretty brand loyal! I haven't really explored the vast varieties of cloth diapers. If you'd like to find out more about cloth diapers I highly recommend Erin Odom's book, Confessions of a Cloth Diaper Convert. It's 200+ pages, she goes over all the different types of diapers, and she's SO knowledgeable.
Pin Cloth Diaper 101 for Later Here!