This post might include affiliate links for products that I know and LOVE!
One of my goals for this year was to start celebrating the Sabbath. Sabbath is a day where you take time to intentionally rest your heart and renew your spirit. I love the way that Jeff Bethke and his wife Alyssa explained it as something we keep to remember that we don't have to do anything to earn God's love. Our family has a pretty hectic life these days, with my husband working more hours and me trying to keep up with our little men. I knew that we needed to incorporate a little more rest and that celebrating the Sabbath would be a Biblical way to get that rest.
I wanted to share my tips for having a Sabbath when you have little ones in the house! I don't think Mom's should miss out on this important day. In fact, we should make even more of an effort because heaven knows we need the rest! Here's how I do it: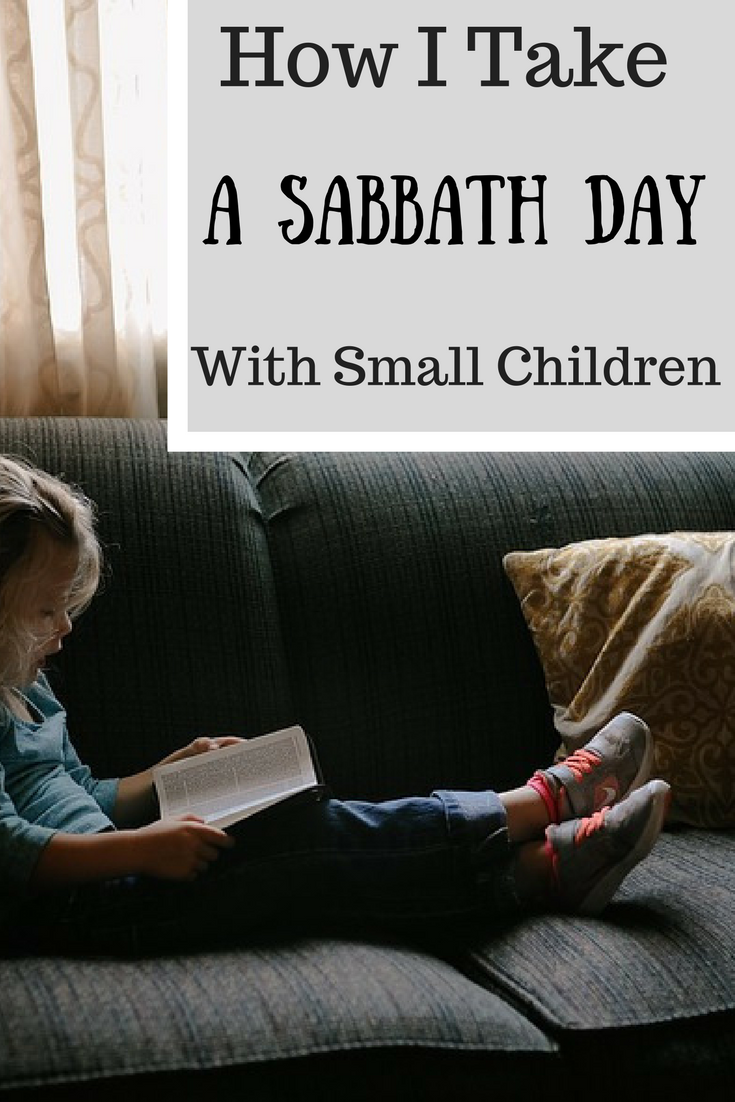 The Day Before (Prep!)
I choose to have my Sabbath on Sunday, so Saturday is my huge prep day. I usually:
Clean the house a little extra
Prep a Crock-Pot Meal for lunch/dinner
Lay out our church clothes
Finish any blog work
The goal is to finish any chores the night before so that as much of Sunday as possible can be spent resting.
Set Limits/Rules
It's always a good idea to have a plan in place! I don't go too crazy with my limitations, but I do try to..
Not do any housework EXCEPT for a 15-minute clean-up session before bed
Limit my social media/cell phone usage
Stay away from all online work
Focus on doing quiet activities (reading, journaling, crafting, listening to music, movies, etc)
Lower Expectations
I learned the hard way that expecting a day full of quiet music, spiritual reflection and family fun is the fastest way to get discouraged. I try to keep my expectations lower so that if the day does go extremely well, it's a happy surprise! 🙂 Keeping things in perspective helps me a lot. If I keep in mind the fact that I have two rambunctious toddlers and sometimes total rest isn't an option, I'm more likely to feel satisfied at the end of the day.
Get on Their Level
I try to think of ways to rest that are on the level of my toddlers. It's unrealistic to expect them to sit still all day with a book. That would only frustrate them! I do, however, slow things down by..
Having special coloring books and activity books that we pull out only on Sundays. This gives me a little bit of downtime and it also feels special!
Making a great family-friendly meal that I know they'll take their time with.
Inviting them to sit with me as we read together.
Making popcorn and watching a movie together.
Playing Legos with them
I try to make sure they know why we're doing what we're doing and they are included in Sabbath prep!
Make Things Easy
With little ones around, there's no such thing as a totally easy day, but I do the following things to make the day as simple as possible..
Use paper plates
I personally love cooking and don't see it as a chore, but if cooking is sheer drudgery for you, a good tip is to prep a breakfast, lunch or dinner so that you only have to reheat it. 🙂
Keep meals simple (We have a big relaxing breakfast, but we usually do a salad, sandwich or wrap for lunch)
Since we started carving out a day to intentionally rest, our spirits have gone up and I find that I start the week feeling SO refreshed! How do you create intentional rest for your family?
You might also like..
Easy Ways to Cure Mama Burnout