This post might include affiliate links for products that I know and LOVE!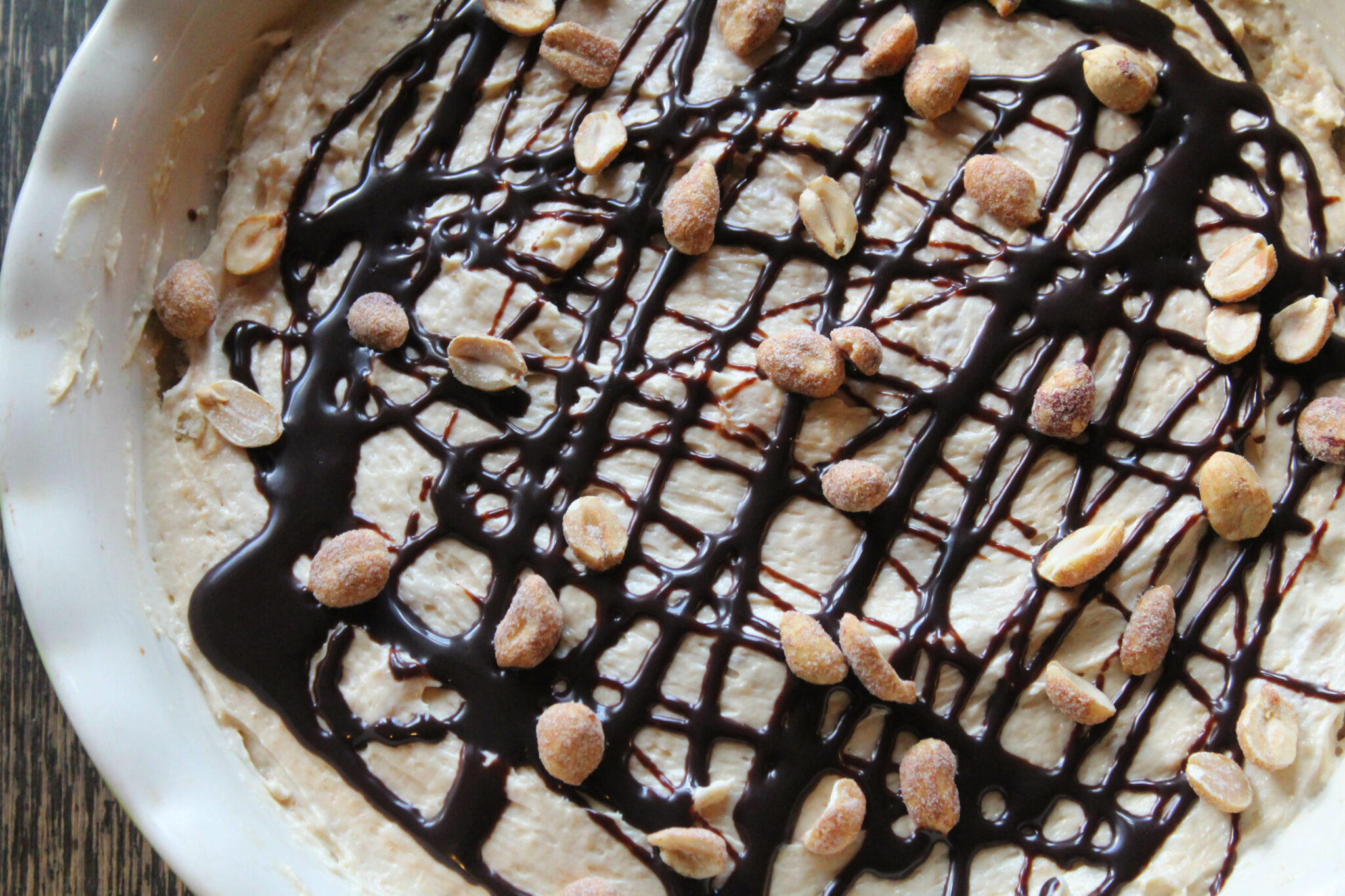 You know those pies in the frozen section that taste like a Reese's Cup? Here's a trim substitute JUST in time for Mother's Day! My Frozen Peanut Butter Silk Pie comes together in minutes and is sure to be a crowd-pleaser.
The best thing about this recipe? No special ingredients minus your fave sweetener. Everything you need is readily available at any grocery store, INCLUDING ALDI since they recently started carrying almond flour! I love NSI recipes because they're totally "people-friendly". Desserts like this are a great way to introduce your friends and family to a healthier way of eating.
This pie has 3 steps. Make the crust, make the filling and make the whipped cream. Easy-pease! I used the same mixing bowl for all steps and didn't rinse it in between because short-cuts are saving my life these days. 🙂
I used Almond Flour in this recipe, which if you've been following my blog for awhile, you know that's pretty rare! I don't recommend making ALL almond flour recipes because they're so heavy and pretty calorie dense. Plus, there are some great lighter alternative flours out there that do the job just as well.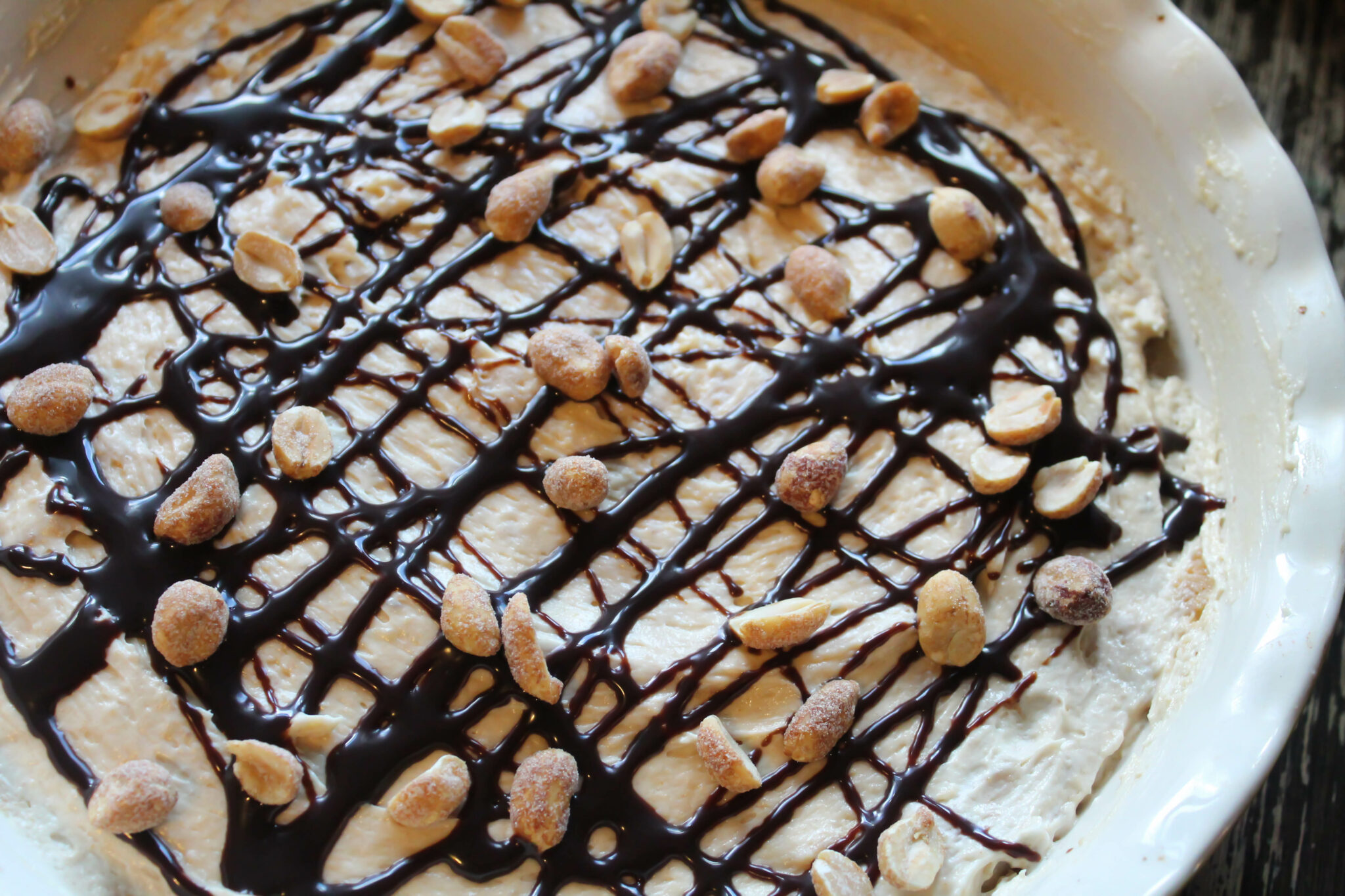 Notes about Frozen Peanut Butter Silk Pie
This recipe is low-carb, keto-friendly and a heavy S for my THM friends. Because it's so heavy, it's best served occasionally and with a lighter meal, so calories aren't abused.
You can substitute your favorite crust recipe that uses THM's Baking Blend if you wish.
I topped my pie with the Handy Chocolate Syrup that's found in the THM cookbooks. To save time, you could just use a personal choice sugar-free option such as Hersheys.
This recipe serves 10-12. I cut my slices a little smaller because it's such a rich pie.
I haven't tried making this with a sugar-free store-bought whipped cream yet or any other variations. I'll update this post if I decide to experiment 🙂
Pin my Frozen Peanut Butter Silk Pie Here!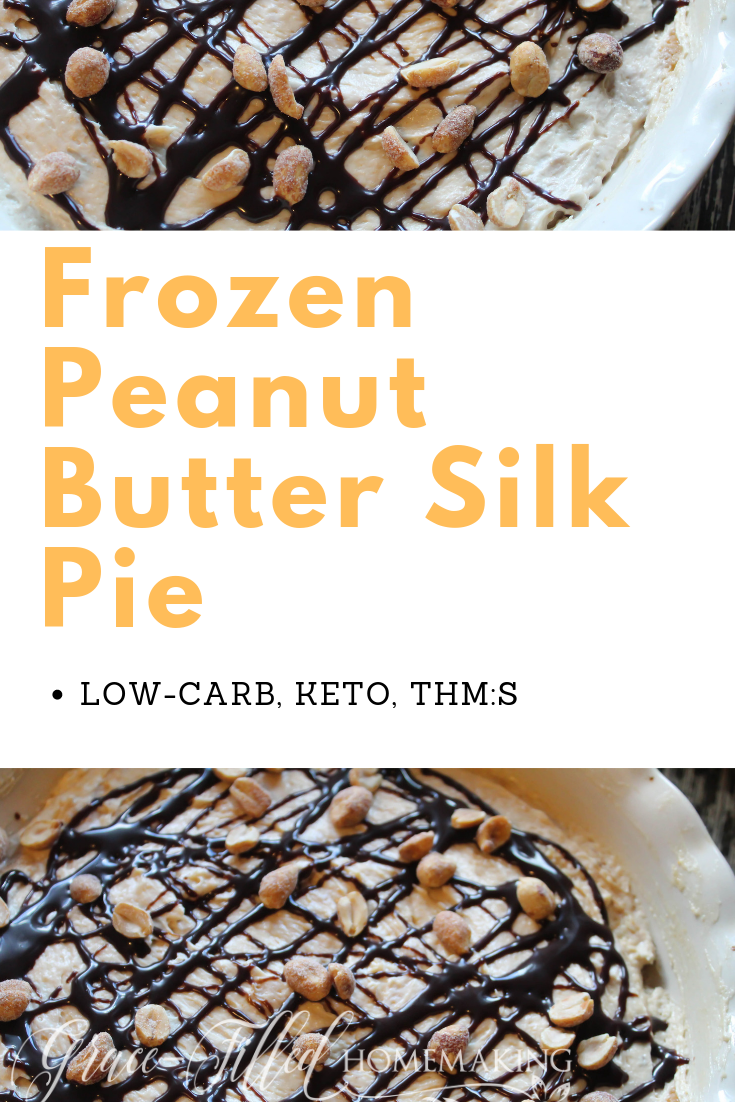 Want More Dessert Recipes?
Whip together at high speed until light and fluffy. Set aside.
Mix together and press in the bottom of a pie pan.
Whip together until smooth. Fold in whipped cream and spread on crust. Freeze for at least 3 hours or ideally overnight. Before eating, let thaw for 5 mins or so. Top with handy syrup from the Trim Healthy Table cookbook or your favorite sugar-free syrup and peanuts.