This post might include affiliate links for products that I know and LOVE!
Something about the start of a new school year makes me want to set goals and crush them. Anyone else? 🙂
It's easy for me to get a little starry-eyed and start dreaming of big goals that aren't exactly able to be accomplished. Nothing is worse than looking through your goals and realizing that you didn't meet any of them! Yet, this is what happens to a lot of Moms. We shoot for the stars but fail to remember that we have many things keeping us grounded.
Does this mean that we should place goal-setting on the back burner until our kids have graduated? Absolutely not. It does mean that we need to take a different approach to goal setting, though. Here's how to change up your view on goal-setting and make it fit your busy life. We're going to make it happen this Fall! 🙂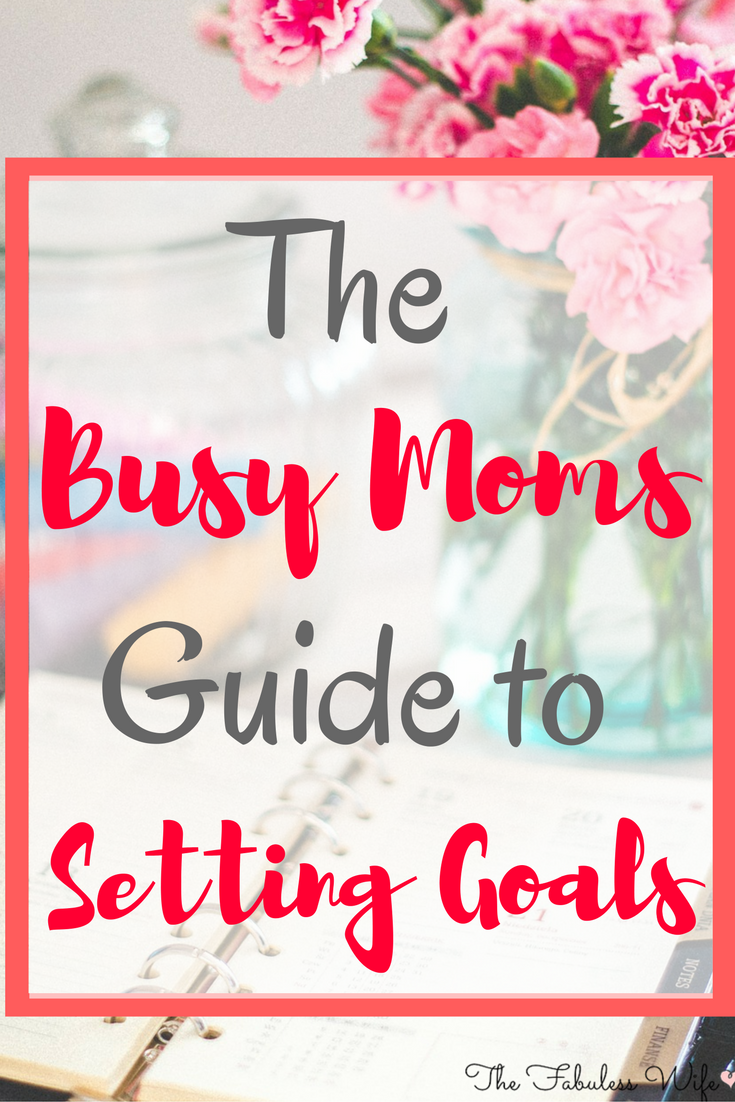 Focus on What Matters
What truly matters to you in this season of life? Is it finances, your husband, your relationship with God, your mothering, or your health? These are the areas that you should focus on setting goals in. A good way to tell if something truly matters is to think of a certain timeline. Will this matter in 5, 10, or 20 years? Things like your health and relationships are always going to benefit from the extra effort. If you're like me, you don't have a lot of time to devote to things like this, so it's important to place that energy where it will make a lasting difference.
Pray About It
God's blessing is a wonderful thing to have. It gives you strength to move forward, clarifies your action steps and makes sure that your goals are going to benefit your life. Spend some time asking God what He has for you in this season of your life. Read the Word, really dig deep and be still in His presence. I promise you, this whole goal setting thing becomes a piece of cake when God has His say.
Make It Doable
I'm all for dreaming big, but a huge part of goal setting is choosing goals that are actually attainable. One year, I set a goal to make a full-time income from home. I had an action plan, visions of what I was going to do with the money and was so pumped to get started. I completely failed to take into consideration that life with two little men didn't allow the time or energy needed to achieve that goal. Think about where you're at in life. The amount of time you have to devote to those areas you'd like to focus on, the commitments you have, where you're at physically and mentally. All of those things help decide whether a goal is doable.
Get Particular
Get particular about what you want to accomplish. Write down the exact goal and the time frame that you'll have it completed by. Not only does this double-check that a goal is doable, but it also gives you an intense focus. It's easier to put all of your efforts into a specific goal like, "I'm going to write 10 blog posts by June 13." than a vague goal like, "I'm going to write more blog posts." Getting particular helps you figure out exactly what the end goal is.
Choose Fewer Goals
Once I start dreaming, I don't stop. My goal sheet will go from two to twenty in five minutes, no lie. The problem with that is, the more goals I set, the fewer goals I can focus on because my attention is going in too many directions. This is also how women get burnt out. It's best to choose a few goals and have the satisfaction of actually fulfilling them. I bought an amazing planner this year that had worksheets for me to write down my goals. The worksheet started out by telling me to write down 5 goals in 4 different areas. I was totally excited and happy to accomplish these big things. Then, to my surprise, the worksheet told me to cut my 20 well-thought out goals down to 4. Gulp. Safe to say I had a minor freakout! But the truth is, cutting those goals down made them seem much easier in my mind. I was able to focus clearly and I'm happy to say that I've accomplished almost all of them!
Create a Plan of Action
A goal written down is just a wish. Someone said that, can't remember who! 🙂 Anyways, come up with a plan of action that will get your goal crushed.
Think about what you're trying to accomplish
Write down the steps it will take to get there. Hint: Baby steps are key
Write a timeline for each step
If applicable, create a rewards program for those little milestones
The most important thing to remember is to give yourself grace to dream big, yet accomplish your dreams on your own time. Life isn't always extremely busy and there will be more time to pursue more goals in the future.
What are your goals for this year?