This post might include affiliate links for products that I know and LOVE!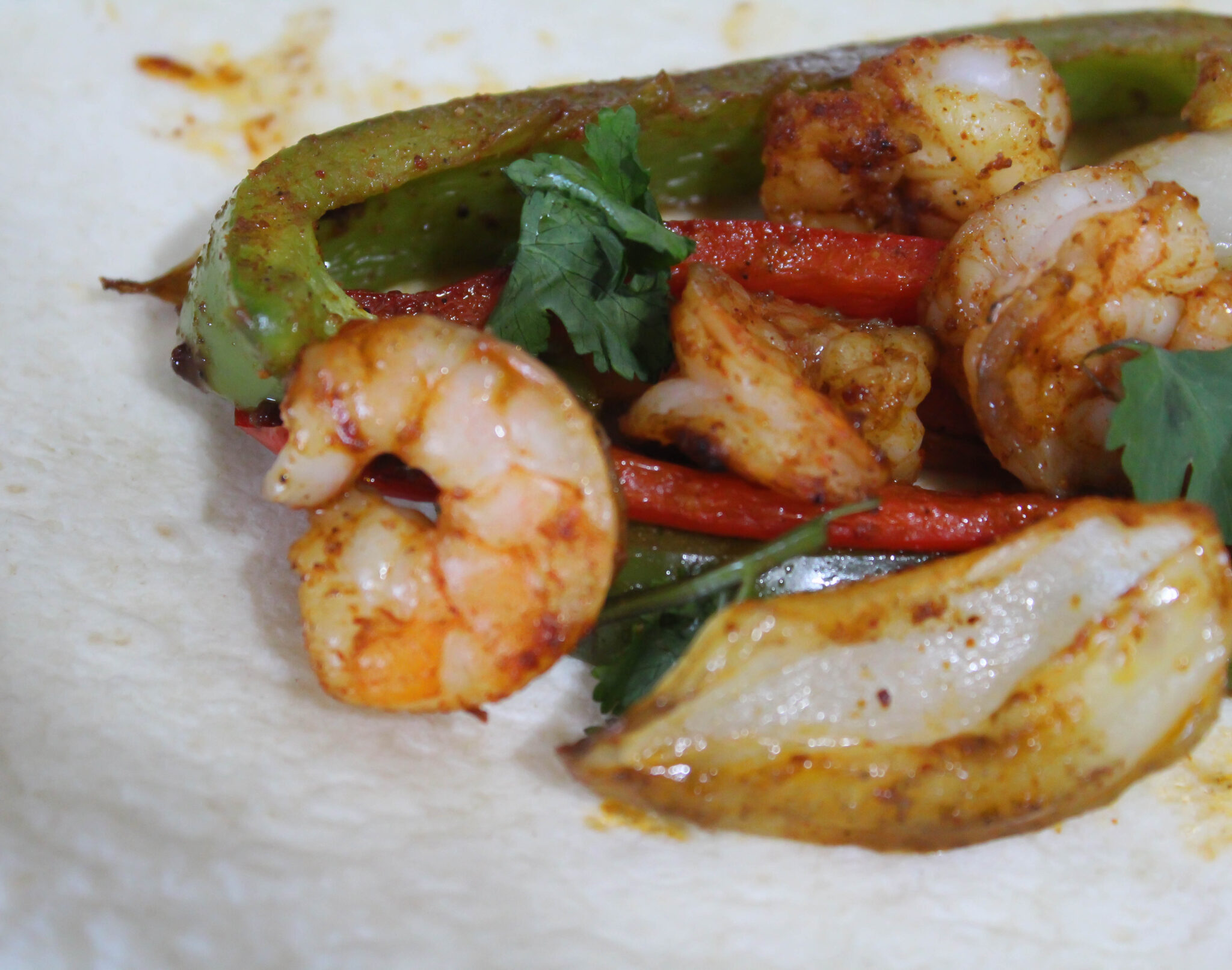 Shrimp was on sale last week and I wanted to create a fun recipe since I don't have very many seafood dishes on my blog. I wanted something a little lighter than a creamy pasta dish, so I thought shrimp fajitas would be a great idea! This is a sheet pan supper, which is one of my favorite things. It's easy to throw together, which makes eating healthier a breeze. These fajitas use the same seasoning blend that I use in my Sweet Heat Chicken Legs.
It tastes just like it sounds! Slightly spicy with a slightly sweet smokey flavor. When you add some melted butter to the equation, this meal tastes like something you'd find at your favorite restaurant. The peppers and onions get caramelized and golden, making the veggie portion taste just as good as the seafood! This recipe serves 6-8 people. We like to eat ours on low-carb tortillas, but this mixture tastes divine over some lettuce too.
I used regular old green bell peppers because that's what I had on hand, but any color of peppers would taste pretty (and probably look a lot more colorful!). I've also sliced and de-seeded some fresh jalapenos and put them on the sheet to roast with great results! This recipe is tame enough for little ones, so if you want a little extra heat, feel free to add some additional cayenne to your portion.
Special Ingredients Mentioned:
Pre-heat the oven to 400 degrees. Place the shrimp, onions, and peppers on a large sheet pan. Melt the butter and mix together with the liquid smoke. Pour over veggie and seafood mixture. In a separate bowl, mix together the sweetener and spices. Sprinkle evenly over the veggies and seafood, place pan in the oven and bake for 20 minutes. Enjoy!