This post might include affiliate links for products that I know and LOVE!
I'm a huge fan of quick, hot breakfasts and it doesn't get much easier than my Peanut Butter Banana Bread! The peanut butter and banana flavors remind me of one of my favorite sandwiches growing up. This bread is a THM: E.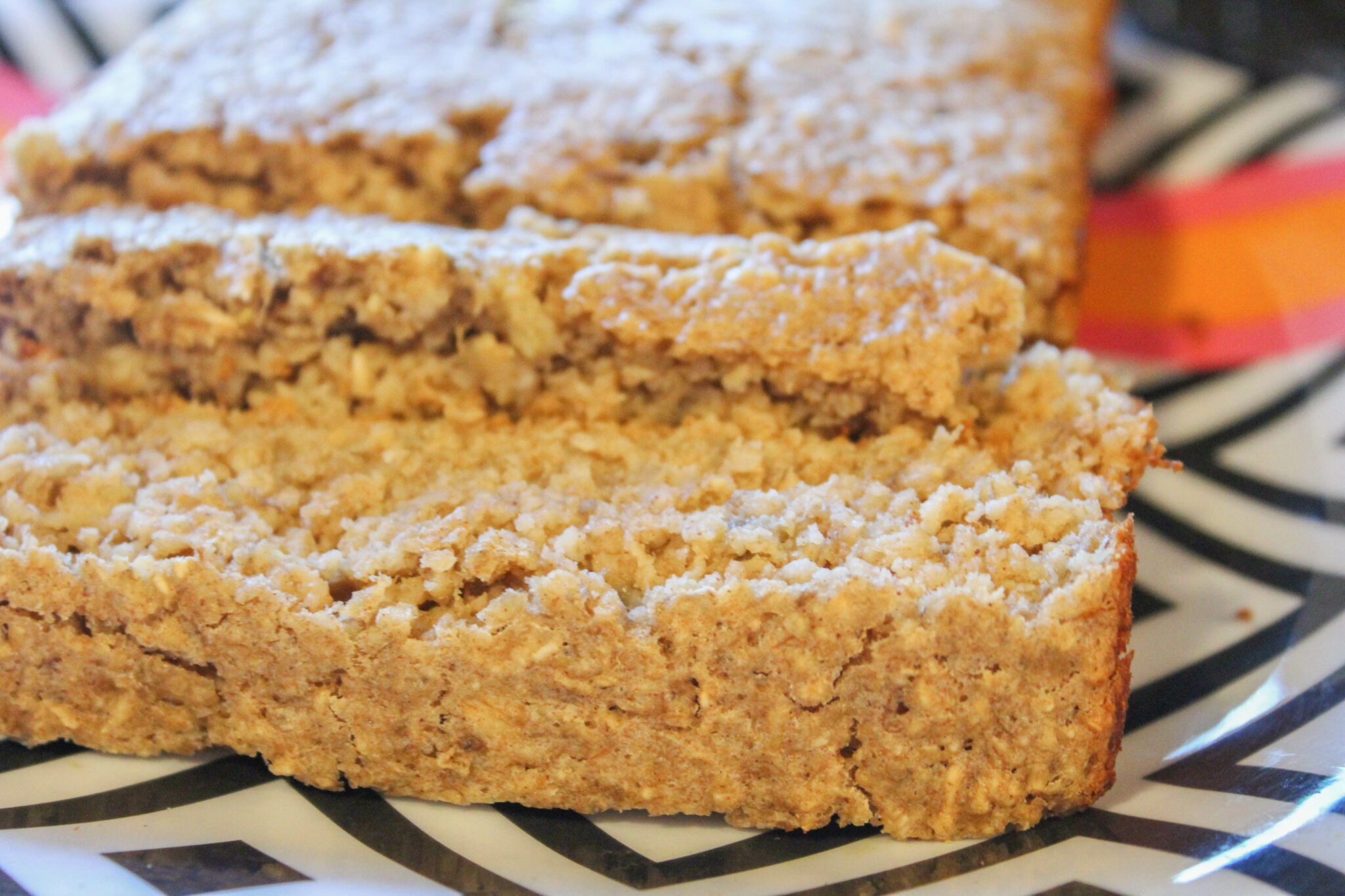 One of the things I remember most about extended family holidays growing up were the many loaves of my G'ma's quick bread. She made the best quick bread in the cutest loaf pans! She'd make pumpkin, zucchini, and cherry. Whenever I think of the holidays, I always think of those little loaves. This bread was sort of inspired by those tiny loaves of goodness.
Many of the recipes on my blog are made with the help of tiny hands. This is partly because I really like hands-on kids activities and partly because I'd never get a thing done if I didn't let my littles help. 🙂 This recipe is one of their all-time favorites! Since this is an E fuel, they slather a lot of butter on top to make it a Crossover.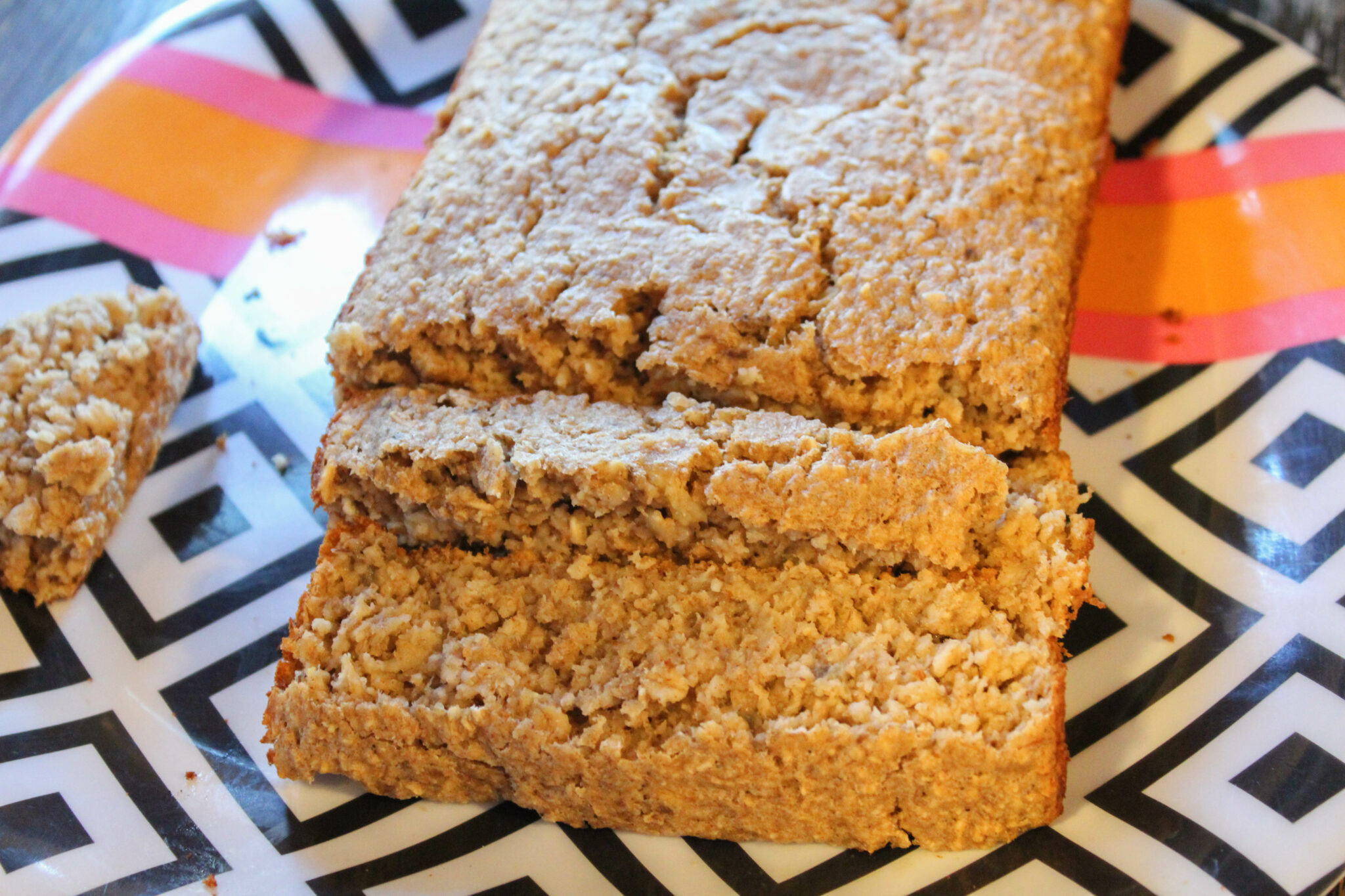 This recipe makes 1 5×10 inch loaf. The bread has a similar texture to a traditional banana bread, which makes my husband happy. I love the fact that this recipe is so frugal and uses oat flour as it's base. Whenever I post a recipe that includes oat flour, many of you ask for my favorite brand. My answer to that? Quaker! I grind my own oat flour in my food processor and it's worked great so far. 🙂
My Peanut Butter Banana Bread freezes well and I'm planning on freezing a few loaves before baby girl comes! I recommend baking it in a metal disposable pan and covering it well to prevent freezer burn. This recipe has no special ingredients as you can usually find peanut flour or something similar at your local grocery store. I do prefer to use Trim Healthy Mama's Peanut Flour because I feel like it has the best flavor. I also think THM's Gentle Sweet tastes phenomenal in this recipe, but you can use your favorite store-bought sweetener.
Follow me on Facebook, Pinterest, and Instagram for behind the scenes info, inspiration, and more!
Need More Breakfast Ideas? Check Out:
Pin This Recipe For Later!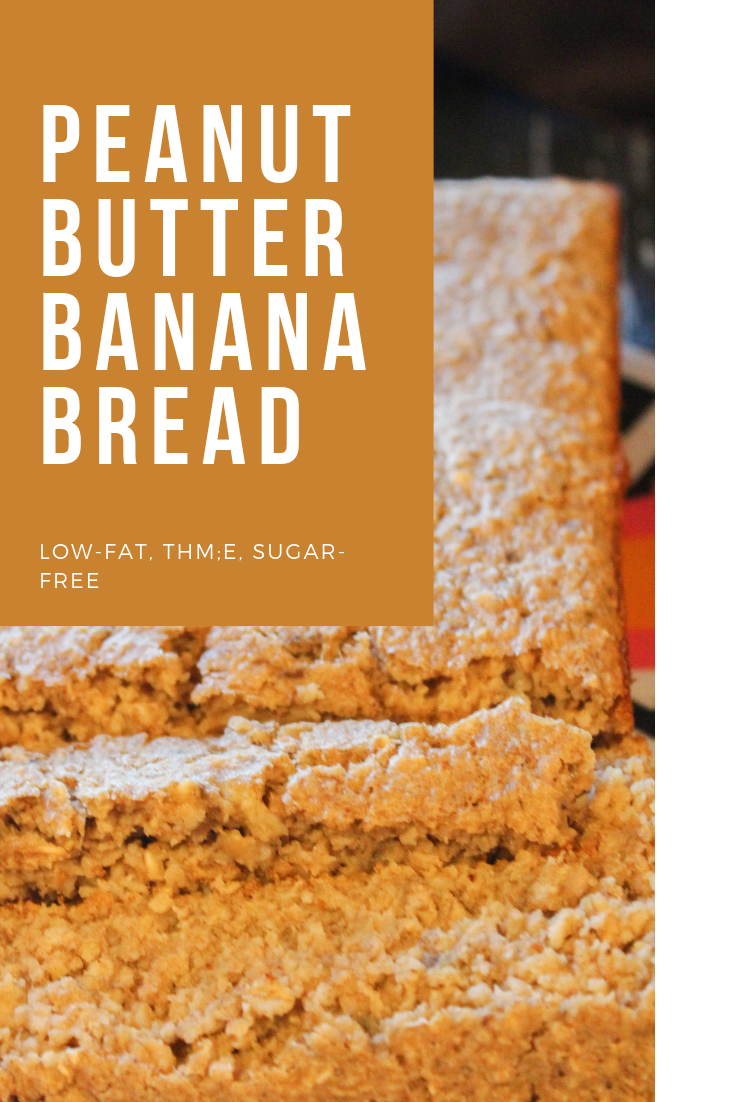 How to Make Peanut Butter Banana Bread
1. Preheat the oven to 350 and lightly grease/prep your muffin tin. 2. Mix together the wet ingredients. 3. Stir in the dry ingredients until just combined 4. Pour the batter into a loaf pan. 5. Bake at 350 degrees for 40-45 minutes or until a toothpick inserted comes out clean.