This post might include affiliate links for products that I know and LOVE!
Who else has a slight obsession with Chinese food? I'm raising my hand. Shamelessly, I might add. No greasy take-out food needed when you can whip up my Trim Healthy Mama friendly General Tso's Chicken from the comfort of your kitchen!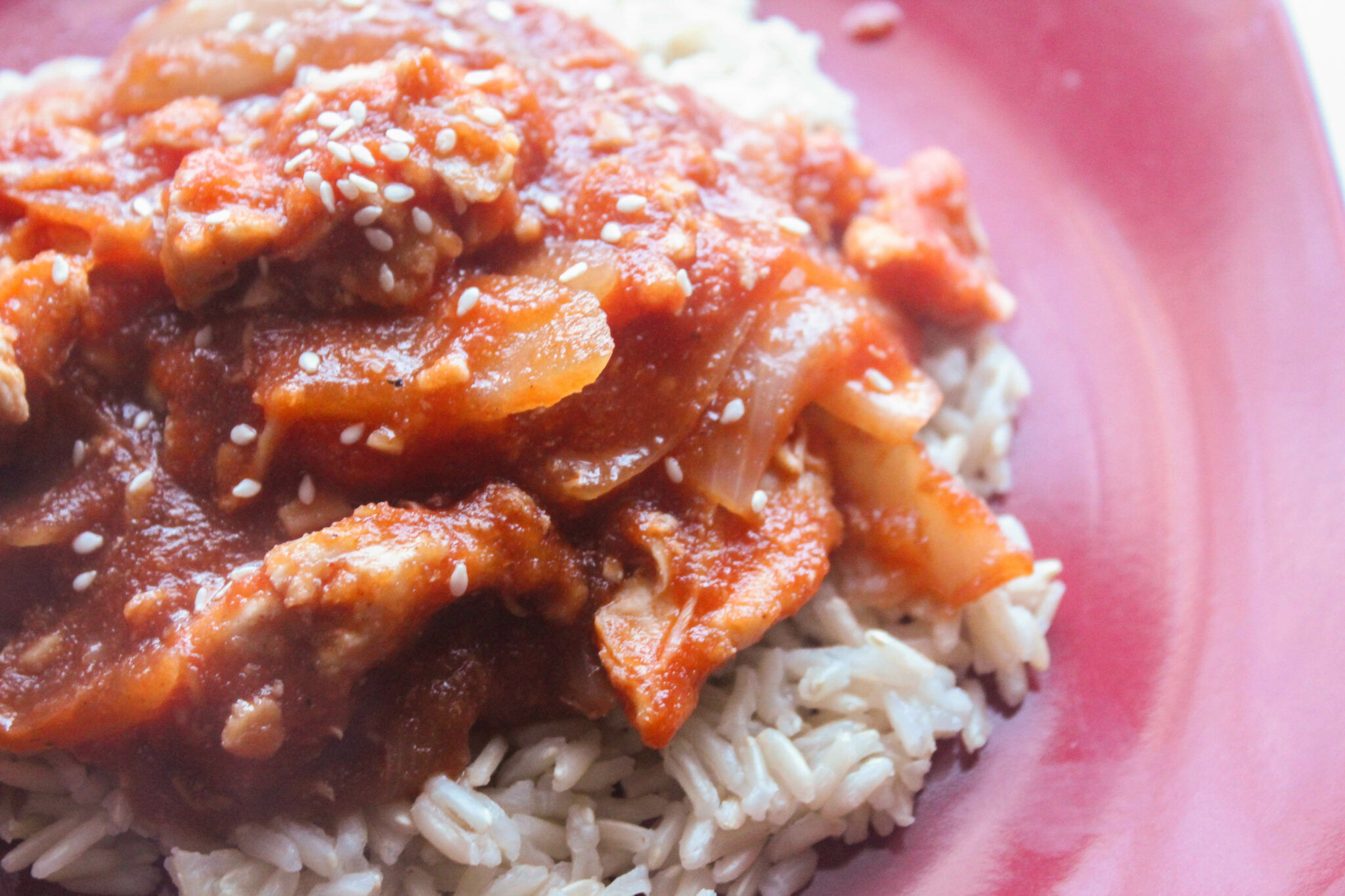 This recipe is a MUCH-needed update on one of the first recipes I ever posted. I got a bit of flack for the semi-unappealing food photo. Okay, in my defense, this was the first actual non-coffee recipe I ever posted to my blog. I hadn't invested in a nice camera and my phone didn't take the best photos! I tried, guys. 🙂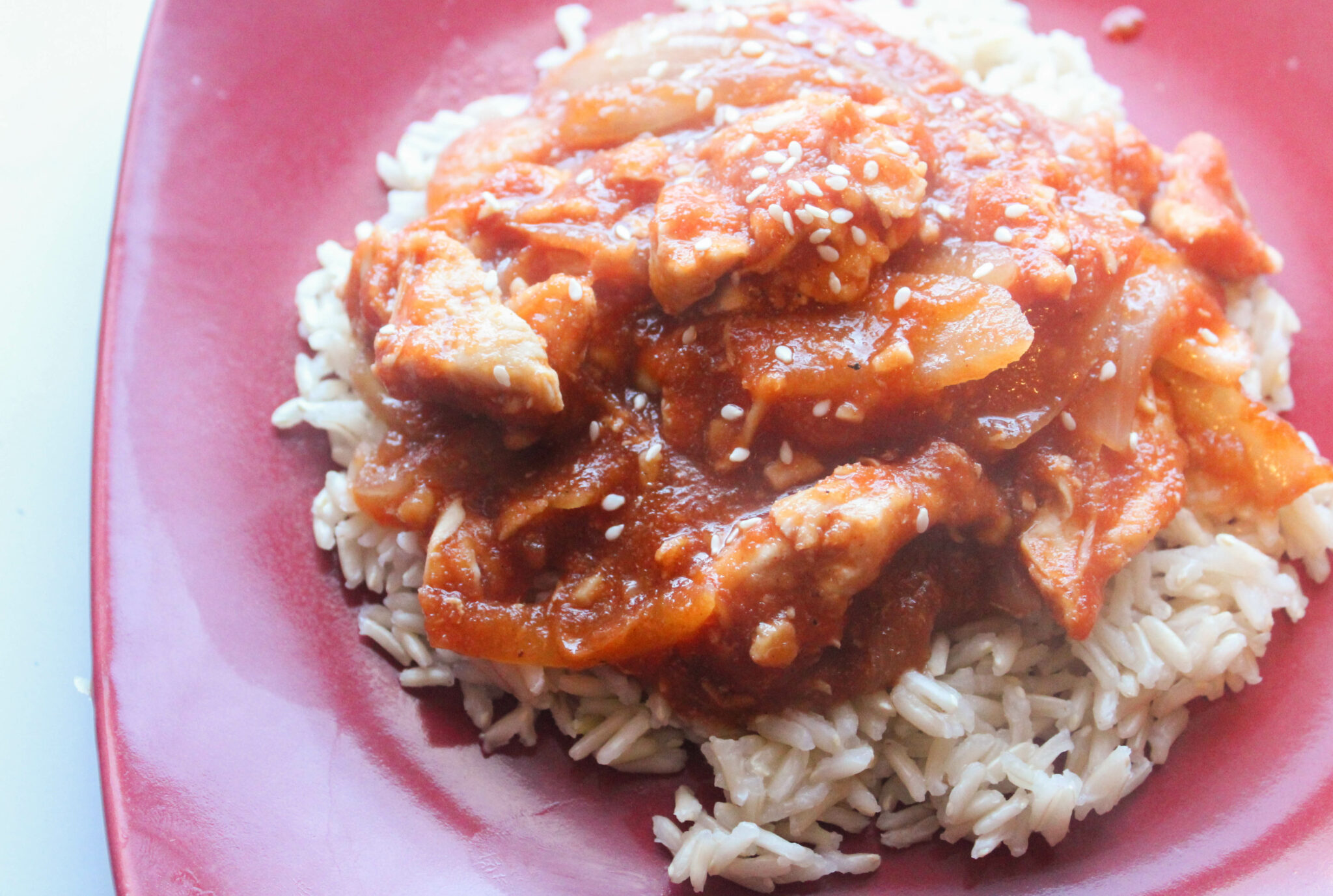 Anyways, I updated this recipe not only because it needed a better photo to showcase its deliciousness, but because I wanted to simplify the recipe. This is more of a skillet dinner, which is one of my favorite types of meals. Sautee some chicken and onion, remove from pan. Make a sauce, let it simmer. Toss chicken and onion in sauce and voila! Done. A fun, easy dinner without a lot of effort. Don't let the special ingredient gluccie scare you away. It is literally unnoticeable in this sauce! I used the Trim Healthy Mama brand and was so impressed with the texture.
I like to serve this dish over cauli-rice or my Sesame Noodles. I've been known to add some frozen broccoli to the stir-fry mix. It adds bulk without changing the fuel and it soaks up the sauce beautifully. If your kids need a Crossover, they can have theirs over some brown rice, like you see in the photos. This recipe serves 6-8 people, the nutritional information is based on 6 servings. 🙂
[amazon_link asins='B01AC97ONO,B06X6LK5FD,B005F9W9JQ' template='ProductCarousel' store='thefabwif0e-20′ marketplace='US' link_id='ec850588-2df8-11e8-85e3-073091e273f0′]
Pin This Recipe for Later Here!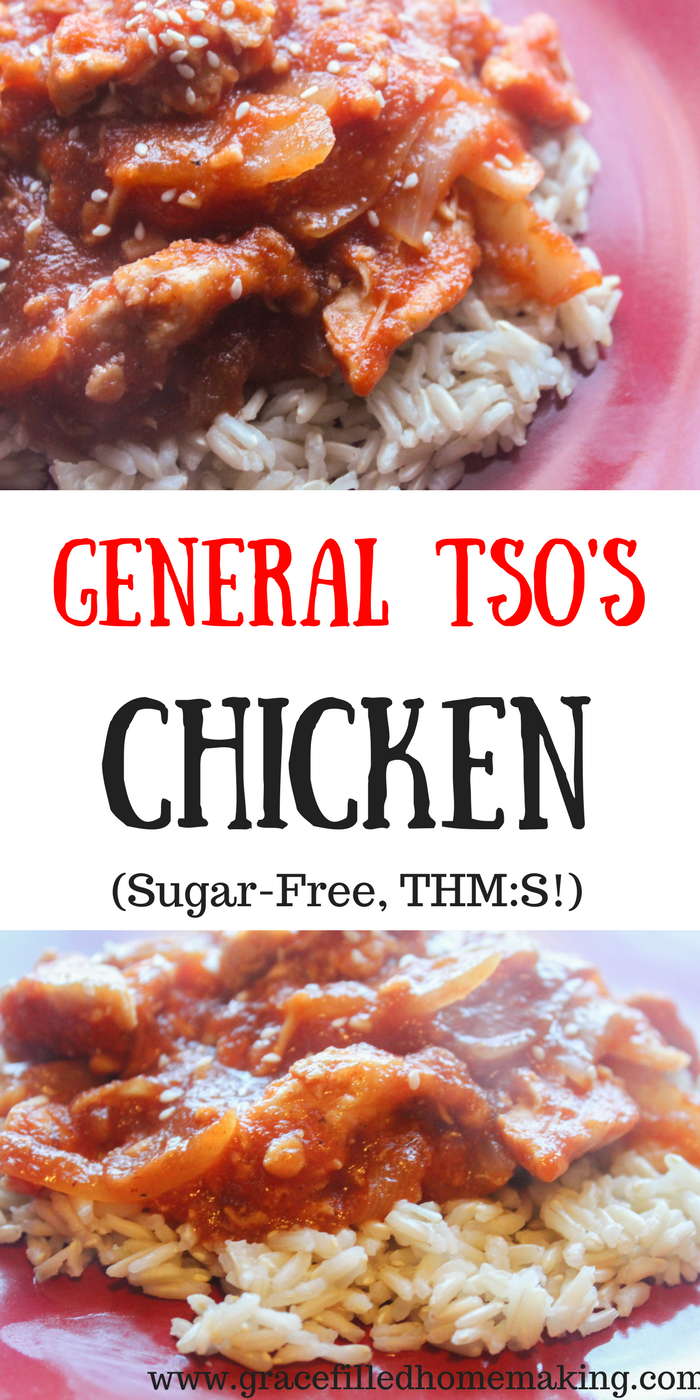 Special Ingredients Mentioned:
Melt coconut oil in skillet over medium-high heat. Chop tenderloins into bite-sized pieces and add to pan with onion. Sprinkle with salt and pepper. Sautee until the chicken is no longer pink in the middle. Take out and set to the side. Pour chicken broth into the pan and stir in tomato paste, ACV and all other ingredients except for the gluccie. Bring to a boil. Turn down heat and let simmer for 10 minutes, stirring occasionally. If the sauce isn't thick enough for your liking at this point, whisk in 1/4 t. Gluccie. Enjoy!
Nutrition Facts
Amount Per Serving
% Daily Value
Vitamin C 0%
Calcium 7%
Iron undefined%