This post might include affiliate links for products that I know and LOVE!
It's ice cream season. For some of us (ME!), this season lasts all year. For those of you who wait until it's nice and hot to eat your icy-cold treats, you're probably looking for a good homemade, on-plan option. Here's a simple, yet yummy recipe for Cinnamon Ice Cream!
Cinnamon Ice Cream is one of those basic flavors that's a must. I'm already thinking of how a scoop can jazz up my warm Zapple Crisp (S) (found in the first THM cookbook!) or some sauteed apples for a good Crossover. The flavor is so simple, but yet so delicious!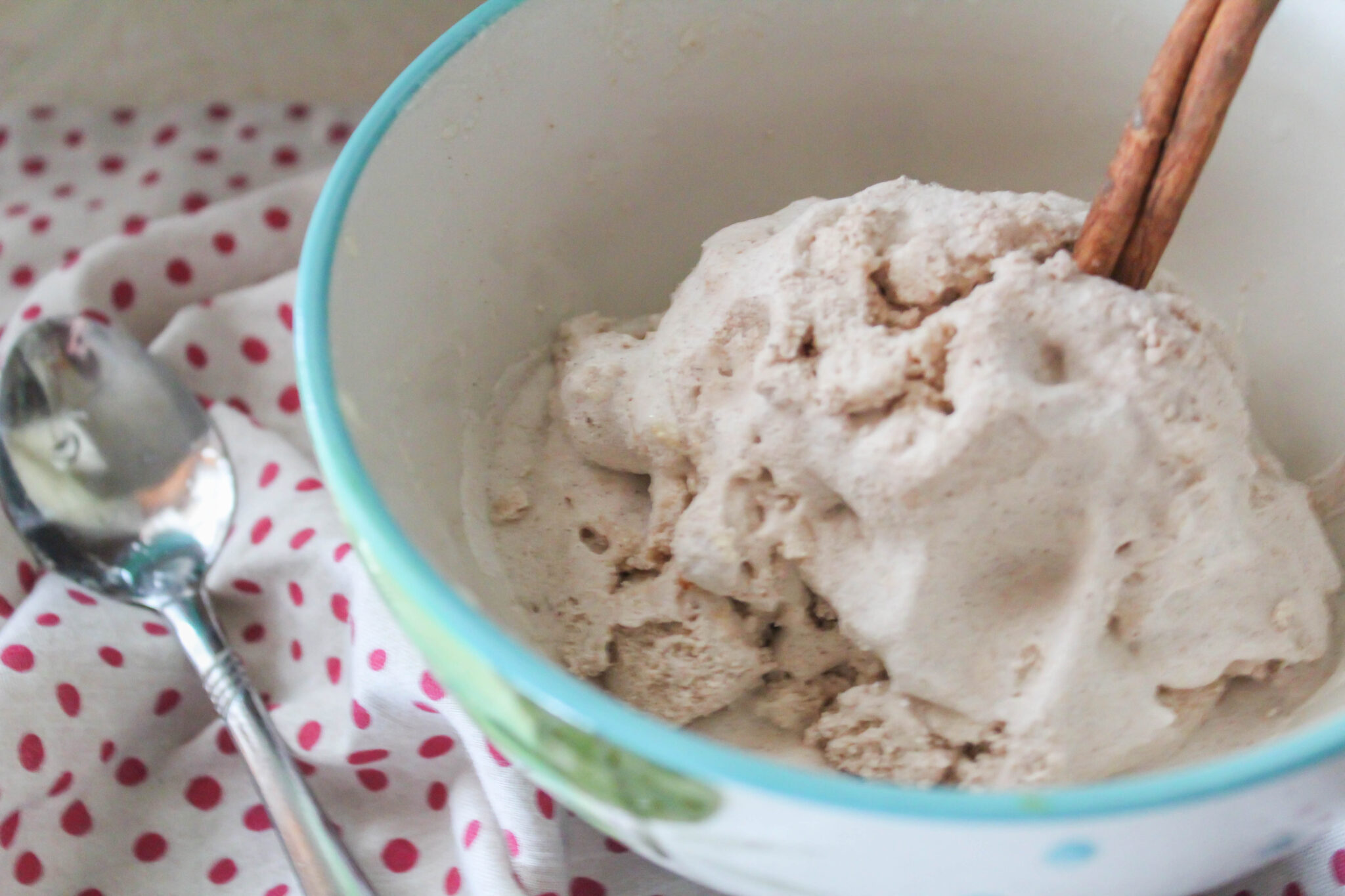 I love making homemade ice cream because I know what's in it and it's so much cheaper than store bought options! This is the ice cream maker I use and it makes a great soft-serve option. Whenever I talk ice cream I always get messages about glycerine, so I thought I'd explain! Glycerine helps keep your ice cream soft. Without the chemicals, your ice cream tends to get harder and harder to scoop. While glycerine doesn't magically make it super soft, it does help the process a lot, especially when it's left out for a few minutes (kind of like you would with Halo Top!). I recommend this one.
Cinnamon Ice Cream Notes:
Leave it out for a few minutes to soften again after freezing. It will freeze harder than store-bought ice cream, but you aren't ingesting chemicals, so I think it's worth the trade? 🙂
If you have cinnamon flavoring or extract, that would be a great addition! I couldn't find any at my local store or I would have used it! I recommend 1/8 teaspoon.
This is a Heavy S, so be mindful of portions and don't combine with any carbs unless you want a Crossover.
Want More Frozen Desserts? Try one of these recipes!
Pin My Cinnamon Ice Cream Here!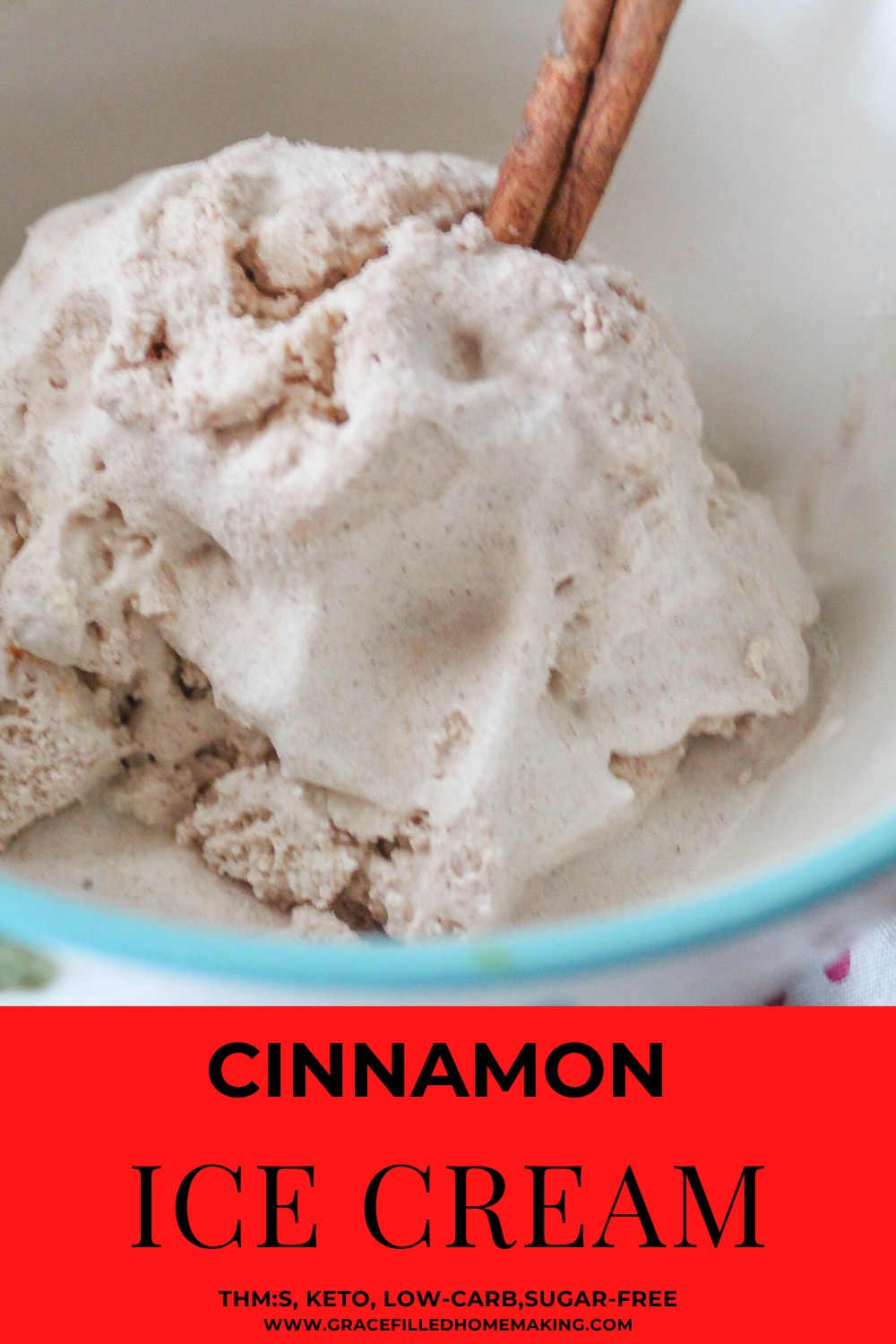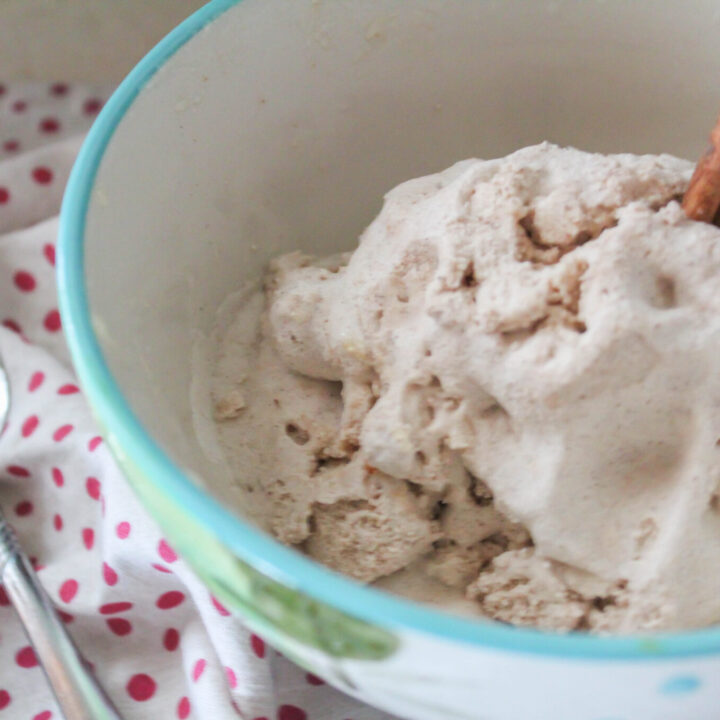 Cinnamon Ice Cream
Ingredients
2 C. Heavy Cream
1 C. Unsweetened Almond Milk
3/4 C. Gentle Sweet
1/8 t. Mineral Salt
1/2 t. Vanilla
1 T. Glycerine (Optional)
2 t. Ground Cinnamon
Instructions
Mix together all ingredients until smooth and there are no cinnamon clumps. Pour into your ice cream maker and use according to the manufacturer's instructions. When done, transfer to a freezer-safe container. Enjoy!
Recommended Products
As an Amazon Associate and member of other affiliate programs, I earn from qualifying purchases.