This post might include affiliate links for products that I know and LOVE!
This recipe is Summer comfort food at its finest. I can easily see you lovelies taking this side dish to all of your barbecues, potlucks and girls nights. It's super versatile and there is a lot of things you can do with this! Be sure to read this post all the way through for some more yummy bacon recipes! 🙂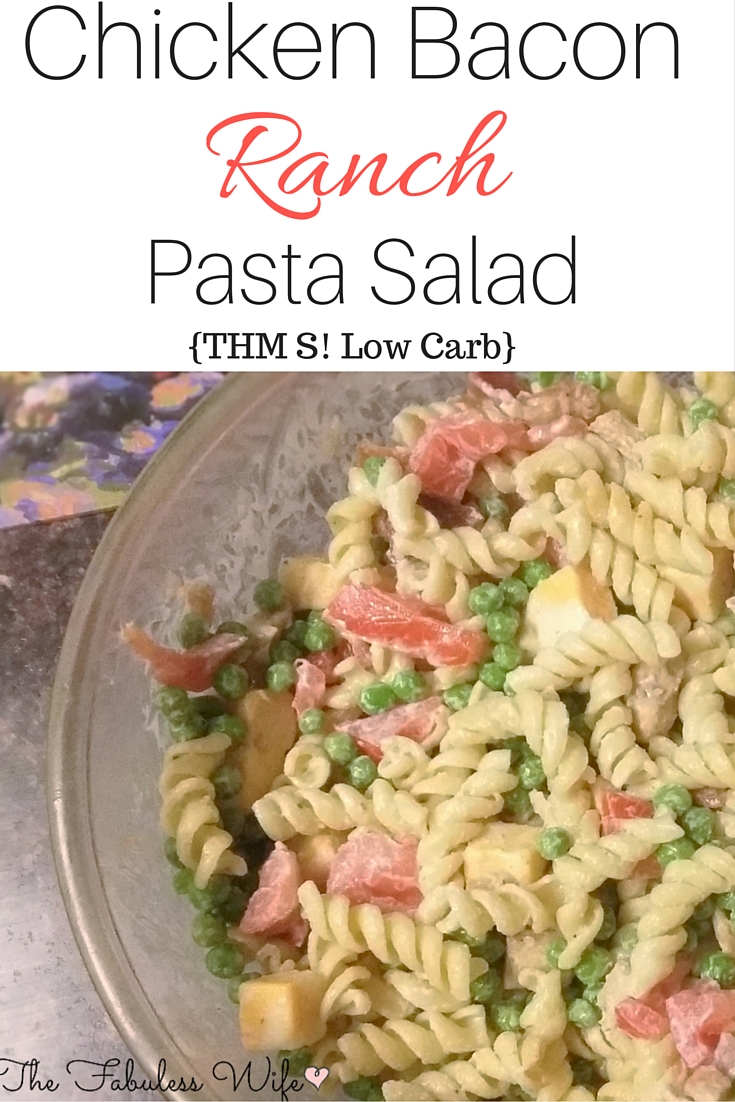 The recipe itself is simple and requires little prep work. If you're a Drive-Thru-Sue you can make the following adjustments:
-Use a can of chopped chicken and pre-cooked bacon, cut into little pieces.
-Instead of making a dry ranch mix from one of the following recipes, switch the amount of mayo to 1/2 a cup and use 1/2 cup of store-bought ranch dressing. I'd say use a thicker one like Ken's!
I added peas and a little tomato to mine because that's what I had on hand. You can add jalapenos, cucumbers, zucchini, peppers, or cabbage. Feel free to switch up the type of cheese you use.
I recommend:
Trim Healthy Mama's Mineral Salt
Here are a few awesome dry ranch mix recipes:
Ranch Dressing Mix from Gwen's Nest
Mrs. Criddle's Ranch Dressing (If using this recipe, leave out any extra mayonnaise)
Rhonda Sue's Ranch Dressing (If using this, use only about 3/4 the recipe and omit any extra mayonnaise)
Boil your pasta, drain and set aside to cool to room temperature. In a large bowl, combine the ranch mix and mayonnaise. Add the pasta and stir well. Fold in the bacon, cheese, chicken, tomato and peas. If you're adding any other veggies, add those now! 🙂 If the pasta salad is too thick for your taste, add a couple tablespoons of almond or cashew milk. Store in the fridge! *The recommended serving of Dreamfields is 1 cup, so this is best eaten as a side dish with another form of protein!
Want more bacon in your life? Check out these recipes from my friends!
Bacon, Cheddar Onion Deviled Eggs 
Jalapeno Chicken Bacon Chowder
Bacon and Onion Stuffed Mushrooms
Bacon, Cheddar and Veggie Frittata
Crunchy and Tangy Bacon Coleslaw 
Bacon Wrapped Mediterranean Chicken
Bacon Chicken Caesar Casserole
Bacon Ranch Cheddar Broccoli Salad
Loaded Sour Cream No-Tato Salad