This post might include affiliate links for products that I know and LOVE!
We eat a lot of meatloaf at my house, so I wanted to jazz things up a bit. My toddlers are OBSESSED with burgers, as in, my littlest one woke up from a sound sleep hollering for one the other night, so I figured a cheeseburger meatloaf would be a great addition to my family's meal rotation. When I create recipes, they HAVE to be family approved, otherwise, I'm just wasting ingredients and time on something no one will eat. I've found that a family-friendly style of THM is the sweet spot for my family, so that's the type of food you'll find on my site. 🙂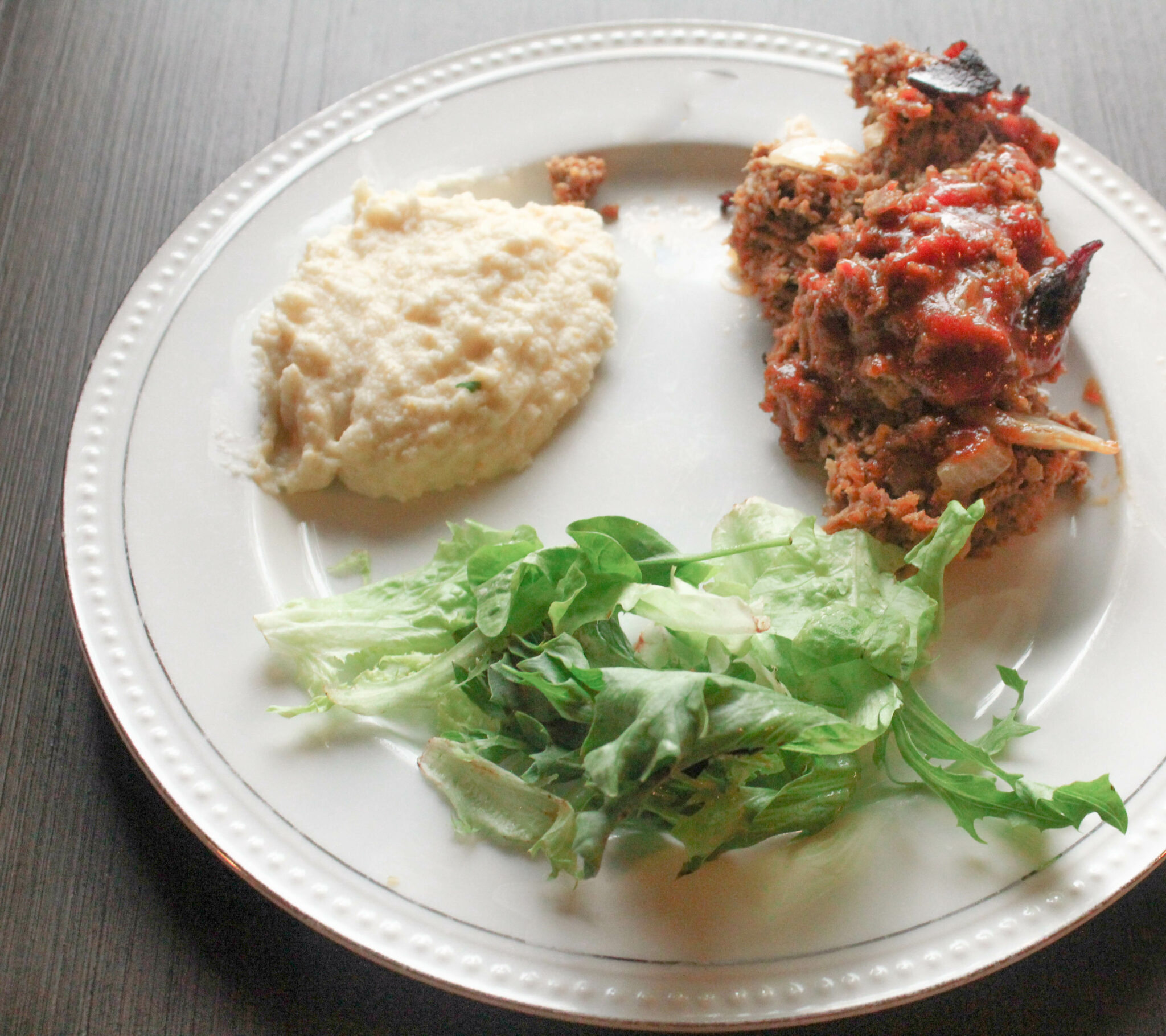 This meatloaf was a total hit. It really does have all the flavors of a bacon cheeseburger. It's simple to make, just mix together a bunch of ingredients and put it in a loaf pan! I served mine with cauliflower mash and a big salad to balance things out. It made a wonderful dinner that I would gladly serve to non-THM family or company.
[amazon_link asins='0804189986,1101902663,1101902639,B000BRWMIK,B0079OUVF4′ template='ProductCarousel' store='thefabwif0e-20′ marketplace='US' link_id='d3c42a2c-6e40-11e7-bb06-fb4c0908310a']
Note: I don't like "soggy" bacon, so I put my bacon crumbles on with my glaze. If you don't mind not so crispy bacon, you can mix it in with the rest of the ingredients. Feel free to substitute turkey bacon. 🙂 This makes one LARGE meatloaf. I'd say it serves about 8 people, generously.
Servings:
Large Meatloaf (6 people)
Preheat the oven to 400 degrees. Lightly grease a large loaf pan. Mix together all ingredients. Place in pan and bake for 40 minutes or until cooked through. I personally will drain the grease from the meatloaf, but that's not necessary.
Mix together all ingredients EXCEPT for bacon. Smooth over top of cooked meatloaf. Sprinkle with bacon pieces. Place back in the oven for about 10 minutes. Enjoy!
Nutrition Facts
Amount Per Serving
% Daily Value
Vitamin C 0%
Calcium 123%
Iron undefined%