This post might include affiliate links for products that I know and LOVE!
My Bread and Butter Refrigerator Pickles add a nice crunch to salads, burgers, and sandwiches. They're also a FP so they're extremely versatile.
My sweet neighbor gave me a bag of cucumbers and I needed to use them up. Aside from cucumber salads, I like pickles, especially sweet, bread and butter pickles. I wanted to create a THM version that was simple, yet could compare to the sugary variety.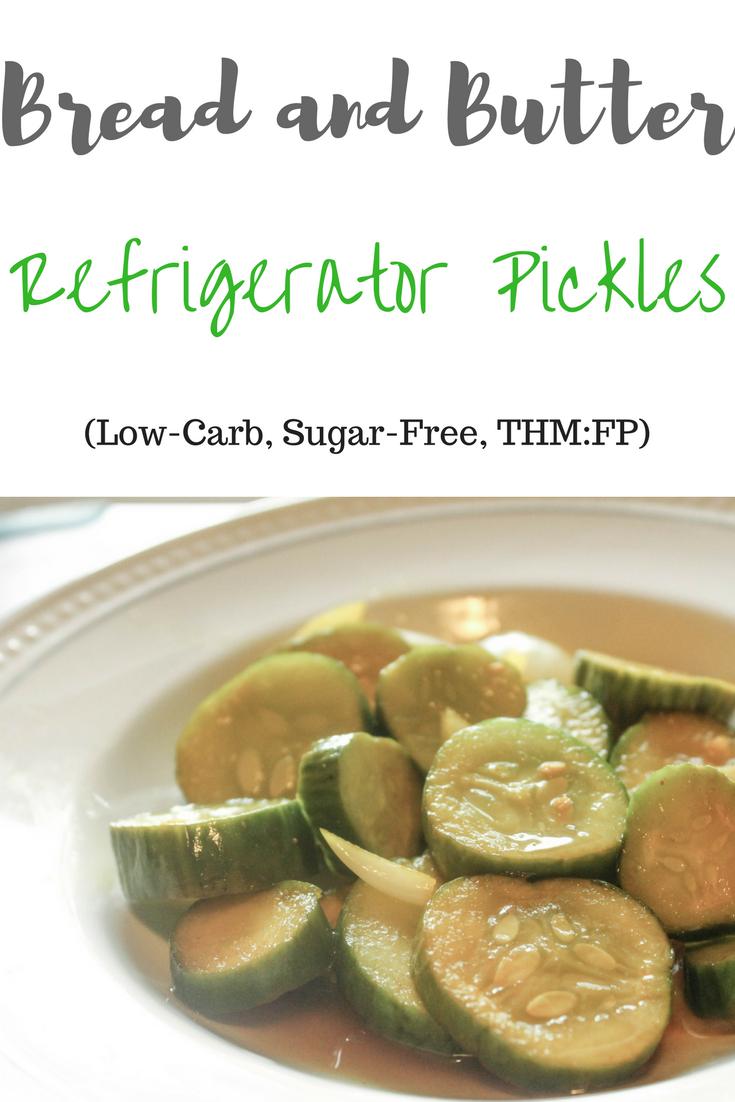 I asked my neighbor his advice for homemade pickles and he gave me a few tips, which I used to make sure that these pickles passed the test. What test? Well, my husband grew up with homemade pickles. His grandma and grandpa make the best pickles I've ever had. I was excited to have him try my version. I knew he'd tell me the truth because the man knows his pickles! His response was, "Wow! These are good! If you could jar them, you'd be winning!" I think he meant can. If I could somehow preserve the pickles in a jar, we'd all win. 🙂
This post is a bit longer than my other ones. Because this was my first time making pickles I wanted to document it with lots of pics and more step-by-step instruction than I usually give.
These pickles aren't an exact replica of store-bought bread and butter pickles, but they are a wonderful substitute. 🙂
Products from Amazon.com
‹
›
To make the pickles:
Wash 5-6 small cucumbers.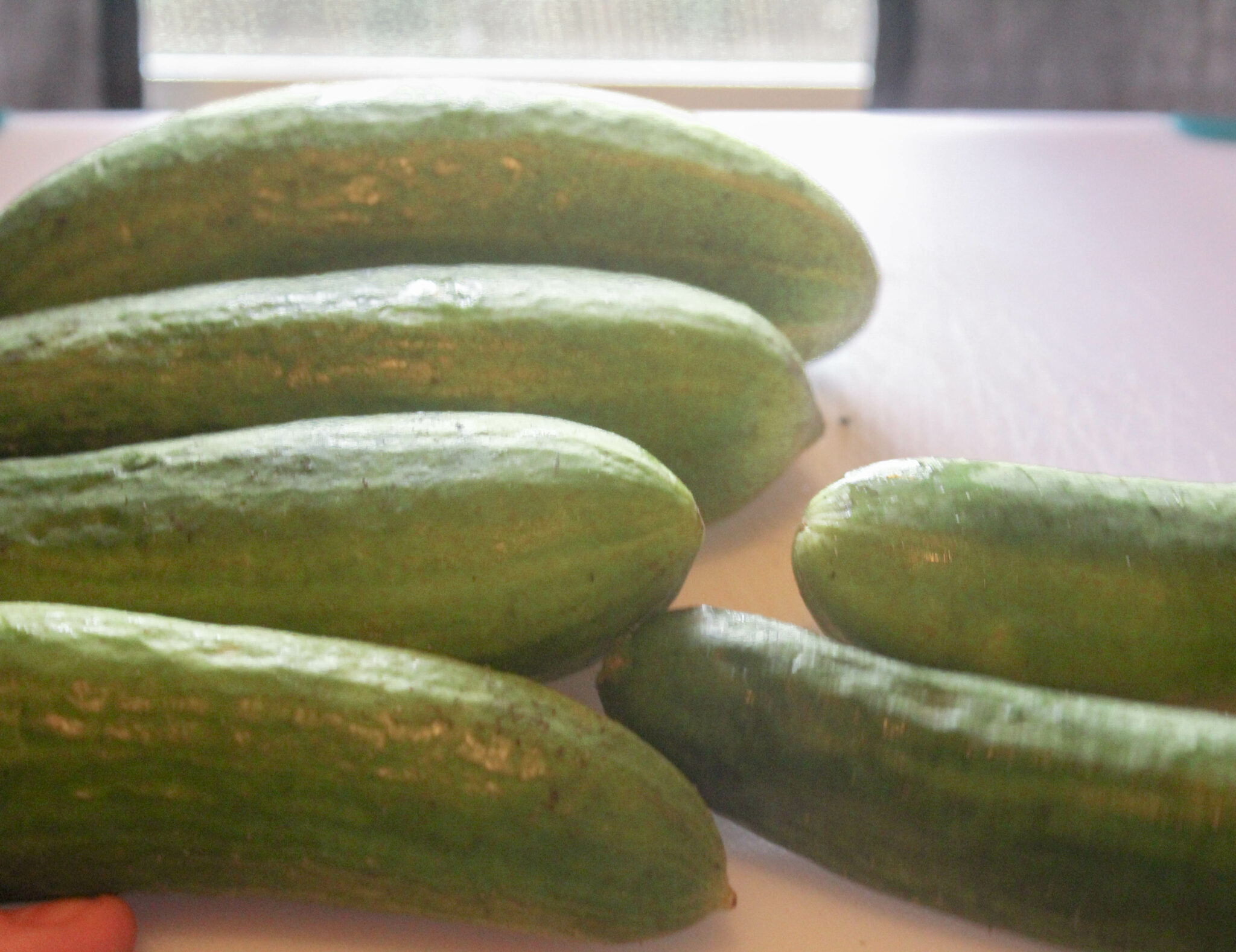 Then, cut the cucumbers into slices. You want 4-5 cups of cucumber slices, depending on how strong you want your pickles to be. More pickle slices = less brine per slice. You don't want to cut them super thin either, about like I show in the picture is correct.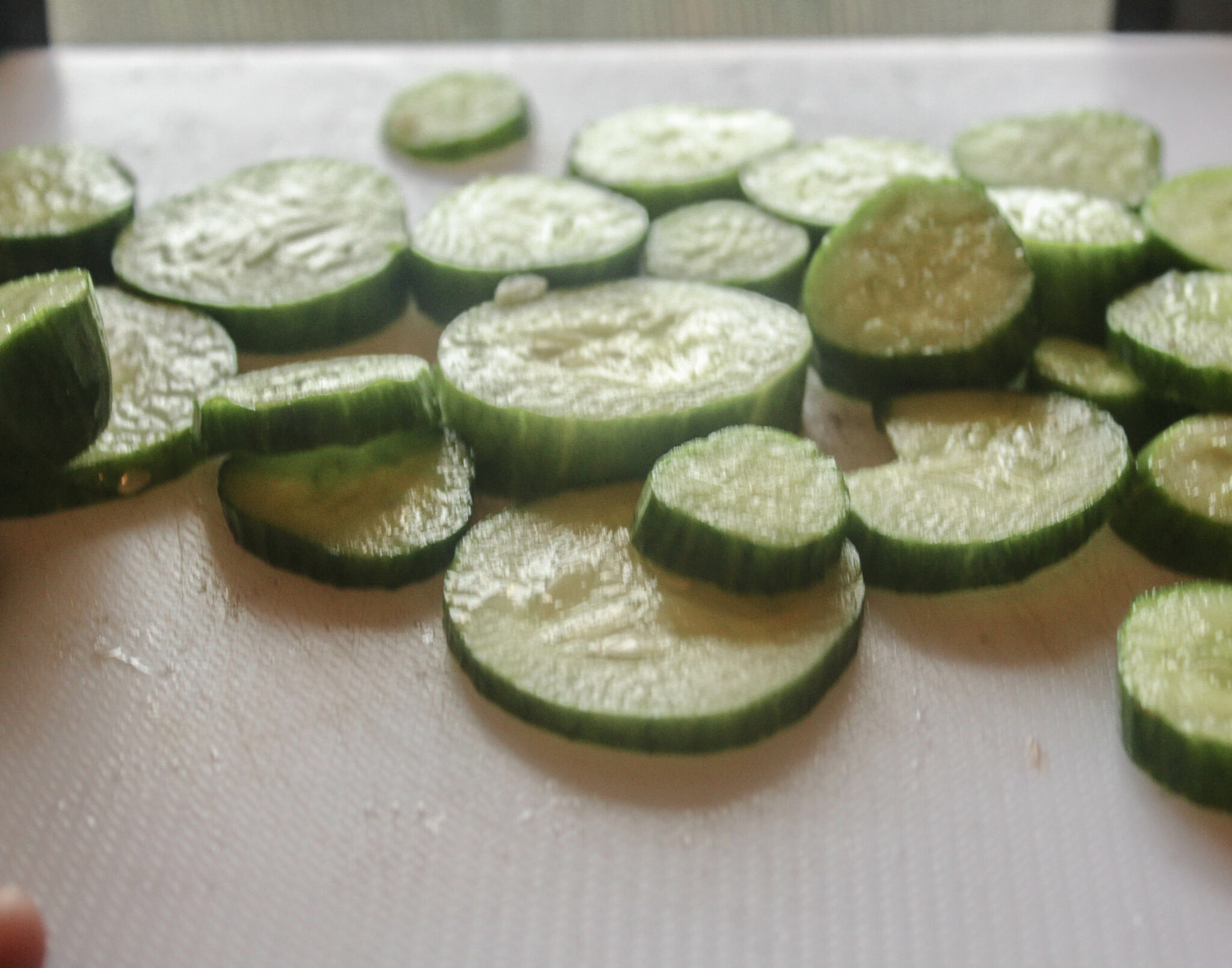 Put the slices in a bowl and pour 1 T. of Mineral Salt (or Kosher Salt) over the cucumber slices. Stir to combine and put in the fridge for an hour.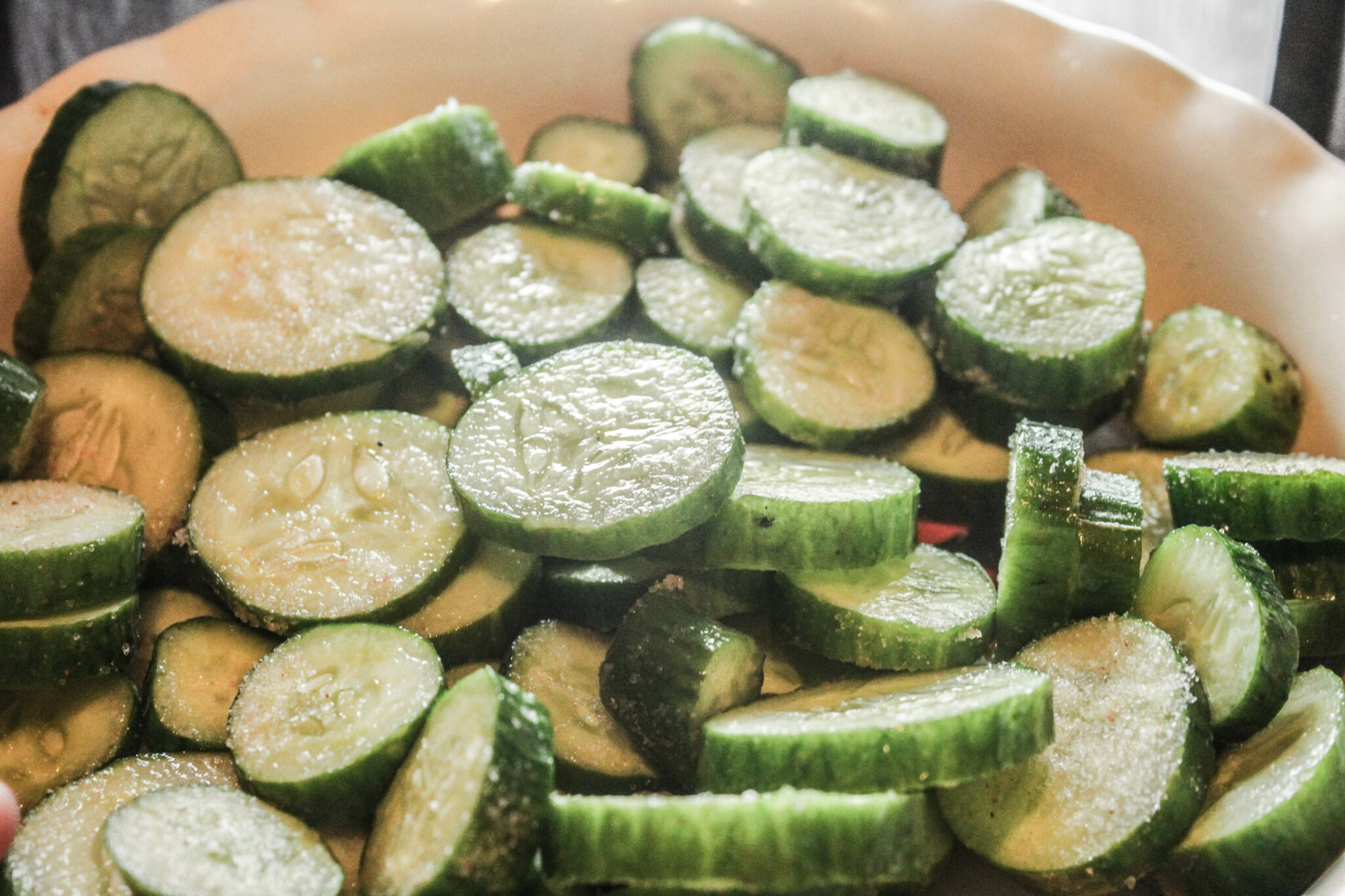 Take the cucumbers out of the fridge and rinse the cucumber slices well under cool water and drain. Slice one medium onion thinly. Add to the cucumber mixture.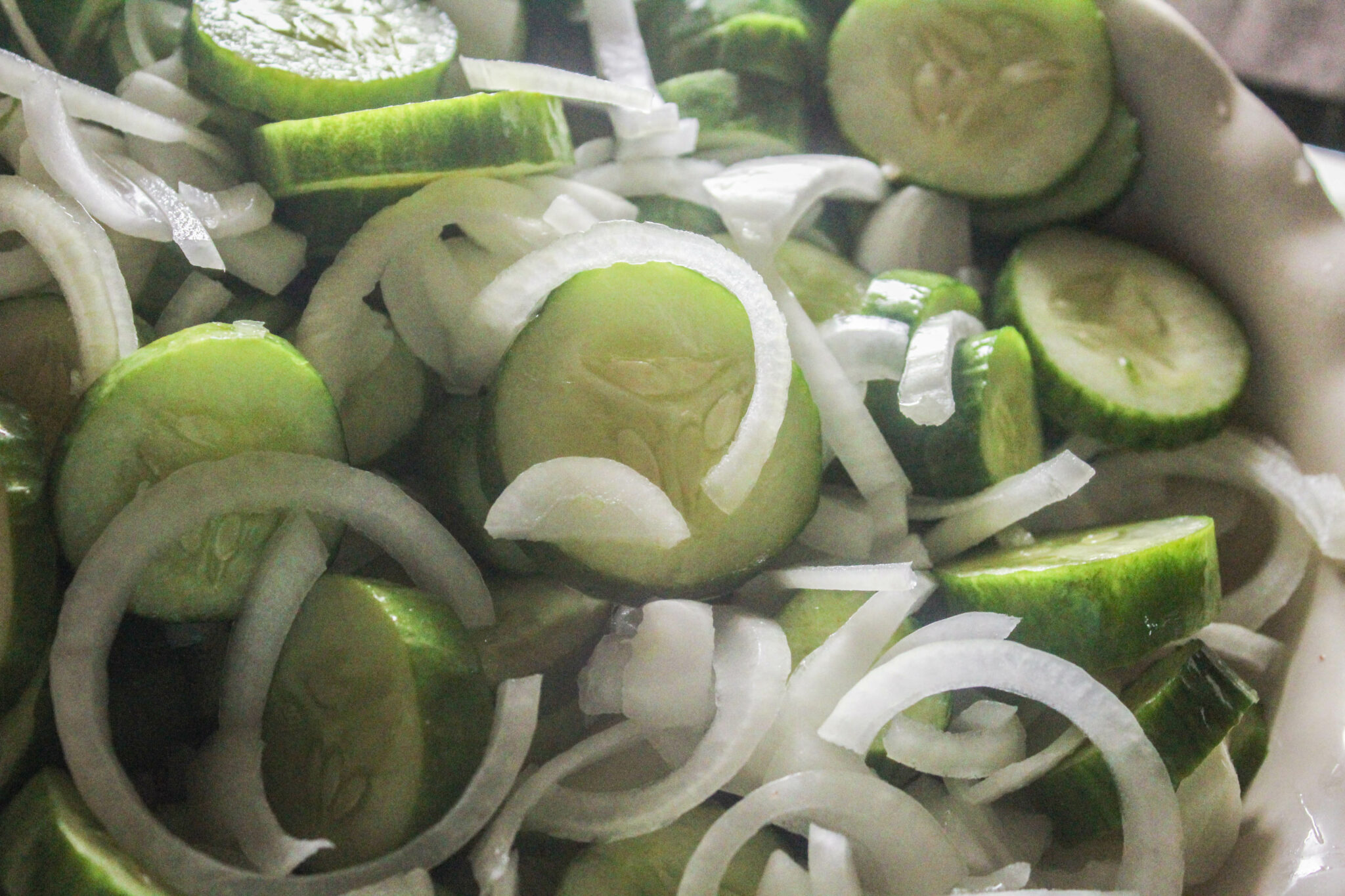 In a large saucepan, bring 1/2 C. Super Sweet, 1 C. White Vinegar, 1/2 C. Apple Cider Vinegar, 1 t. Molasses, 1/4 t. Tumeric, 1 t. Minced Garlic, and 2 T. Gentle Sweet to a low boil. Remove from heat and pour over your cucumber and onion mixture. Let the brine and vegetable slices soak until the brine has cooled to room temperature.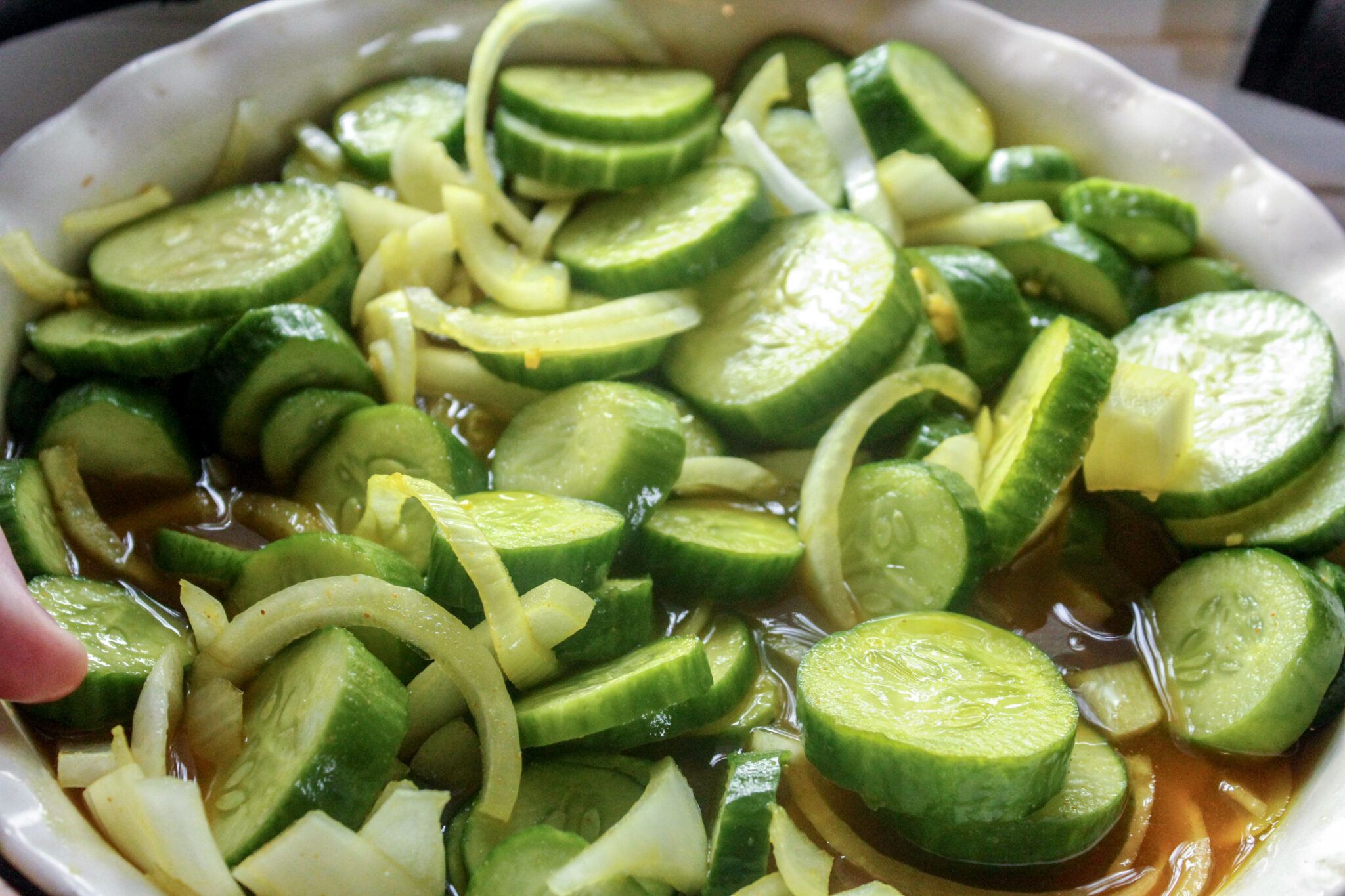 Stir and place in the fridge. Let the cucumbers soak up the brine for at least 24 hours, preferably more. You can store these pickles in a container with a lid. My neighbor thought they lasted about a month, he said they'd get "squishy" when they went bad.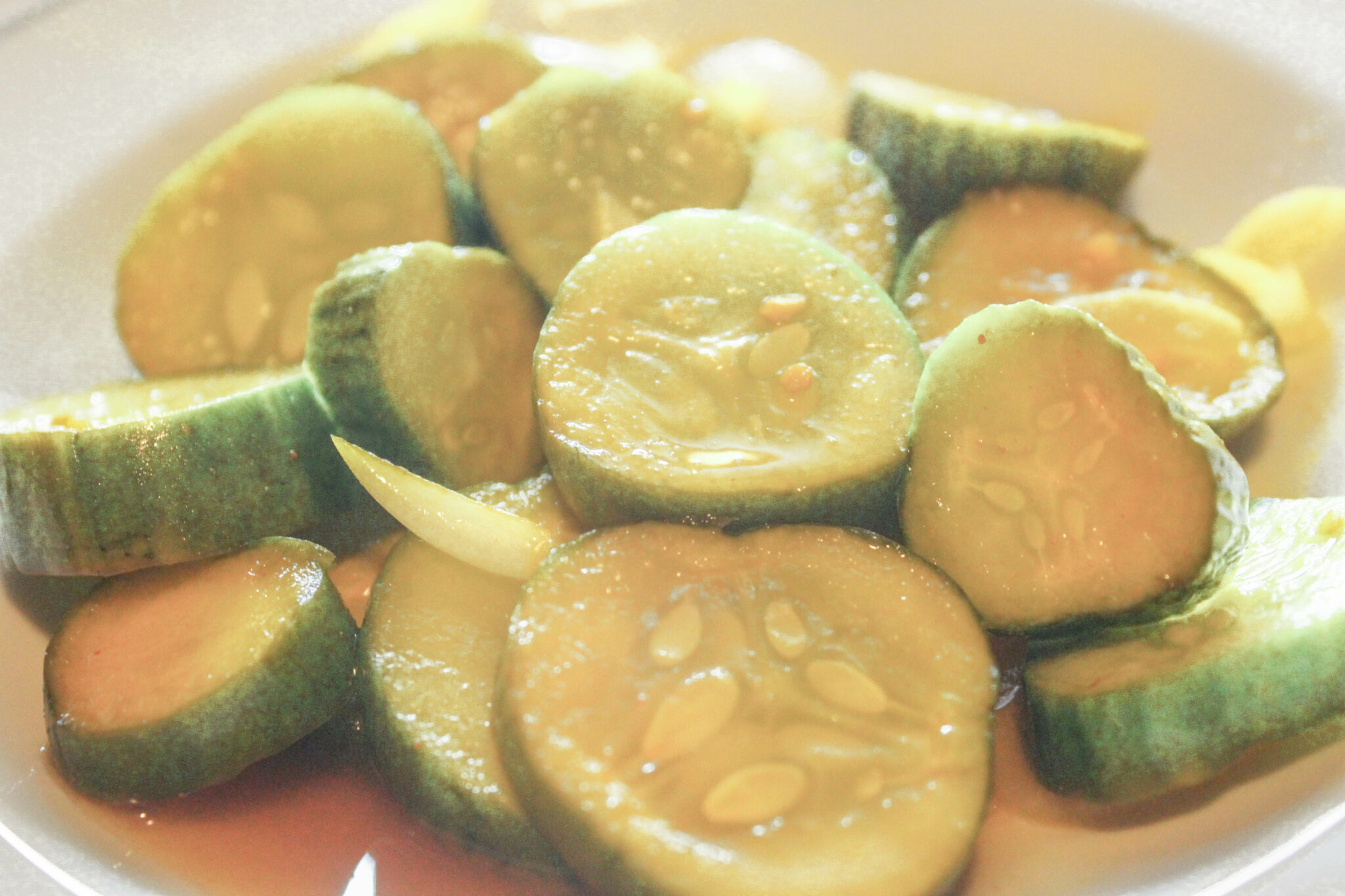 Note: I didn't use dill seeds, celery seeds or any other "seed" things you find in pickles because I wanted to keep it simple. If you have those things on hand, feel free to add them. 🙂
Special Items Mentioned:
Sprinkle salt over sliced cucumbers and place in the fridge for one hour. Take out, rinse well under cold water and drain. Place the onion slices with the cucumber and stir to combine. Pour the brine over your cucumber and onion mixture. Let the brine and vegetable slices soak until the brine has cooled to room temperature. Place in the refrigerator for 24 hours at least. Enjoy!

Bring all ingredients to a low boil on the stove.