This post might include affiliate links for products that I know and LOVE!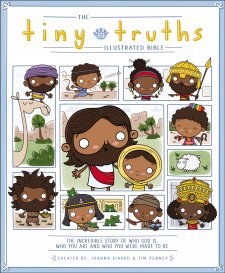 The Tiny Truths Bible by Joanna Rivard and Tim Penner is an adorable resource for any parent who wants to start Bible time with their littles. First of all, the illustrations are the cutest! I personally appreciated the fact that the characters are darker skinned. Not only does this open kids minds up to diversity, it also entertains the idea of something other than a totally white Jesus. It's unique and I haven't seen any kids Bibles like that!
I think this Bible displays the Gospel in a way that little people can easily understand. My favorite passage is found at the end of this Bible. It says, "God wants to fix the broken things in the world, and we get to help. Jesus shows us how. We need to..
Love God with our whole heart,
Love everyone the way God loves us.
Love our enemies and do good to those who hurt us. "
This Bible goes through stories in both the Old and New Testament. Your child will learn about the disciples, Noah, Joseph and more. All in all, this is a great resource. My boys are having so much fun with this Bible!
*I received a copy of this book in exchange for my honest review. All opinions are mine.