This post might include affiliate links for products that I know and LOVE!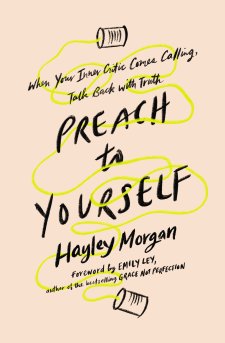 I've been a huge fan of Hayley Morgan after reading the book she wrote with Jess Connolly, "Wild and Free". Hayley has a no-nonsense writing style that is packed full of the Gospel and this book is no different. Preach to Yourself was written for those of us who KNOW what Jesus says about us, but are struggling to hear His words over our own inner dialogue.
This book goes through the various reasons we struggle in our faith, like complacency, busyness and more. This book will literally help you change the way you think. Our thoughts determine so much of our lives, so this is a skill that any woman can use! My favorite part of the book was probably the resource section in the back that gives you an actual rebuttal for each self-deprecating thought.
I'm so excited to pass this book along to the ladies in my life! It's such a helpful tool for living a victorious life. I highly recommend it to any woman wanting a kick in the seat towards a life saturated with Truth.
I received this book from the publisher. All opinions are mine.