This post might include affiliate links for products that I know and LOVE!
*I received this book in exchange for my honest review. All opinions are my own
Jennifer Dukes Lee is one of my favorite Christian speakers. Maybe it's the fact that she's a fellow Iowa girl, or maybe it's her sassy style of writing. Who knows! Either way, her books always leave an impact on my heart long after I close the last page. Her latest book "It's All Under Control" speaks to an issue that plagues many women, myself included..and that is the issue of hanging on a little too tightly to things that don't really matter.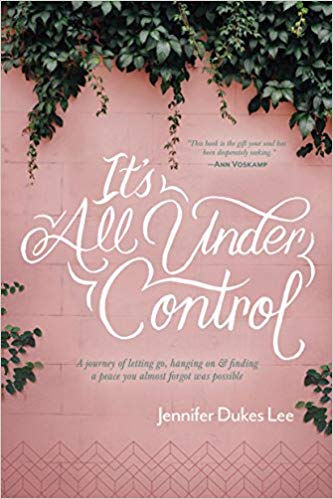 Jennifer is a woman whose heart mirrors my own. She likes to have things under control and she fears to loosen her grip on these things. Through an intense personal journey, she learned to align her heart with the heart of God and relinquish her control of things she can't control. I thought this book was very well-written. I loved hearing all of Jennifer's personal stories. She is a great writer and makes you feel as if she's just another gal at your Bible study! I found a lot of helpful truths to this book and was so inspired to live a more present life with the freedom to let God be God. There's such joy to be found in surrender and this book will help you do just that.