This post might include affiliate links for products that I know and LOVE!
*I received this book in exchange for my honest review. All opinions are mine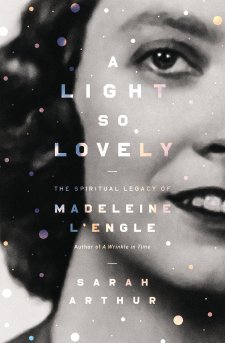 Madeleine  L'Engle is a literary genius, in my opinion. Not just for her popular book, A Wrinkle in Time, but for her non-fiction work as well. I love learning about authors like L'Engle, so the book "A Light So Lovely" was an obvious must-read. A Light So Lovely is more than just a biography. It's a look into what makes Madeleine, Madeleine. What influenced her faith, what brought her to a place where she could balance science and God, and the dark times in her life that led her to write the prose that she did.
This book greatly details L'Engle's spiritual life and the practices that she valued. It was inspiring to learn from her family and friends how close she was to the Lord. I loved learning little details about Madeleine that I hadn't known, like that she had a quick sense of wit that could easily be mistaken as sarcasm. The author of this book writes beautifully and this book reads more like a personal memoir than a book written from an outsider's point of view. I think readers will benefit from the theological points brought up in this book.
This book really made me think and I can't wait to share it with my friends!