This post might include affiliate links for products that I know and LOVE!
I received this book in exchange for my honest review, all opinions are my own
Inspired is Rachel Held Evans latest book and this book is about learning to love Scripture again. This year, I've been making my way through the Bible, so this book really stood out to me! I really love this author. She's great at writing and getting her point across. This book was unique because before each chapter there was a little bit of creative liberty taken with Bible stories that helped me dive deeper into the story and see it from the Bible character's perspective.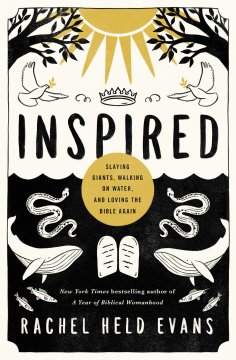 I didn't agree with all of the author's views, but I went into this book knowing that we'd have some basic differences. That being said, this book showed me the right way to read the Bible and I appreciated that! I learned that it's very important to consider the culture of the time, the author, the people, and the context of the verses.  Rachel Held Evans is very knowledgeable and she has done her research. I learned a lot of facts that I never knew before that made me reconsider my stance on some things!
I would recommend this book to someone who is "further along" in their faith and not a new Christian. It might be a little too much for someone newly saved. If you're ready to dive deeper into Bible study, definitely pick up a copy of this book.