This post might include affiliate links for products that I know and LOVE!
If you've been listening to the Trim Healthy Mama Poddy's lately, you're sure to remember Dr. and Mama Z! They spoke about essential oils and they really gave listeners a wealth of information. I've been into essential oils for a couple years now. I'm still learning about them, but I love the difference they've made in my family's life! I have my very own essential oil expert, Carol Orris, on Grace-Filled Homemaking today to share her tips for incorporating essential oils into your Summer. Be sure to read the entire post and enter the giveaway! We're giving away Dr. Zielinkski's book, "The Healing Power of Essential Oils" and 1 Young Living Vitaliy Lemon. 1 Young Living Vitality Lime and a custom-blended ROLL-On Bottle of Young Living's Stress Away. 
You can check out Dr. Z's book by clicking on the photo below!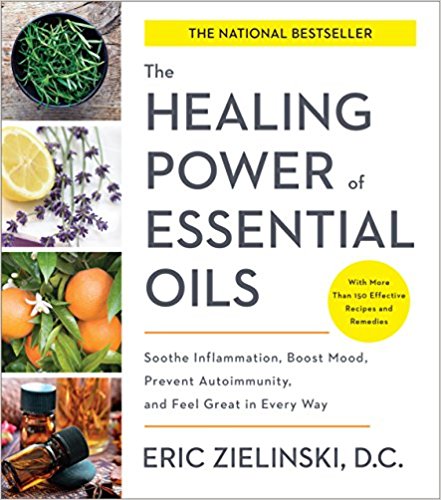 A little about Carol before you read her post; She's my Mom. She's very knowledgeable about natural remedies, so listen up! She is a homeschooling Mom to 7 kids and she lives on an acreage in Northwest Iowa. She has her own essential oil business, where she customizes a "prescription" for each woman based on their personal concerns/symptoms. I think you guys will really love learning from her!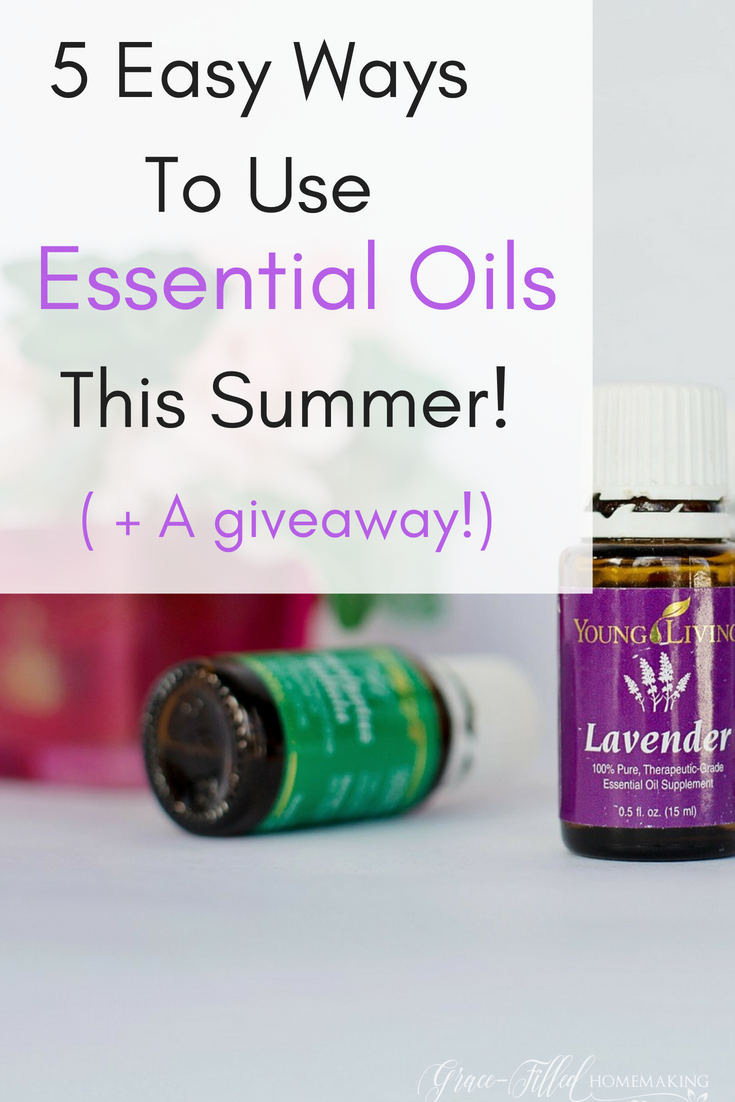 "Essential oils are an essential part of life on the Funny Farm. We use them for everything from cleaning to adding a boost to our favorite DIY beauty recipes. Not only do these plant products smell amazing, they also pack a punch in the health and wellness department. Add in the fact that good quality oils are a frugal option for even the most budget-conscious mama, and you've
got a winner. We LOVE swapping out toxin-laden products for essential oils in our Summertime favorites.
Here are five of my family's favorites:
Need some seasonal support? Diffuse three drops each of lavender, lemon, and peppermint for
some much needed respiratory support. We breathe easy with this in our diffusers from April to
September. My kiddos also love adding 10 drops each of lavender, lemon, and peppermint to a
10ml roller ball and filling it with a carrier oil for portable relief.
Staying hydrated is easy with a pinch of mineral salt and a few drops of lemon, lime, orange, or
peppermint essential oil added to your water. Be sure to use a glass or stainless steel container
for beverages with oils added. Heads up: only use oils labeled as safe for internal consumption
in beverages and food.
Ticks can transmit a variety of diseases to humans and pets and are very common in areas with
tall grass or trees. We try to avoid toxic chemicals at all costs, and essential oils are both frugal
and effective when it comes to keeping ticks at bay. Our DIY go to is ½ cup of witch hazel and
15-20 drops of eucalyptus oil mixed with enough water to fill a small spray bottle. This works
great when applied 2-3 times a day on humans and pets alike.
My personal favorite is mixing 25 drops of peppermint, a splash of witch hazel or neutral spirits,
and enough water to fill a spray bottle for a cooling spritzer. I keep mine in the fridge or in the
cooler when we're out and about for extra refreshment. Add 10 drops of lavender for a relaxing
bedtime mist. This is great year round for hot flashes, after workouts, or any time you need a
quick pick me up.
This frugal DIY Outdoor Spray was a hit at our last Fourth of July celebration! Mix 10 drops each of Cedarwood, Lavender, and Tea Tree oil with a splash of witch hazel in a two-ounce bottle. Fill with water and give it a shake. Spray it on people, and pets and kiss those outdoor annoyances goodbye. Add a few drops of lavender to a carrier oil to soothe those already itchy areas.
Summer is a great time to get creative with using your essential oils. Have fun experimenting!
***Please keep in mind that some essential oils are sun sensitive. Citrus oils, ginger, and some
blends can cause a reaction when exposed to sunlight. Wait twelve hours, or apply on an area
that is unexposed to the sun.
When using essential oils for internal use, please remember to use only oils labeled safe for
consumption by the FDA, for example, Young Living's Vitality label oils."
And now, for the giveaway! As I mentioned at the beginning of this post, we are giving one lucky winner a chance to win: (1) Copy of Dr. Z's book, "The Healing Power of Essential Oils", (1) bottle of Young Living's Lemon Vitality Oil, (1) bottle of Young Living's Lime Vitality Oil, and (1) roller bottle of Young Living's Stress Away (Custom-blended). 
This giveaway is open to USA friends only due to the cost of shipping. Enter below and good luck! 🙂