This post might include affiliate links for products that I know and LOVE!
I'm so excited for my reading goals this year! I'm following along with Modern Mrs. Darcy's Reading Challenge (more on that later!) and I've already compiled most of my reading list. Last year, I started to really focus on reading out loud to my sons and I wanted to put together a fun reading challenge for them too!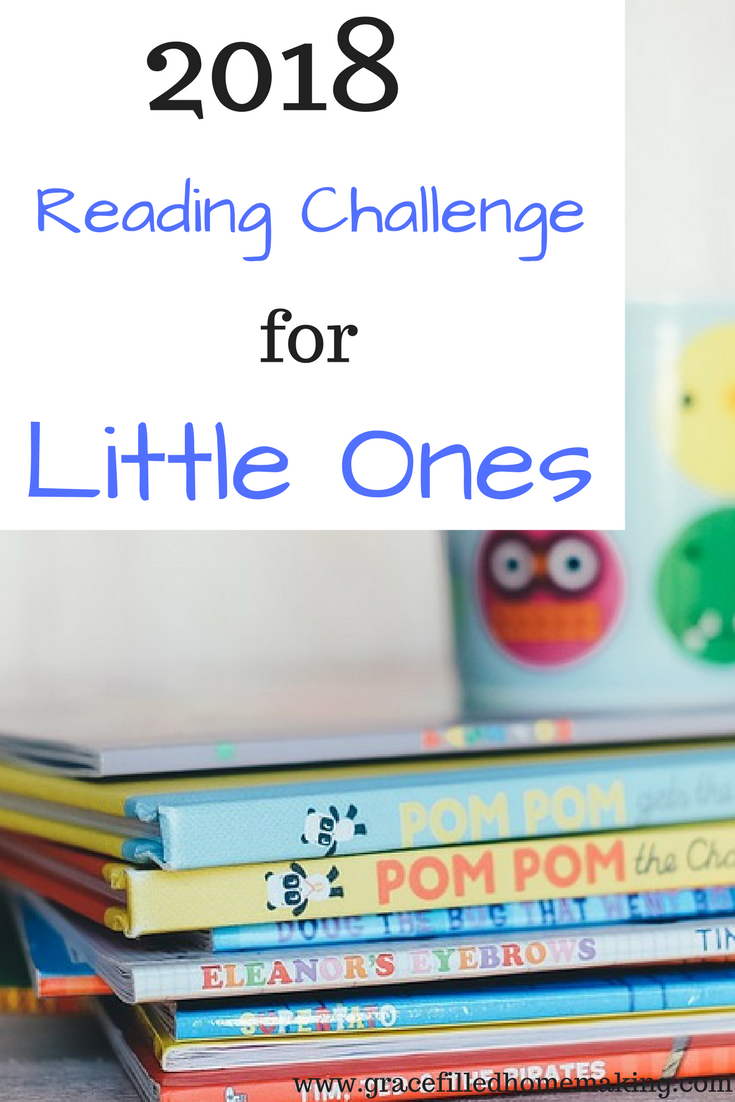 I've created six categories for you to get inspiration from along with my suggestions for each category.Choose as many or as few categories as you'd like and don't be afraid to change things up to fit your child's interests. You'll notice a mix of chapter books and picture books. You might be tempted to think that little ones can't listen to chapter books, but if you pick the right one, they're sure to be interested. My sons play with their Hot Wheels or Legos while I read a chapter each day. I wasn't sure if they were listening, but they can usually give me a general rundown of what I read.
My biggest tips? Don't strive for perfection. My sons are active and don't really like to sit down. There are days that they just don't want to read or we don't fit it into our schedule. When that happens, we just give ourselves grace and try again tomorrow. Second, don't feel as if you have to spend a lot of money to do this challenge. Use what books you can find at your local library or what you already own. I've even gone as far as to use my library's eBook service (Bridges in my area!) and the Hoopla app to find books that fit.
At the bottom of this page, you'll find a free printable to help you keep track of what you've read!
A Book Starring an Animal
Charlotte's Web (My boys loved this one!)
Stuart Little (This one was entertaining and a hit!)
The Very Hungry Caterpillar (A classic that brings a smile every time!)
The Ugly Duckling (A great story with a character trait to talk about)
Clifford (Any of the books in this series are good)
A Book Celebrating Diversity
God's Very Good Idea (A beautifully illustrated book that shares how God made us all unique)
I Have a Dream (An introduction to Martin Luther King's vision)
He's Got the Whole World in His Hands (Beautiful pictures and a great song to learn)
The Marvelous Mudhouse (A book that shows life in a different country, how we can celebrate other cultures and give to those less fortunate.)
When God Made You (Another gorgeous book that opens kids eyes to the wonder of being created uniquely by a creative God)
A Book to Grow Their Faith
(These books can be worked into daily devotional time if you're into multi-tasking like me.)
The Ology: Ancient Truths Ever New (We are going to read this book in 2018. It comes highly recommended!)
The Beginners Gospel Story Bible (I can't rave about this book enough. It is one of the best Gospel-centered kids Bibles. It keeps their attention, it points every story back to Jesus.)
The Jesus Storybook Bible (One of our favorites. It's beautifully written and shows how Jesus is found in each story.)
Because I Love You (A book that even gets me emotional! It illustrates God's love in a tangible way.)
Everything a Child Should Know About God (Another one on my to-read list this year. This one explains Biblical truths in an easy to understand way.)
A Book About an Important Issue
God Made All of Me: A Book to Help Children Protect Their Bodies (I wish this wasn't even an issue, but it is. This book empowers kids without making them feel ashamed. It's a must-have for any parent's bookshelf)
Tough Guys Have Feelings Too (One of my son's favorites. It lets them know how to effectively handle their feelings while helping them recognize that everyone has emotions. I love this one because it breaks the "men can't have emotions" lie.)
Tease Monster: A Book About Teasing vs. Bullying (A lighthearted way to learn the boundaries between playful teasing and bullying)
Imagine (Based on the John Lennon song, this is a beautiful board book that speaks about world peace)
A Book Featuring Siblings
The Boxcar Children (At the time this post is written, this is our current read! The kids are loving the adventures, and I'm loving reading this book again)
Little House in the Big Woods (A classic that is so entertaining. It's fun to read about another time period.)
The Berenstain Bears (Such fun books to read!)
The Lion the Witch and the Wardrobe (On our list this year. I love the sibling dynamic this book brings. Plus there are so many good spiritual concepts. "Safe?" said Mr. Beaver; "don't you hear what Mrs. Beaver tells you? Who said anything about safe? 'Course he isn't safe. But he's good. He's the King, I tell you." Insert my happy, content sigh. 🙂 )
 A Book of Poetry and Essays
Where the Sidewalk Ends (This is such a fun read. It makes us laugh!)
It's Raining Pigs and Noodles (On my list. This looks hilarious!)
The Children's Book of Virtues (My Mom read this to me and I still remember the stories of the "Please" and the little girl with a curl.)
The Cat in the Hat (Because every kid should be exposed to Dr. Seuss as early as possible!)
Chicka Chicka Boom Boom! (I think my boys have requested this book 100 times..in the last month.)
Are you excited yet? I look over this list and I get such large feelings of nostalgia. I know that when I was read to, new worlds opened up. I could see myself as the hero, I learned so many character values and those stories still spark joy in my life.
Happy reading in 2018, friends! May you create some magic of your own. ♥