click here This post might include affiliate links for products that I know and LOVE!
I grew up with a constant knowledge of the Emery family. My Mother was a huge fan of Carla Emery and would pore over her book about homesteading. I even had the privilege to meet Carla and her husband when my Mom coordinated a homesteading event in our small town.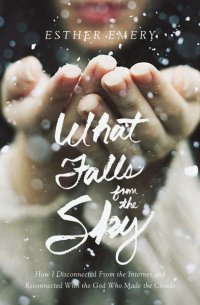 Carla had such a sweet presence and she was so down to earth. I've been following her daughter Esther for some time now and have been a huge fan of her dry humor, eloquent words and refreshing view on life. I was SO excited to hear that she was coming out with a book about her year without the internet. A year without internet intrigues me. It's something I'd love to do, but most likely wouldn't have the willpower to go through with.
Products from Amazon.com
‹
›
This book is written in memoir style and is divided by seasons. Esther began her journey without the internet after discovering that life was moving too fast without any real..connection. The instant changes from taking away this one thing are amazing and have inspired me to spend less time on my computer and phone. Esther experiences more peace, kindness, faith and adventures. You can literally see her heart change as the seasons do.
I loved Esther's honesty, how she showed the good and bad moments that go with this decision. I really connected with her and grew to love her heart, messy as it may be. She's brutally honest about her marriage, kids and feelings about her parents. I cried tears of joy when I saw how she econnected with God in an unlikely place.
This book is beautifully written, like good poetry. I found myself racing through the pages, wanting to learn what happens next and I vow to slow down and savor it the next time through! If you want to see a different perspective, I highly recommend this book!
I received this book in exchange of my honest review all opinions are my own