This post might include affiliate links for products that I know and LOVE!
One of my very first Bibles was the Beginners Bible. I can remember spending hours looking at the bright pictures, doing my best to fit together the story of the Gospel. When I had the opportunity to review a copy for my son, I wondered just how much this timeless classic had changed.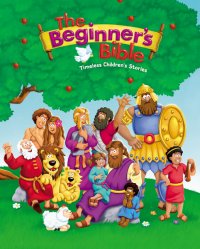 I was happy to see that while this Bible got a facelift, it still packed the great features that I remember. The Beginners Bible has sold over 25 million copies since it first released in 1989. I was excited to see that with the increase in graphic design technology, that the pictures now have a 3D type look to them. This makes the illustrations even MORE bright and colorful than before. I also loved the new "Googly" eyes. My little ones couldn't take their eyes off while I was reading!
The stories are still perfectly suited for little ones. I appreciated the mix of old and new testament stories and the fact that this Bible really does give a great overview of the whole story. It also has a glossary in the back to help little ones with words that they don't know. The stories are captivating without leaving out anything important. The heroes of the faith are accurately portrayed and it's a great introduction to the Word.
This is such a great investment in your child's spiritual life and it's a great tradition to keep passing on.
I received this book in exchange of my honest review, all opinions are my own