This post might include affiliate links for products that I know and LOVE!
Let's get one thing out of the way. I am a speculator and I am an over-thinker. An INFJ at heart, everything must have a deeper meaning and everything is a possibility.
So when this world comes to me with the latest conspiracy theory or latest evil doing, you can bet I'm all over that. I can trick my mind into seeing that there's a bigger evil behind all the rotten things and if I'm not careful, even the most ludicrous conspiracy theory can make sense.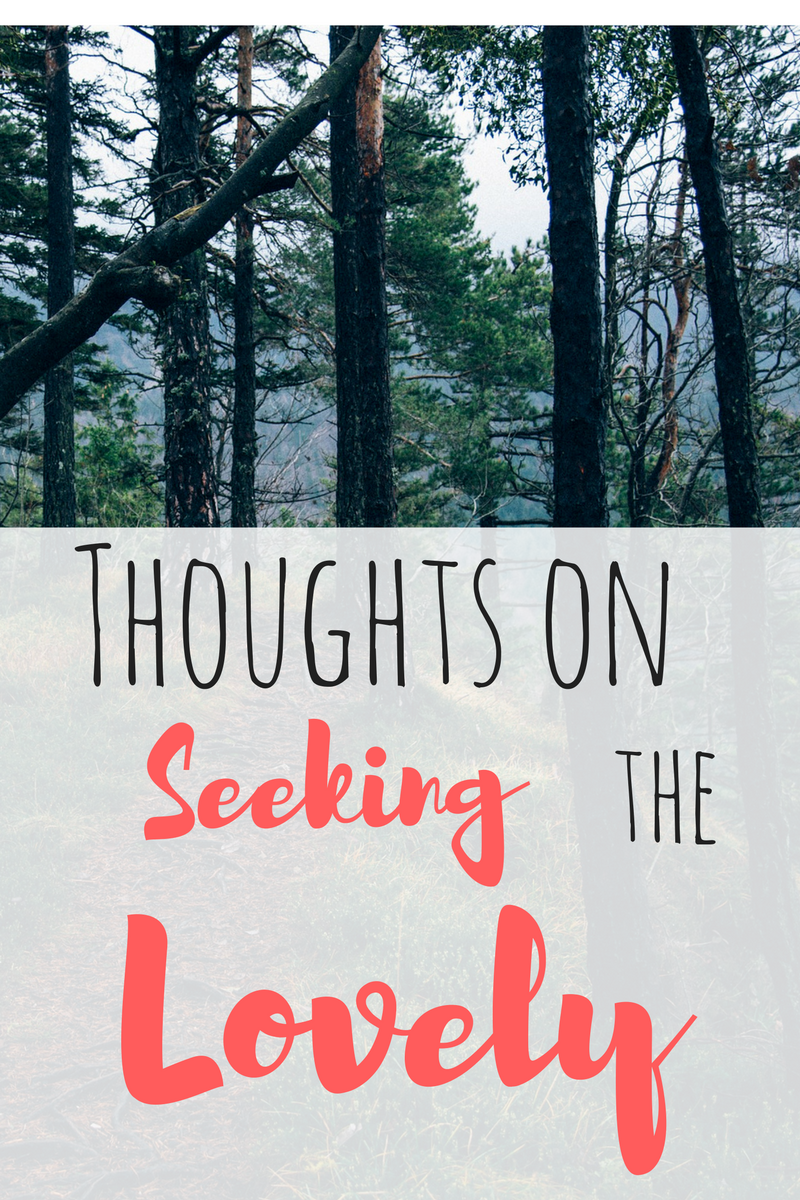 Because after all, it's so easy to see the evil in the world.
Actually, if I pay attention to my Bible, this isn't a shocker in the least. We're guaranteed troubles and the presence of evil isn't hidden from us. Nowhere in the Bible does it say that we live in a world free from any of these things.
In other words, in a universe where we fight not only against the seen evils but also the unseen, anything is possible.
But it is also guaranteed that there's good. That Jesus can be found all around us and that we can choose to live fearlessly by focusing on the fear-slayer.
So, I am going to be among those that seek the lovely. One of those dedicated to seeing Christ in my world, to boldly searching for the fingerprints of God rather than the hidden schemes of the dark. One who thinks on the things that God has set out in the open, no qualms about it. The girl who refuses to speculate or give Satan any more glory than he already gets. Because you guys, he gets a lot of glory because he is so slick.
And so, I choose to see Jesus in the smile of my sweet little ones. In the wonder filled, "What's that's?" of my toddler and the adventure filled toothy grin of my baby. In the hair push backs of a man who stays up all night with his sick wife only to work hard the next day. And it really pains my heart to say this, but I could just as easily look for the dark in those things. The naughty mess that the smiles are covering, the sickness that brings back memories of hyperemesis. These things make me realize how much of a choice seeking the lovely is. How much of a commitment we have to make to train ourselves to see Jesus in a dark world.
I get to thinking, "How would my life look different if I looked for the light as much as the dark?" Would I have less anxiety? Would I trust more, love more, laugh more?
Would we, as a whole, be able to accept others more without fear that they are after us, seeing Jesus in them rather than their murky qualities? Would we be able to give of ourselves without holding back, create beautiful things without a second thought and maybe, just maybe..we could change our tiny corners of the world until we create a revolution of our own.
I'm not exactly sure. But I want to find out.