This post might include affiliate links for products that I know and LOVE!
There's a common misconception that dressing cute has to cost a lot.
I think it's because we're bombarded with loads of ads that sell us a scarf that costs $80 and we're totally not cool unless we have it.
But dressing cute doesn't have to cost a lot. Actually, it doesn't have to cost hardly anything at all. It does cost you some creativity, flexible thinking and a willingness to make things work. Here are my tips for dressing cute for less: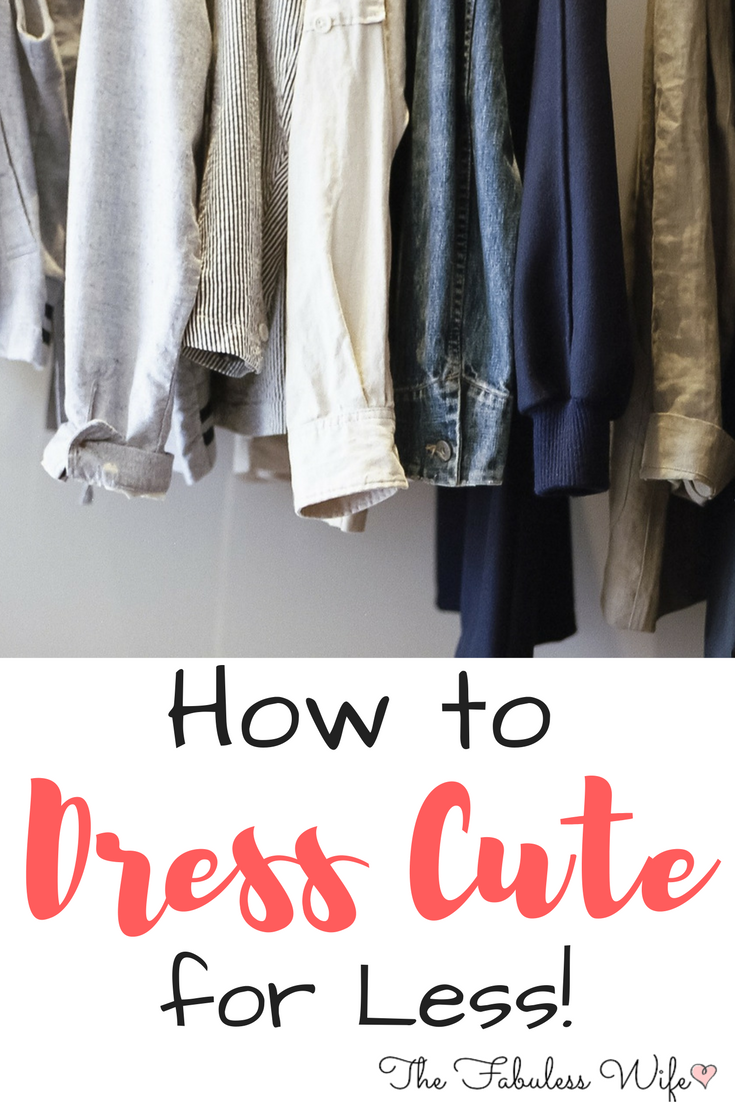 Use What You Have
Chances are, your closet is full of treasures just waiting to be worn. Take a look through your drawers and see what goodies you have. Is there a cute top that you haven't worn in awhile? Maybe you forgot about that adorable hat! Using what you already have also can mean repurposing items. For example:
Earrings can become brooches
Scarves can become hair wraps
Tops can be layered
Jeans can be distressed and cuffed differently
There's always the option of altering your clothes to make them something completely different if you're that savvy. If you are, please teach me. 🙂
Inspire Yourself
I highly recommend creating a Pinterest board based on your personal style. I fill mine with ideas for outfits, lines and textures that I adore and just an overall look that I want to achieve. How does this save money? Well, sometimes I realize that I already have everything on hand for a particular outfit. It also makes sure that every piece that I purchase is actually worn. If you don't have Pinterest, you can read books, make collages of pictures from magazines and sketch things that you like.
Make it Versatile
Get the most value out of your clothing by purchasing items that can be worn with more than one outfit. I'm a huge fan of classic colors and styles for this reason. It's fun to follow the trends, but it's a lot easier on your budget to choose just one or two small popular items and keep the rest of your wardrobe timeless. What classifies as timeless?
Neutrals like camel, white and black
Solid colors or simple prints like stripes
Plain cut jeans
Pencil Skirts
Simple purses
Jean jackets
Flats
Black heels
When you think of timeless, think basic. You can always spruce up your look with some quirky accessories.
Shop Clearance
Always check the clearance racks first! They usually have great deals and your clothing budget will go a lot further.
Borrow From a Friend
Ask your friends if they'd be interested in a clothing swap where you get together and trade cast-offs. Many great outfits have come from this!
Online Thrift Shop
Did you know that you can thrift shop right from the comfort of your own home? Yupp! It is literally the coolest thing ever. I'm really excited for reStitch to open their online shop soon. reStitch is the online version of Goodwill. Goodwill has been an awesome store for years and I really love their mission. reStitch not only gives you super-low prices on brand-name clothing, but you can also shop there knowing you've done your part to make the world a better place. The profits from your purchases directly go to people in need. Every time you shop, you support programs that help make lives better and you put people to work. Not to mention the fact that purchasing second-hand keeps clothes out of landfills which makes for a much, much happier Earth. I feel like my money is doing double-time when I shop places like reStitch! Are you excited yet? Sign up to be the first to know when they launch here. Hint: It's soon! 🙂
How do you save money on cute clothes? Let me know your tips in the comments below!
*This post was underwritten by reStitch. All opinions are my own