This post might include affiliate links for products that I know and LOVE!
Very seldom do I come across a children's devotional book that is well-written, age-appropriate and Biblically sound. I'm excited to tell you about a book that is all three of those things and more! My Keepsake Bible is a great first Bible for any little one to have. With a family tree in the front, it is so personalized. There's a place to write your child's baby history (first tooth, word, steps, etc.) so they can catch a glimpse of what makes them unique.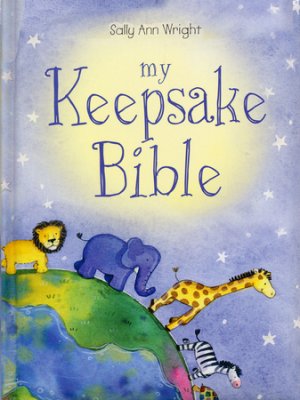 I was impressed with the variety of Bible stories. From the happy creation story to the heavy, emotional account of Jesus' death, this book didn't mince words. So many children's books forget about those stories that aren't lighthearted, even though they're important. The stories themselves are written in a language that's easy for little ones to understand. My little ones were so intrigued and can't take their eyes off me when I'm reading. The art work is also beautiful, which is an added bonus.
My sons especially like hearing the prayers that are included. Overall, this is a great first Bible. It's beautiful, it gives your child a mini memory book and it teaches the fundamental stories that kids need to learn.
I received this book free in exchange of my honest review. All opinions are my own